Commentary
Michigan's Fab Five in their own words
Juwan Howard. Jimmy King. Ray Jackson. Chris Webber. Jalen Rose.
There is little debate in the college basketball world that those five players, who joined the Michigan Wolverines as freshmen in the fall of 1991, represent the greatest class ever recruited.
Perhaps the most misunderstood, too.
Eventually known worldwide as the "Fab Five," each member of the quintet was rated in the top 100 of national recruits in the Class of '91. Four of them -- Webber, Howard, Rose and King -- were rated in the top 10.
In their heyday, the Fab Five were widely portrayed as the root of all evil in college sports. They wore baggy shorts and black socks. They blasted hip-hop music in the locker room. They talked trash. A lot.
Those types of uniforms and behavior might be commonplace today, but 20 years ago it was revolutionary, polarizing and heavily influential to a generation of young athletes. Although the Fab Five never got into serious trouble off the court, the players symbolized to many people a clear shift in the sports world and youth culture. Fans of all races and demographics spent millions of dollars on Michigan jerseys, shorts and the like, trying to capture a tiny slice of the group's mystique. By the end of their second year together, the Fab Five were routinely battered in the national media for the way they carried themselves. Articles and television reports painted them as brash villains or worse -- as thugs.
Now, two decades later, Rose, Jackson, King and Howard have come together in ESPN's "Fab Five" documentary to tell the inside story of the freshman class that was feted as rock stars. Notably absent is Webber, the No. 1 recruit from the Class of '91, who isn't yet willing to discuss two sticky subjects: the payment scandal, which led to legal problems for Webber and the removal of the Fab Five's banners from Crisler Arena, and the infamous timeout gaffe at the end of the 1993 national championship game.
The documentary, however, isn't afraid to tackle those subjects as well as the formation, rise, scandal and epilogue of the team. Rose is the executive producer of the film. Jackson, King and Howard are credited as producers.
Page 2 recently interviewed Rose, Jackson and King about the film. Here's what transpired:
The B.S. Report
Bill Simmons talks to former Michigan Wolverines and NBA player Jalen Rose about his career, being a part of the Fab Five and Rose's documentary on the team.
Page 2: During your first season at Michigan, you received a lot of adoration from national media for being fresh, creative and exciting. But the following season, you faced significant media criticism, even though you essentially handled yourselves the same way. How did that affect you as 19- and 20-year-old college students?
King: We were unique and genuine and we wanted to express that. We didn't want someone to define who we were. ... There were a lot of times in film sessions we would turn up the volume and listen to the commentators, and they were knocking us because we were out there having fun. They spun it like we were trash-talking, when really we were talking to each other, trying to pump each other up, help each other out, communicate and talk just like a good basketball team should.
Jackson: But we were comfortable with ourselves. We were able to embrace all that because we were comfortable with one another. Whatever they threw at us, it didn't matter because we knew who we were. We knew what our mission was. That helped a lot. It wasn't like we were insecure at the time and trying to figure out who we were. We knew what we represented.
Rose: The majority of the journalists covering us at the time weren't black. So if we talked trash or had some street to our game and they came in our locker room and we were listening to hip-hop, they didn't take it as we were listening to Public Enemy or NWA or Geto Boys. They took it as we were the Geto Boys! They took it literally, because they were hearing it all for the first time.
[+] Enlarge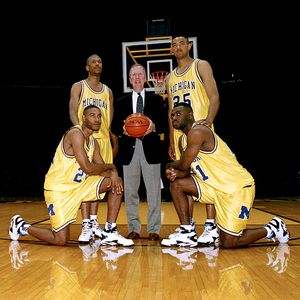 AP Photo/Kristoffer GilletteChris Webber is notably absent from this photo and from the making of the "Fab Five" documentary.
Chris Webber chose not to be involved with the film, presumably because of the fallout from the NCAA scandal and the money he received from Ed Martin. Why wouldn't he want an opportunity to publicly tell his side of the story?
Rose: That's how we feel, too. That's why everybody that was approached about being a part of this project was excited and [met it with] open arms. Coach [Steve] Fisher and Coach [Brian] Dutcher could've felt the same way. [Fisher] was a guy that ended up being fired by Michigan. Now he's gone and built a top-10 program at San Diego State. ... For some reason [Webber] felt like it wasn't a good time to give his testimony, and we just have to respect that. But it has no influence on the integrity of the story, because the story happened from '91 to '93. It's not a story about 2011.
How is your relationship with Chris these days?
King: Chris is our brother, but not in the immediate circle. But he's still a part of the family, and regardless of whatever his decision was in not [participating in the documentary], we support him. He is a part of it. Without him, there is no Fab Five. So we want to make sure that he understands that we still love him and that when he's ready to embrace us as we have embraced him, it's always love and open arms.
Why was the Fab Five so misunderstood at the time? Was it simply a generational gap or a racial gap? Or was there more to it?
Jackson: A little bit of both, but it was basically the newness. With it being a new experience for everybody, a lot of people didn't know how to embrace it or handle it. It was a little bit of race, a little bit of newness. We were just ahead of our time.
Rose: People do view you based on your appearance and judge you based on that. If we're five black guys at the University of Michigan, and it's like, "You have the nerve to jump up in Christian Laettner's face and talk trash? He's God to us. You have black shoes, black socks, bald heads, long shorts?" Like, that's too much at one time. ... It wasn't just the media; there were people who really had a sincere hatred because not only did they not like us, but they didn't want their kids to be like us.
[+] Enlarge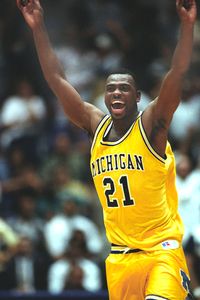 Mitchell Layton/Getty ImagesRay Jackson celebrates Michigan's second-round victory over UCLA
in the 1993 NCAA tournament.
Many of those things you were sharply criticized for -- trash talk, baggy shorts, black socks and shaved heads -- are commonplace in basketball today. Do you feel vindicated?
Jackson: You turn on TV now and Duke might have on black socks and black shoes. You would have never thought in '92 or '93 that you'd ever see it.
King: It's commonplace to see guys show their emotions on the court now when they play. When they get a game-changing dunk, it's all right to run down the court screaming, yelling, pounding your chest and talking to the crowd. That's normal, and it's exciting. But back when we were doing it, we were villainized. ... That's how people outside of the structure of college basketball played. So we brought that to the mainstream, and I don't think people were ready to make that change.
Rose: We were rough. We were raw. We were unpolished. We weren't clean cut. We didn't conform to a lot of the stereotypical things that were called upon for young black athletes at the time. If you had an earring or a tattoo, you were considered a thug back then. That was considered like a huge stand in society.
Jackson: A lot of people don't understand the basketball IQ we had at that age. Our IQ was through the roof. I look back at films now, and we bought into the system that Fish had. It might not have been a style that particularly fit for us, but because we understood the game we bought into the system and made it a success for all of us.
What was the biggest reason each of you choose to attend Michigan?
King: For me, it was the best of both worlds. It was the academics, and it was the athletics. ... We weren't typical players. Academics mattered to us. We went to school. Jalen was on the Dean's List. Ray is one of the smartest people I know, even though he downplays it. But the guy who's usually downplaying it is usually the smartest. Chris was highly intelligent. Juwan was a great student. Everybody took the academics seriously, which is overlooked.
FAB FIVE BY THE NUMBERS

University of Michigan career statistics:
| Player | G | Pts | Reb | Ast | Blk | Stl |
| --- | --- | --- | --- | --- | --- | --- |
| King | 130 | 1,542 | 538 | 354 | 45 | 187 |
| Jackson | 125 | 1,262 | 579 | 300 | 42 | 119 |
| Rose | 102 | 1,788 | 477 | 401 | 29 | 119 |
| Howard | 100 | 1,526 | 749 | 202 | 56 | 79 |
| Webber | 70 | 1,218 | 702 | 166 | 174 | 103 |
Jackson: We all had a helluva support [system] with our parents. ... Our structure was there. It was in place. The foundation was there, so I think that had a lot to do with it. Michigan, like Jimmy said, gave us the best of both worlds. We had Desmond Howard on the football field. We had the best hockey team in the country. And we considered Michigan academically as the Harvard of the Midwest. You couldn't beat it, and then we also saw the opportunity to come in and play as freshmen.
When you were choosing a school, Jalen, how important a factor was your high school coach, Perry Watson, who was rumored to be joining the Michigan staff the following season?
Rose: It was very important because Perry was like a father figure to me since middle school. It's not like he was some run-of-the-mill AAU coach that all of the sudden got the job at Michigan because I signed a letter of intent. He had players attend the University of Michigan -- Antoine Joubert, Leslie Rockymore -- 10 years before me. Being the most accomplished high school coach in the city of Detroit, it was a good opportunity for him to take his accomplishments to the next level. It just so happened it was my senior year ... and he had a great relationship with Chris, who was the No. 1 player in the country. So, really it made sense.
King: Also, [Watson's] résumé speaks for itself, and behind the scenes he had a lot to do with our development mentally. It's the big leagues going from high school to college. It's a different speed. It's a different ballgame. You know, it's a step closer to professionalism, and you have to develop and grow. He was a very integral part of that for all of us.
Jackson: Being that strong black man that we could relate to meant a lot. A lot of games when I would get frustrated, he would sit there and write a letter to me on a napkin while we were watching film, just to keep me motivated and keep me focused.
Were Chris Webber and Jalen Rose definitely going to be a package deal for some college?
[+] Enlarge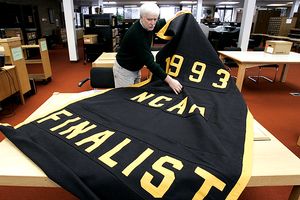 AP Photo/Paul SancyaMichigan's 1992 and '93 NCAA tournament banners now reside at the school's Bentley Historical Library.
Rose: As far as me and Chris being a package deal, we thought we were going to go to the same high school. But his parents and my mother weren't having it. My mother wanted me to go to Southwestern and play for Perry. [Chris] had a great opportunity to go to Country Day and play out there. So it just really came full circle, the opportunity to go to Michigan. But he took visits I didn't take, like he went to Duke. I took a visit to UNLV. So he had other visits that he wanted to check out. I did also. And it just ended up that [Michigan] was the best decision for both of us. These three guys [Juwan, Jimmy and Ray] were already in tow, so they were recruiting us. We knew we had the opportunity to play with them. A lot of people don't know that when we were at the McDonald's [All-America] Game, we fixed it so we could share rooms. ... We talked about [playing together in college] the entire time. We recruited each other as much as we were recruited. And the first time we met on campus, we played basketball ...
Jackson: ... that day. We were just meeting [at school]. We talked a little bit, put on our gear and walked right outside and started playing. We had the whole dorm watching us out the windows.
The documentary reveals that the Michigan basketball office received a lot of hate mail complaining about the Fab Five, some of it dripping with racist language. Were you aware of any of that at the time?
Rose: Of course we were. You know how people say "bulletin board material"? We used it for real. We put it up on a bulletin board [in the locker room].
Jackson: For motivation.
Rose: We left it up there. Don't take it down. We walked past it whether it was a practice or you were going in there to shower or whatever. It was there. It became a part of who we were.
Jackson: It brought us a lot closer together.
One last question: What did you guys think of the suit Jalen wore to the [1994 NBA] draft?
King: When I was watching it, everybody was like, "Nooooooooo!" And I was like, "That's Jalen." If you know Jay, that's Jay. When I was watching, I was like, "Yeah. Way to do you." Because everybody was like, "Let me turn the [tint] knob down!" If you knew Jalen, that was him all day.
Jackson: We were sitting there at Larry Johnson's basketball camp watching it. Mouths just fell open. Wide open.
---
Where are they now?
Juwan Howard is a member of the Miami Heat, playing in his 17th NBA season.
Ray Jackson coaches basketball at Concordia Academy High in his hometown of Austin, Texas, and runs a nonprofit organization, Rise Up Inc., which offers athletic and academic programs for youths.
Jimmy King coaches basketball at St. Mary's Preparatory School in Orchard Lake, Mich. He also owns a solar power company, J King Solar, and works as an analyst for the Big Ten Network and Versus.
Jalen Rose is an analyst for ESPN.
Chris Webber is an analyst for NBA TV and TNT.
Thomas Neumann is an editor for Page 2.