Commentary
Eddie George discusses Jim Tressel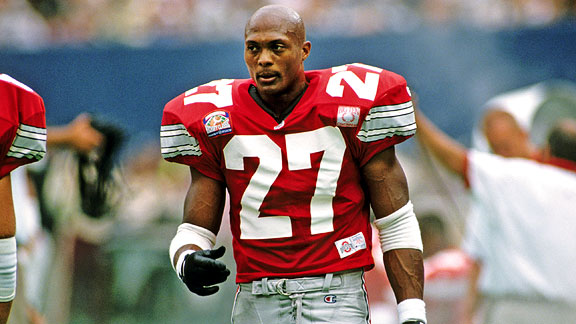 Al Messerschmidt/Getty ImagesEddie George will be inducted into the College Football Hall of Fame in South Bend, Ind., on Dec. 6.
Eddie George is a man of many talents.
Besides being the 1995 Heisman Trophy winner who played nine years in the NFL, he's an actor, restaurateur, landscape architect, businessman, reality television personality, football analyst and husband of R&B singer Taj Johnson-George.
Add member of the College Football Hall of Fame to that list.
MORE ON EDDIE GEORGE
In 2007, Jemele Hill went for a drive
with Eddie George in his Range Rover
for a wide-ranging interview on wheels.
• Watch: Riding with Eddie George

Page 2 recently caught up with the former Ohio State and Tennessee Titans star running back by phone to talk about his Hall of Fame selection, the current investigation at his alma mater and the Madden Curse.
Here's what transpired:
Page 2: What does it mean to you personally to be inducted into the College Football Hall of Fame?
George: It's a tremendous honor. When I found out I was inducted, it brought back a rush of memories of when I was at Ohio State and all the guys who showed me how to work, guys like Robert Smith, Raymont Harris, Kirk Herbstreit and guys that I played with like Shawn Springs, Mike Vrabel, Orlando Pace and Korey Stringer. Those practices, when we were together, were harder than the games. Just to get on the field was a challenge. ... I had to go out and work harder than anybody else. Because I wasn't necessarily the fastest or the strongest or the biggest, my work ethic had to shine above everybody else just to be on par and it led to Hall of Fame career at Ohio State.
When past Heisman winners gather for the trophy presentation in New York each December, which guys are the life of the party?
Mike Rozier, without a question. George Rogers. Those two definitely get it going. It's like Fred Flintstone and Barney [Rubble]. ... Mike Rozier is who he is. He's going to speak his mind. Whether it's appropriate or not, he speaks his truth. He's always the life of the party.
[+] Enlarge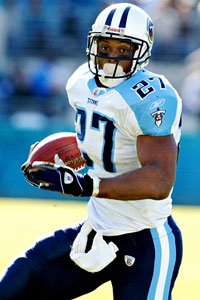 Brian Cleary/Icon SMIEddie George rushed for 10,441 yards and 68 touchdowns during his NFL career.
Obviously, Ohio State is currently embroiled in an NCAA investigation into possible violations. What percentage of powerhouse college football programs do you suspect commit major NCAA violations?
It's tough to [keep track of] all these kids when your job is to prepare them to play football. You're not running a daycare, so it's tough to figure out who's doing what once they leave the facility. I would have to say the vast majority of schools commit major infractions. Whether they have gotten caught, we don't know. But if you do enough digging around, you're going to find something on every school in America, so I wouldn't put it past anybody.
What's being alleged at Ohio State is a little different in that Jim Tressel is accused of trying to cover up violations. Do you think he should be fired?
I think he's walking on thin ice. I think if he didn't have seven Big Ten championships and if he had a subpar year last season we wouldn't be having this conversation. The coach wouldn't be there. But because of his résumé and what he's accomplished and what he's done for the school by raising money and building facilities, there's a lot that goes into the decision. ... Now if there are some other things that come out, I don't see him being around over the next few years. I could definitely see him resigning as the head coach of Ohio State football.
Why did you decide to leave pro football at age 31?
Pro football was done with me. It wasn't my decision.
But it seemed like you had more left in the tank than some of the guys who fight, scratch and claw to prolong their careers.
I didn't want to be that type of player just hanging around the game, standing on the sidelines and contributing in a small capacity. There's nothing wrong with that, but it's not who I was. ... I just felt that the end was near, and it was time for me to transition, do something else and find out what my next passion was. After playing nine years at a high level, I didn't want to be a journeyman. I didn't want to take my family through it. I didn't want to chase a ring that probably wouldn't mean as much.
Did you ever compare your career to the 13 players drafted before you in 1996 -- especially the two running backs, Lawrence Phillips and Tim Biakabutuka?
I'd be lying if I said there was no motivation. I was the Heisman Trophy winner, and of course, in my mind, I felt like I was the best running back available. ... All I remember saying to my agent after I was drafted was, "Get a deal done; get me in camp on time. That's all I want you to do, and I'll take care of the rest." ... I really wanted to show everybody what they missed out on. I felt like the 13 guys who went ahead me were worthy, no question, but I felt like I was definitely [in the] top 10 at that particular time. I was out to prove a lot of teams wrong.
[+] Enlarge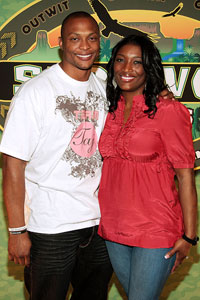 Janette Pellegrini/Getty ImagesEddie and Taj George are accustomed to life in front of the cameras.
You and your wife starred in the reality TV series "I Married a Baller." How did you balance that with trying to maintain some semblance of privacy?
You know, it wasn't that bad. I mean it was tough coming right out of the bedroom and have a camera right in your face. You have sleep in your eyes and drool on your mouth and you're not at your best. They're capturing every single intimate moment possible. ... The only place where you could get peace and quiet was in the bathroom -- whether you had to go or not. You might be in there for an hour, just to read or decompress or meditate or whatever.
Is it possible that your family is the only one in the history of reality TV that isn't dysfunctional?
Oh, we're dysfunctional. No question, we have dysfunction. Any family that's functional is delusional. I don't think we're as dysfunctional as say the Braxtons, or maybe the Kardashians. ... We have our pet peeves. My wife hates some things that I do and vice versa. My kids get on my nerves. So, dysfunction is function. That's how I look at it.
You appeared on the cover of Madden 2001. Is the Madden Curse a bunch of bunk or is there something legitimately spooky going on there?
When you look at it, I think it's a bunch of bull. I never missed a game to injury in my entire career. I didn't have a great year [in 2000], but that's because I had toe surgery.
You ran a half marathon in 2007. Are you getting into endurance sports?
That was the first and last half marathon of my entire life. Listen, dude, I was built for speed. ... Half a mile shy [of the finish], I was thinking, "This is not enjoyable. What is enjoyable about this?" I was in pain. My heels were hurting, My back was hurting. People are running next to me saying, "That's Eddie George, and I'm beating him!" ... I'm like, "Dude, I'm not a long-distance runner! I've got 10,000 yards on these legs. I've got my miles in. I'm good."
Which of your many business endeavors do you enjoy the most?
All of them. The first one, which is the landscape architecture firm, that's my baby. I started that, along with my partners, almost eight years ago. I graduated from Ohio State with a landscape architecture degree. I set out to have my own firm, and we've been in business through some very difficult times in the economy. ... With the healthy people side, I'm working on a health management strategy where we focus on helping ex-players manage their mental and physical health for the rest of their lives. ... Both businesses are equally important to me, because it's creating healthy places and creating healthy people.
Thomas Neumann is an editor for Page 2.