Commentary
Shaq bestowed wit, wisdom, wackiness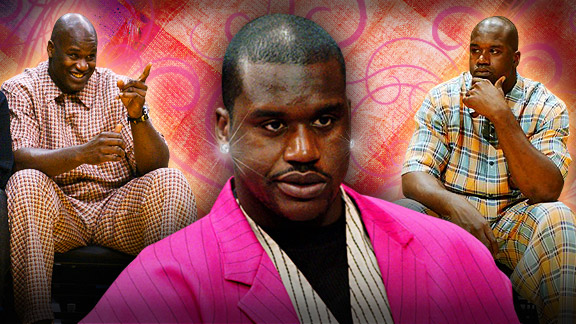 ESPN.com Illustration
Here at Page 2, we love us some Shaquille O'Neal.
But while the rest of the sports world debates the retiring superstar's ranking among the NBA's greatest centers and dissects his statistical excellence, we prefer to celebrate the humorous, offbeat and unpredictable sides of Shaq.
We're not talking about his many albums, movies, television shows and umm, the infamous rap about Kobe Bryant. Everyone remembers all that. Instead, we're going to revisit some of the random acts of Shaqness that appeal to the offbeat, bizarre sensibilities of Page 2. The quintessential quotes. The campy commercials. The dexterous dancing. The superlative singing. We could go on and on.
In a salute to the 15-time All-Star, Page 2 proudly presents a sampling of great Shaq moments you might have forgotten. So before we officially send the Big Metamucil into retirement, let's get Shaq-adelic.
A sampling of the quotable Shaq
• "I can't really remember the names of the clubs that we went to." -- on whether he had visited the Parthenon while in Greece
• "Afterwards, I said Chris Webber was going to leave as a free agent and Sacramento would go back to expansionism." -- on sweeping the Kings in the second round of the 2002 playoffs
• "I'm not a helmet wearer. ... I like to feel the wind blowing through my hair." -- to the Orlando Sentinel, on riding motorcycles
[+] Enlarge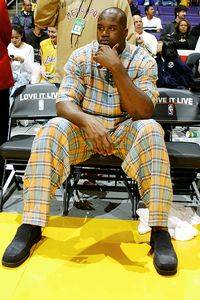 Catherine Steenkeste/NBAE/GettyShaq broke all sorts of fashion barriers when he wore this outfit during a game on Oct. 25, 2002.
"I never got any rest in Miami. I still don't know how we won that championship. [Expletive] partied every night in Miami." -- to Sports Illustrated, on somehow winning the 2006 NBA title with the Heat
• "I lean on the Statue of Liberty when I get tired" -- lyric from 1993 song "(I Know I Got) Skillz"
• "One is Fredo, who was never ready for me to hand it over to him. One is Sonny, who will do whatever it takes to be the man. And one is Michael, who, if you watch the trilogy, the Godfather hands it over to Michael. So I have no problem handing it over to Dwyane." -- on Penny Hardaway, Kobe Bryant and Dwyane Wade
Fashion and wardrobe
He wore Reebok kicks that evoked Alfred Hitchcock's "Vertigo." ... He painted his toenails (?) ... He rocked a legendary plaid jumpsuit at a game better remembered for Doug Christie uppercutting Rick Fox.
The phenomenon of "Shaq Fu"
Electronic Arts released a martial arts-themed video game entitled, "Shaq Fu" in 1994.
Anger on the court
Shaq memorably, if not gracefully, scrapped with Charles Barkley in 1999. ... He whiffed on a punch at Brad Miller during a dust-up between the Lakers and Bulls in 2002 which also involved Charles Oakley and Ron Artest ... He traded dunks and shoves with rookie Andrew Bynum in 2006.
A rumor circulated that a "Shaq Fu" sequel would be released in 2011. Alas, it doesn't appear that will happen.
"For the sake of dignity, let's pray not" said Scott Steinberg, head of video game consulting firm TechSavvy Global. "Last I checked, an entire generation of former mid-'90s Super Nintendo and Sega Genesis players still bear scars."
Effortlessly roughing up sportswriters
ESPN The Magazine writer and Page 2 contributor David Fleming relayed this anecdote from his days at Sports Illustrated:
During the 1997 playoffs, I talked to Shaq before a game in Utah. When I expressed the slightest skepticism about refs not calling fouls against him because he was so big, he said something like, "Come here little SI man." Then, without standing (he was almost taller than me sitting in a courtside seat) he gave me a full-contact clinic in how defenders got away with chops on his forearms, elbows to his lower back, stepping on his feet, leaning against the backs of his shoulders, tugging his jersey and kneeing him from behind. ... After tenderizing me for several minutes, he ended the lesson with a giggle and, I'm pretty sure, a half-flick of my ear.
"Believe me now?" he howled.
"Yes. Yes, I believe you now," I said.
That was 14 years ago. My ear still hurts.
Commercials that cracked us up
NBA on ABC ... "Scary Movie 4" ... Nestle Crunch with Caramel ... Taco Bell (taco neck injury) ... Burger King ("Shaft" spoof) ... vitaminwater (Shaq the jockey) ... vitaminwater (jockeys at the urinals) ... his first Reebok commercial ... NBA on ESPN (Shaqtastic Scrabble) ... NBA on ESPN ("no one touches the Shaqtus").
[+] Enlarge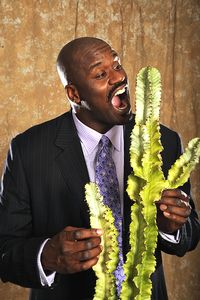 Andrew D. Bernstein/NBAE/GettyShaq becomes one with the desert during his 2008 Suns introduction.
Shaq the good Samaritan
In addition to his countless charitable endeavors, Shaq worked as a reserve police officer in Florida and volunteered with the Tempe Police Department in Arizona. ... He paid to replace a Los Angeles Police Department vehicle which was burned by fans after the Lakers won the 2000 NBA championship. ... He paid for Hall of Famer George Mikan's funeral in 2005.
Song and dance
He sang Prince's "When Doves Cry." ... He sang with Will Ferrell. ... He riffed about Vlade Divac to the tune of the theme from "Cheers." ... He danced with the Jabbawockeez at the 2009 All-Star Game. ... He sang Beyonce's "Sweet Dreams" in drag on Halloween 2010. ... He engaged Dwight Howard in a dance-off during All-Star Weekend in 2007. ... He schooled Justin Bieber in a dance-off. ... He conducted the Boston Pops orchestra in December 2010.
Lest we forget, Shaq was nominated for a Grammy in 1997 along with Coolio, Chaka Khan, Melle Mel, Yo-Yo and the cast of "Stomp'' on the song "Stomp'' from Quincy Jones' Grammy-winning album "Q's Jook Joint." Here's the section of the song in which he raps.
Social media (both real and imagined)
Shaq has more than 3.8 million Twitter followers and once initiated Oprah Winfrey into the world of tweets.
He wrote in his 2002 book "Shaq Talks Back" that he had one-sided conversations on a phony cell phone in an attempt to impress girls during his playing days at LSU.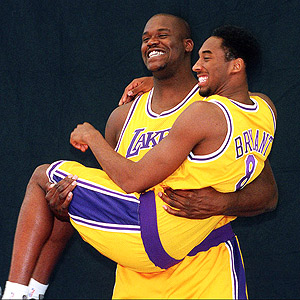 Associated PressShaq and Kobe Bryant pose at Lakers media day
in 1997, unaware of the turbulent future to come.
Miscellaneous wackiness
Shaq was once lifted by 4-foot-tall Wee Man of "Jackass" fame. ... Last year, he posed as a statue at Harvard Square in Boston. ... He once played Twister on the NBA on ESPN RV. ... He showed incredible restraint in refraining from flattening Ali G over an acronym disagreement. ... He crashed a wedding at the Four Seasons in Boston. ... He couldn't help but crack up when Spurs coach Gregg Popovich employed the Hack-a-Shaq five seconds into a first-round playoff game in 2008. ... He smooched Daniel Baldwin and Chris Jericho, among others. ... He traded "yo mama" jokes. ... He memorably appeared on "Curb Your Enthusiasm" and the WWE's "Monday Night Raw." ... He said he was as proven as toilet paper and toothpaste in his introductory new conference with the Heat in 2004. ... He also said the acronym for his alma mater, Louisiana State, actually stood for "Love Shaq University. ... He called Chris Bosh "the RuPaul of big men." ... He torched the Clippers for 61 points after they failed to provide him with as many tickets as he requested on his 28th birthday. ... He called the Sacramento Kings "the Queens" and the San Antonio Spurs "a great WNBA team." ... He feigned surprise upon being selected No. 1 overall by the Magic in the 1992 NBA draft -- "Who me? Me?"
Enjoy retirement, big fella.
Did we forget to mention your favorite Shaq moment? Be sure to post it to the comments section.
Thanks to Jim Caple, Kelley Carter, Kaitee Daley, Patrick Dorsey, David Fleming, DJ Gallo, Greg Hardy, Jemele Hill, Patrick Hruby, Scoop Jackson, Paul Lukas, Maria Burns Ortiz, Mike Philbrick, Alex Prewitt, Kalani Simpson, Kurt Snibbe, Vincent Thomas and Dave Wilson for assistance in compiling this list.
Thomas Neumann is an editor for Page 2.