There's no way to verify the numbers other than his own bookkeeping: Eddie Feigner figured that he threw 238 perfect games, 930 no-hitters and more than 1,800 shutouts, recorded about 8,300 wins and racked up more than 132,000 strikeouts. There's no record of how many miles the fastpitch softball pitcher logged crisscrossing North America in 54 years of barnstorming. There's no estimating how many young kids watched him at fairgrounds pitching blindfolded, behind his back, between his legs, from second base and from the outfield.
I was one of those kids, still in short pants, and I was dead sure I had not only seen the best softball player of all time, but the best anything of all time. I couldn't imagine that anyone was ever better at anything than Eddie Feigner (pronounced Fay-ner). Sports? I had seen Wilt and Pele back then and they had nothing on the King and his Court. Eddie Feigner took on all comers with just a catcher, an infielder and an outfielder, the latter two mostly being cheerleaders.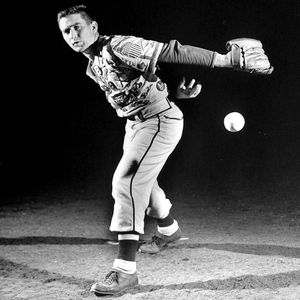 Getty Images
Eddie Feigner, pictured around 1951, once struck out Willie Mays, Willie McCovey, Brooks Robinson, Maury Wills, Harmon Killebrew and Roberto Clemente consecutively.
To match Feigner -- to even start to match him -- Wilt would have had to have won NBA titles averaging 50 points a game playing three-on-five, Pele a World Cup with a goalkeeper and a couple of midfielders and with just his left foot. No -- no sense even bothering with sports. Einstein? Just one theory of relativity; he'd need 237 more. Beethoven? He'd have had to come up with 930 symphonies. Orson Welles would have had to cracked out Citizen Kanes nightly for more than 50 years.
For me it was like first seeing the Harlem Globetrotters and thinking that the Globies would beat anybody, that Meadowlark Lemon's hook shot from center was unstoppable and that there was no D you could play on Curley Neal's dribble. But the Globetrotters' supposed invincibility required a youthful, willful suspension of disbelief, something that starts to fade when you set your comic books aside. Not so Eddie Feigner. When I first saw the King, near enough to his prime in his 40s, he still had his fastball, radar-gunned at 112 mph. Maybe the best softball players in his day could get hits off the King, maybe a team of pros could beat him in a straight game every once and awhile, but he was still a certifiable wonder, capable of doing stuff that no one else would even try.
Eddie Feigner was one of sport's constants, its longest running show. He started out in 1946 -- the King and His Court debut was a perfect game in Pendleton, Ore. -- and the act stretched into the next millennium, when he had to give in to the fact that there was no pitching from a wheelchair. Before he was done, he won games in Yankee Stadium and beside the Great Wall of China. He was definitely the only pitcher to attempt a William Tell number with a Hollywood star -- on "The Tonight Show" his fastball knocked a cigar out of the mouth of Johnny Carson.
A lot of major league pitchers have trouble taking the mound nicked up. Feigner, well past 70, was still pitching after two heart attacks and four strokes. Across the years he was subject of thousands of color pieces in newspapers great and small -- if he had a buck for every time that he was described as "a piece of Americana" he could have taken early retirement. Even if he had come off the road long before, his image was established: a brushcut that looked like a barber had used a carpenter's level and scissors, an outfit that looked like it had been stitched together by Betsy Ross, a demeanor that he must have borrowed from a drill sergeant back in his days in the Marines.
Of course, Feigner understood the curse of his talent. "I'm a pipsqueak because I'm caught in a nothing game," he once said of softball. "It's like being a world-champion nose-blower."
Yeah, he knew his place in the sporting universe. If a major league pitcher had once struck out Willie Mays, Willie McCovey, Brooks Robinson, Maury Wills, Harmon Killebrew and Roberto Clemente consecutively that hurler would receive a big send-off upon his passing. Feigner knew that these six Ks were indelibly asterisked because he whiffed the all-stars with a softball in an exhibition.
I asked Jack Knight, a member of Feigner's Court in the '80s and '90s, what was the most amazing thing he ever saw the King do.
"He once tore his knee up on the field," Knight said. "A groundskeeper just covered up this gopher hole and Eddie stepped in it. Took him to the doctor and he was told that he was going to need surgery and that he'd be out of commission for six months or so. Eddie went out the next day -- we were in Georgia and he had to walk backward onto the field because his knee was giving out on him. Pitched the whole game standing on one leg."
Knight also said that Feigner, self-deprecating though he might have been, remained a proud athlete late into his life.
"I remember we were playing up in Ontario in the early '90s and the year before we lost a game up there with Eddie doing his act against some very good players," Knight said. "Well, they gave it to us pretty good in the local press and so when we were up there the next year Eddie told the crowd before the first pitch that this was gonna be serious. He played it straight and the local side was never in it."
Understand what Feigner wasn't. He wasn't Max Patkin, a court jester clowning around the diamond. No, for all the entertainment, he amazed more than he amused. Fact is, there was a dark streak to his genius. He used to say that his talent traced back to being an orphan. "I know the hurt and rejection that comes when you don't know who your folks were," he told the Fort Worth Star-Telegram in 1997. "I spent a lot of time by myself. I threw a ball against a wall to play pitch and went down to the creek and skipped thousands of stones. All that gave me a strong arm."
Maybe all that kept him going back on the road all those years. Not a search for his parents, not a quest. Just that, even when the crowds started to dwindle in the '90s, he was never by himself. Not that this ever occurred to me when I was just a kid in the stands watching the blindfolded King whiffing batters. In the presence of the Eighth Wonder of the World, all I could do was wonder how he did it, not why.
Gare Joyce is a regular contributor to ESPN The Magazine and ESPN.com. His new book is "Future Greats and Heartbreaks: A Year Undercover in the Secret World of NHL Scouts."
PAGE 2 TRIBUTES
Page 2 tells the stories of some of those who passed away this year.
TAYLOR BRADFORD, 1986-2007
Taylor Bradford was a defensive lineman for the University of Memphis. He was also a thoughtful, intelligent brother and friend.
ABE COLEMAN, 1905-2007
Abe Coleman was 5-foot-3, 220 pounds and wrestled before a crowd of 60,000. He was one of a kind.
EDDIE FEIGNER, 1925-2007
Softball pitcher Eddie Feigner was more than a traveling sideshow: he may have been the best ever at
any
craft.
JOHN FERGUSON, 1938-2007
John Ferguson isn't in the Hall of Fame, but the Montreal Canadiens wouldn't have won five Stanley Cups without him.
BUDDY HANCKEN, 1914-2007
Buddy Hancken played just one inning in the major leagues, but he had a lifetime of stories to tell after spending 50 years in pro baseball.
MARQUISE HILL, 1982-2007
Patriots defensive lineman Marquise Hill tried to do what was right, and he had a perspective far beyond his years.
JESSE MARUNDE, 1979-2007
Jesse Marunde was one of the strongest men on the planet. Did he push himself too far?
ISAK RAIN, 1985-2007
Isak Rain was a budding star in the wrestling world, but an auto accident took his life far too soon.
BILL ROBINSON, 1943-2007
Bill Robinson enjoyed a long, productive major league career. He also knew how to take a joke.
VERN RUHLE, 1951-2007
Did he catch it or not? We can't say for certain, but either way, Vern Ruhle is a part of baseball history.
ESPN Top Headlines