"Everyone knew what he stood for during his eight seasons with the team … how he felt, what he thought, liked, loved and hated. What he loved was to win. Losing was what he hated. There was nothing complicated about his game. It was hit first, ask no questions later. He played to inflict pain … to intimidate. No exceptions. Opposing players were fair game. If he happened to be a goaltender, tough!"
-- Red Fisher, Montreal Gazette columnist, on John Ferguson
---
John Ferguson never made it into the Hockey Hall of Fame as a player. His NHL career lasted only eight seasons and 500 regular-season games. He scored only 145 goals, 20 more in the playoffs. He never made it onto a NHL All-Star team. In his best season he scored 29 goals and there wasn't a work of art in the lot of them, just sweat, sacrifice and second and third effort. A dozen of his teammates with the Montreal Canadiens are in the Hall. His coach is enshrined and his general manager too.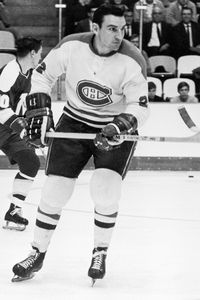 Bruce Bennett Studios/Getty Images
John Ferguson provided the heart and soul -- and toughness -- for five Stanley Cup champions.
Make no mistake, though. The Canadiens won five Stanley Cups with Ferguson from 1965 to 1971, and those Hall of Famers owe him for a couple of their rings. That's the way Jean Beliveau figures it. Beliveau wrote that Ferguson was "the most formidable player of the decade [the 1960s] and possibly in the Canadiens' history. His greatest contribution was his spirit … his intensity consumed him, his blood boiling when that of others simply simmered."
Even before his rookie season, belated at age 25, Ferguson vowed he was going to be "the meanest, rottenest, most miserable cuss ever to play in the NHL." He immediately offered the league his business card, getting into a fight 12 seconds into his first game, challenging Boston's tough guy, Ted Green. From his first to his last shift, Ferguson was the league's most feared player. Fans from the day remember his brawls with Chicago's Bobby Hull and Toronto's Eddie Shack, almost gothic stuff, no holds barred, no helmets worn.
Over the years, the Canadiens' success with Ferguson spurred imitators. Teams took a page from Montreal's book. Forty years on, they still do. These days the role Ferguson perfected goes by many names: policeman, enforcer, goon. For Ferguson, "goon" might have been a verb, but not a noun. His face, all malevolence and sangfroid, features that would chill a mug shot photographer, tipped you to his game but not the man. He was more than a noble savage. Behind the mayhem was an intelligence. Hockey's toughest player was possibly the smartest.
---
John Ferguson grew up near the Pacific National Exhibition grounds in Vancouver's east end, a gritty, working-class neighborhood. His existence became even more hardscrabble when he was in grade school: His father died and his mother was left to raise him on a seamstress' wages. While other kids could play games, Ferguson worked as stickboy at the PNE arena or mucking stalls at the Hastings Park racetrack.
Because he was so busy working and because equipment and ice time at the arena weren't free, Ferguson didn't lace on skates until he was 11 years old. As a teenager he was more accomplished in lacrosse than hockey. Still, the University of Denver offered him a hockey scholarship. He was looking at studying engineering down the line. Before he could enroll, however, the New York Rangers let him know that a contract signed by his mother years before made him ineligible for college hockey. The Rangers owned his rights and so he made his way to the Rangers' affiliate in Melville, Saskatchewan.
From Melville, Ferguson put in a season with the Fort Wayne Komets and three with the Cleveland Barons, seemingly on track for a journeyman's career. In the '60s, jobs in the NHL's Original Six were scarce and if a weak New York club had no interest in him, it was unlikely he was going to attract offers from other teams. Ferguson had no idea Montreal had targeted him. The Canadiens realized the Flying Frenchmen were more flight than fight, and opponents were bullying them with impunity. So in the fall of '63, Canadiens management brought in a few hard rocks, Ted Harris and Terry Harper, among others. None tougher than Ferguson.
That first game and first fight were instant lore. That Ferguson scored twice in that game, a Montreal win, was reduced to a footnote, just like the fact that he led all rookies with 18 goals that season. Or that he was runner-up in rookie of the year voting. It would be a recurring theme throughout his career: Menace overshadowed the rest of his game.
Teammates, though, understood Ferguson's role and recognized his value. One year they voted him their most valuable player. None of Ferguson's teammates appreciated him more than Beliveau. Late in his career, Beliveau played his best hockey with Ferguson patrolling his wing.
"Fergy disrupted the other teams, all over the ice," Beliveau told authors Chrys Goyens and Allan Turowetz in "Lions in Winter." "When he was in the other team's zone, the goalie had to keep an eye on him at all times and that helped the rest of us who were making plays and taking shots. But he was just as valuable off the ice. John hated to lose and the players on his team were afraid of him a bit. With a guy like him on your team, you don't want to fool around. He doesn't have to say anything. All he has to do is look at you, like the Rocket [Maurice Richard] used to do."
Opponents looked at Ferguson like a china shop owner would eye a rodeo bull, but they recognized his importance to Montreal's success. "I was scared to death to be on the ice against him and he probably even scared his teammates," says Bob Clarke, who broke in with Philadelphia in 1969. "He was on a line with Pete Mahovlich, who was an easy-goin' guy and John's job was to light a fire under him. The way John yelled at Pete on the ice it must have scared him because it scared all of us on the Flyers. With that beak of his, John looked like a hawk and he'd burn a hole in you when he looked at you. Everything he did was calculated to un-nerve you and give his team the best chance to win the game."
The 1971 playoffs marked the end of an era for the Canadiens. A grueling seven-game series against the Blackhawks was capped by a tense 3-2 victory in the final contest in Chicago. Beliveau announced his retirement after Game 7 and Ferguson sat next to him on the plane back to Montreal. By Beliveau's account, the tough guy had tears in his eyes and told him: "I can't do it anymore. I think I'm going to retire with you."
It was a case of crying all the way to the bank. "For the last couple of seasons he played, he made more money outside of hockey with his businesses and the horses he owned," says his son, John Ferguson Jr., the general manager of the Toronto Maple Leafs. "There's no doubt that the way my father played took a heavier toll on him physically than other players."
Montreal general manager Sam Pollock tried to talk Ferguson out of retiring by offering him the Canadiens' captaincy -- back in those days, a puff of white smoke billowed from the Forum chimney when the C was sewn on a new sweater. The C likely might have reserved a place in the Hall of Fame for Ferguson, putting him in a line with Toe Blake, Rocket Richard and Beliveau. Nonetheless, appeals to his pride and wallet failed.
Ferguson had played his last game, but wasn't out of the game long. He was drawn back to the arena for a role in the 1972 Summit Series between Canada and the Soviet Union. The coach of the Canadian NHLers, Boston's Harry Sinden, originally asked him if he'd play for Canada even though he'd been off the blades for more than a year. When Ferguson declined, Sinden offered him the job of assistant coach, knowing he could command respect of the stars in the lineup. Ferguson in street clothes was every bit as fearsome a figure as he had been on the ice.
"There was no tuning him out, that's for sure," Clarke says.
Clarke was tuned in to Ferguson's frequency in Game 6, at the moment when the Soviets were on the verge of clinching the series. The story has been told many times and accounts vary. The way Ferguson told it, he tapped Clarke on the bench to take out the Soviets' best player, winger Valeri Kharlamov. "I called Clarke over to the bench, looked at Kharlamov and said, 'I think he needs a tap on the ankle,'" he once said. "I didn't think twice about it. It was us versus them and Kharlamov was killing us. I mean somebody had to do it."
The way Clarke remembers it today, it wasn't quite as explicit. "Fergie just said, 'We gotta take that guy outta the game,'" Clarke says. "He didn't say it to me directly. I was standing by the bench when he said it, but he made sure that the right guys would hear it. He couldn't have known who'd have a chance to do something about it. He never said to break Kharlamov's ankle. He was only asking us to do something that he would have done himself."
A few shifts later, Clarke broke Kharlamov's ankle with a slash, and the series turned in Canada's favor. While others, including Clarke's teammate, Paul Henderson, questioned the ethics of the slash, Clarke and Ferguson never voiced any regrets or doubts.
Not that Ferguson was stubbornly and cold-blooded old school. He was too smart to blindly be a traditionalist. Ferguson recognized the Soviets' superior skating and puck skills. So in his stints as an executive with the New York Rangers in the late '70s, the Winnipeg Jets in the '80s and the Ottawa Senators in the '90s, Ferguson was ahead of his time in finding and developing players from Europe.
"Fergie was the tough guy's tough guy as a player, but he appreciated skill and had a great eye for it," says Jim Nill, who played for Ferguson in Winnipeg and scouted with him for the Senators. "He was the one who found Thomas Steen and Teemu Selanne. It was Fergie who pushed us in Ottawa to draft Daniel Alfredsson and Pavol Demitra in the later rounds. He wasn't just a good hockey man. He was way ahead of the curve. If he didn't go into the Hockey Hall of Fame as a player, you could make a heck of a case for him as a builder."
Ferguson quit the Senators in the fall of '95 after they fired four of his scouts and his secretary. Ottawa's owner was running the team on a well-frayed shoestring and looking to dump the Senators' best player, Alexei Yashin. It's hard to say whether Ferguson was more offended by the breach of loyalty or the indifference to talent. He later landed a scouting job with the San Jose Sharks and worked with the club right up until his last days.
---
At the world championships in Norway back in 1999, I watched a game with Ferguson, one that featured two of his finds on opposite sides: Yashin with Russia and Alfredsson with Sweden. The game wasn't close. The Swedes won easily against an undermanned Russian squad, but it was interesting to watch Yashin and Alfredsson. They obviously had no problem putting aside the fact that they were teammates in Ottawa. No two other players went at each other harder. At one point, the smaller Alfredsson flattened Yashin with an open-ice check that left the Russian glaring. With the Swedes leading 4-0 late in the third period, Yashin high-sticked Alfredsson in the face, splitting his lip wide open, good for more than a dozen stitches. Ferguson was white-hot about it. "It's a tough game, but that just doesn't make any sense," he told me. "The game's already lost and the tournament's over."
That was John Ferguson. As a player he had been capable of acts of violence when it made sense. As a hockey man, he understood the necessity of toughness but also its limits -- without a chance at victory, it didn't mean a whole heck of a lot. Yashin's assault on Alfredsson wasn't a smart play, just a gratuitous one. After Ferguson retired, hundreds of tough guys have made their way into the NHL, none better, none smarter and none more principled in hockey's own way.
Gare Joyce is a regular contributor to ESPN The Magazine and ESPN.com. His new book is "Future Greats and Heartbreaks: A Year Undercover in the Secret World of NHL Scouts."
PAGE 2 TRIBUTES
Page 2 tells the stories of some of those who passed away this year.
TAYLOR BRADFORD, 1986-2007
Taylor Bradford was a defensive lineman for the University of Memphis. He was also a thoughtful, intelligent brother and friend.
ABE COLEMAN, 1905-2007
Abe Coleman was 5-foot-3, 220 pounds and wrestled before a crowd of 60,000. He was one of a kind.
EDDIE FEIGNER, 1925-2007
Softball pitcher Eddie Feigner was more than a traveling sideshow: he may have been the best ever at
any
craft.
JOHN FERGUSON, 1938-2007
John Ferguson isn't in the Hall of Fame, but the Montreal Canadiens wouldn't have won five Stanley Cups without him.
BUDDY HANCKEN, 1914-2007
Buddy Hancken played just one inning in the major leagues, but he had a lifetime of stories to tell after spending 50 years in pro baseball.
MARQUISE HILL, 1982-2007
Patriots defensive lineman Marquise Hill tried to do what was right, and he had a perspective far beyond his years.
JESSE MARUNDE, 1979-2007
Jesse Marunde was one of the strongest men on the planet. Did he push himself too far?
ISAK RAIN, 1985-2007
Isak Rain was a budding star in the wrestling world, but an auto accident took his life far too soon.
BILL ROBINSON, 1943-2007
Bill Robinson enjoyed a long, productive major league career. He also knew how to take a joke.
VERN RUHLE, 1951-2007
Did he catch it or not? We can't say for certain, but either way, Vern Ruhle is a part of baseball history.
ESPN Top Headlines