"One of my professors said once, 'We cry when people die, but we should be happy because they're going to a better place. We should cry when a baby is born, because that's the beginning of death.'"
-- Marquise Hill, 2004
For most 24-year-old football players, whose livelihoods are based upon vivaciousness and physicality, the idea of death is as foreign as North Tarawa. It is a distant, incomprehensible concept. Death?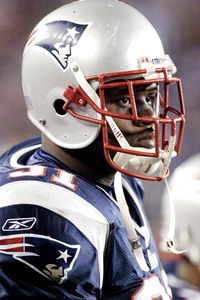 Thomas Croke/Getty Images
After starring at LSU, Marquise Hill was a second-round pick by the Patriots in 2004.
What's death?
Yet if there were any comfort to the family and friends of Marquise Hill, who drowned on May 28 after a personal-watercraft-skiing accident, it was that the New England Patriots defensive lineman truly seemed to grasp the frailty of life -- and used that knowledge to live feverously.
Unlike his professional peers, the majority of whom picked conventional majors like communications or business or physical education, Hill attended Louisiana State both to play football and to focus on a field unavailable at most major universities -- mortuary science.
It was a natural choice for the New Orleans-born Hill, whose grandmother was a mortician and whose first job was cleaning out hearses at the local morgue. Hill also happened to grow up in a rough section of the city, witnessing lives getting taken with all-too-great frequency. According to Hill, his neighborhood averaged 12 murders per year. In a 2004 profile, the Boston Herald suggested myriad nicknames for the rookie, including "The Undertaker," "The Grave Digger" and "The Mortician."
None stuck.
"You know the [saying], 'They're dying to see you,'" Hill told the Herald. "[New Orleans is] the murder capital. You see dead bodies every day. You drive around the neighborhood and see someone laid out, yellow tape everywhere It's just common."
Unfailingly upbeat, Hill spent his first season with the Patriots glued to the bench and never complained. Instead, he filled the locker room with an endless stream of banter that kept a relatively tight-laced team loose. He was equally loquacious back home in New Orleans, where he spent the offseasons working out with Patriots teammate Randall Gay. "It was so quiet in there the other day," Gay told the Baton Rouge Advocate after Hill's passing. "He never shut up. He was always talking. Every time we have a break and I come home, I work out, and he was always in the weight room. 'What are you doing? I've been here since six.'"
Hill maintained an especially close relationship with his mother, Sherry, who raised her son alone and treated him as both offspring and best friend. Never a fan of watersports, she expressed concern to her son about partaking in aquatic activities. "I didn't like the ski boat," she told the Advocate. "Me and him got into it. But he said, 'Momma, when it's my time to go, I'm going. You can't stop that.'"
That's the way he looked at it. He wasn't afraid of death.
"Just a couple of days before this happened he said, 'Mom, you know, everybody has to give an account on what they can do. It was just amazing how we talked just before all this happened. He always was concerned with doing what's right. He'd say, 'Man can't play God.'
Those are some of the last words he told me, the last conversation we had."
Jeff Pearlman is a former Sports Illustrated senior writer. You can reach him at anngold22@gmail.com.

PAGE 2 TRIBUTES
Page 2 tells the stories of some of those who passed away this year.
TAYLOR BRADFORD, 1986-2007
Taylor Bradford was a defensive lineman for the University of Memphis. He was also a thoughtful, intelligent brother and friend.
ABE COLEMAN, 1905-2007
Abe Coleman was 5-foot-3, 220 pounds and wrestled before a crowd of 60,000. He was one of a kind.
EDDIE FEIGNER, 1925-2007
Softball pitcher Eddie Feigner was more than a traveling sideshow: he may have been the best ever at
any
craft.
JOHN FERGUSON, 1938-2007
John Ferguson isn't in the Hall of Fame, but the Montreal Canadiens wouldn't have won five Stanley Cups without him.
BUDDY HANCKEN, 1914-2007
Buddy Hancken played just one inning in the major leagues, but he had a lifetime of stories to tell after spending 50 years in pro baseball.
MARQUISE HILL, 1982-2007
Patriots defensive lineman Marquise Hill tried to do what was right, and he had a perspective far beyond his years.
JESSE MARUNDE, 1979-2007
Jesse Marunde was one of the strongest men on the planet. Did he push himself too far?
ISAK RAIN, 1985-2007
Isak Rain was a budding star in the wrestling world, but an auto accident took his life far too soon.
BILL ROBINSON, 1943-2007
Bill Robinson enjoyed a long, productive major league career. He also knew how to take a joke.
VERN RUHLE, 1951-2007
Did he catch it or not? We can't say for certain, but either way, Vern Ruhle is a part of baseball history.
ESPN Top Headlines