Sarge Allen and Breck Gault moved around the gym wordlessly loading plates onto bars. At Marunde Muscle and Fitness, the place where serious strongmen gathered in the town of Sequim on the Washington peninsula, there was no music. It wouldn't have seemed right just a couple of hours after the funeral. There was only the clanging of plates. Any other day Allen and Gault would have shouted to be heard above Anthrax and Metallica. Allen, the ex-marine from Texas, would have been barking out the count on reps, scaring anybody catching his boot-camp act for the first time. Gault would have been cheerleading, as hardcore as Allen. They had trained here four, five, six days a week for seven years. They had done it all for Jesse Marunde. Now Marunde was gone.
They always had said there was only one good excuse for missing a workout: a death in the family. They had the excuse; but training was their way of showing respect. The 20 other strongmen in Sequim for the funeral understood. They went to Marunde Muscle and Fitness with Allen and Gault after the service.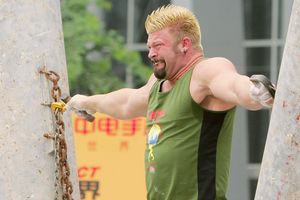 China Photos/Getty Images
Jesse Marunde finished second in the World's Strongest Man competition in 2005.
Allen and Gault have always lived for feats of strength and endurance. Gault, a contractor, can frame a house as fast as three good workers. Allen, in same line of work, pushes even harder. In the gym, Gault's grip strength is prodigious. Allen, in his 40s, once did 98 squat reps with his body weight, 218 pounds. "One of the five hardest things I've ever done," Sarge told people, leaving it to their imagination about what's really tough. But that was before this somber workout. It was taking all that strength to hold back tears.
In the gym a few days before, Breck had called for an ambulance and Sarge had kneeled across their best friend, driving his hands into Jesse Marunde's chest, trying to make his heart beat, trying to bringing him back to life.
---
Back in 2004, Jesse Marunde and his wife Callie launched a Web site,
marunde-muscle.com
, to promote their gym. The Marundes posted photos: Jesse rolling over a car, Callie oiled and flexing on stage at body-building shows. They posted videos of Jesse in competition and training. It allowed Jesse to stay in touch with friends he made at the World's Strongest Man competition and other strongman events. It wasn't just a scrapbook. Jesse used the site to get into the heads of rivals with passive-aggressive trash talk. Like the message he sent to Travis Ortmayer, the self-styled "Texas Stone Man": After loading a 464-pound Atlas stone three times from the floor onto a 56-inch platform, Jesse looked at the camera and rated the lifts as "another day at the office" and mock-lamented, "Too bad Travis won't come up here and train with me."
Strongmen traded stories on the site's chatroom, which featured Jesse's training journal. On the morning of July 25, 2007, he posted this entry:
07-25-2007 ... Posts: 2,998
today's workout, I'm getting nervious ...
Last week I promised I would post some videos from this weeks training. I'm going to try to hit a high volume workout today that will be pretty intense.
here's what I'm going to attempt-
rev hyper 3x10
incline situp 3x10
barbell warmup 2x
power snatch 120x3x3, 130x3x3, 120x2x5
hang power clean 160x3x3, 150x5, 140x10
power clean and push press 150x3x5
DB lateral raise 45x3x12
DB military press 100x3x10
back squat drop set 230x8, 190x8, 150x8, 110x8, 70x10
leg extension 2x50

wish me luck
---
Last words. I'm getting nervious ... So nervous that his spelling went all to hell. Those who knew him couldn't imagine that he was ever really scared. Maybe other strongmen went to the gym to compensate for deep-seated insecurity, but not Jesse. He was always a prodigy of strength and courage. Growing up in Alaska, he didn't wait until his 10th birthday to start working with his grandfather, pulling in nets on commercial fishing boats on the Bering Sea. When he was 16, one fishing boat was drifting off in a strong current and, risking his life, he was the one who took a rope out to it in a dinghy and somehow made his way back to his grandfather's boat.
Jesse made it sound like he had less to fear in the gym than anywhere else. "I'm familiar with injury, illness, aches and pains," he said in an interview. "Some people call these ailments symptoms of over-training. I maintain injuries can be avoided for the most part by training smart, illnesses can be avoided by eating clean, [and] aches and pains can be minimized by being in a constant state of rehab and by executing proper technique on every lift." & pretty intense ... In another interview, he didn't pussy-foot around: "I rely on the power of me. Nobody will want it more than I do." Maybe somebody wanted it as much as Jesse did, but nobody had made it as an elite strongman faster. In his teens he was a promising Olympic lifter and won a football scholarship as a tight end to Montana State. But at 21 he devoted himself to strength training. A year later, Marunde qualified for the 2002 World's Strongest Man, the youngest finalist in the history of the event. "When I saw Jesse in 2002, I saw the future of our sport," said veteran strongman Hugo Girard of Canada. "He had an athleticism that we hadn't seen in strongman. He could move so well. He was so explosive."
In 2005, at age 25, Jesse finished second to Mariusz Pudzianowski of Poland when the World's Strongest Man competition was staged in China. The 2006 season was a write-off because of injury but Jesse had to rank as a favorite to win the WSM in Anaheim in September of 2007. "He had never been in better shape," Sarge Allen says. "Healthy and in great form."
wish me luck
Everything -- every workout, every meal, every competition -- was planned, but there was no taking luck out of the equation. "Jesse was out at the cutting edge of strength," Sarge Allen says. "Jesse was out there testing the limits of human strength, like the pilots trying to break the sound barrier in 'The Right Stuff.' It was dangerous and Jesse knew that. There are risks in other sports when you're on the cutting edge, but maybe not where you're risking your life. That's the difference with strongman." Marunde knew that Jon Pall Sigmarsson, the four-time WSM champion from Iceland, had died at 32 during a deadlift workout in the gym. And that Johnny Perry, a 29-year-old American had died of a heart attack just weeks after competing at the 2002 WSM. Like the test pilots in "The Right Stuff," strongmen pursue breakthroughs, records, transcendent moments. The danger isn't the going for it. The danger is in going too far.
---
When Marunde was planning his workout for July 25, odds are that Callie had something on the stove or in the oven. His daily training table called for, among other things, 20 egg whites, a vat of oatmeal, a gallon of raw milk, family-sized servings of fresh-killed game like moose or pheasant or two or three pounds of grass-fed beef, a pound of wild salmon or halibut, cans of tuna, half a jar of peanut butter and … well, space just doesn't permit the list of vitamins, amino acids and other supplements.
When he typed "wish me luck," his daughter, J.J., was six weeks old. Jesse worried about holding her in his huge hands, calloused from lifting barbells. About holding her in arms made too rough by the rash and scabs left over from wrapping around the cement Atlas stones. "With the beard he had, he felt like there wasn't anything soft enough for her to touch, even his face," Callie says. "Finally he decided that his nose was the one thing she could touch."
When Jesse Marunde signed off the site that day, his son 9-year-old, Dawson, from a previous marriage, was probably off playing with friends in Sequim. Jesse had settled in Sequim to be close to Dawson. At first he struggled to make ends meet. Before he set off to be the world's strongest man, he was the strongest car valet in the Pacific Northwest. He chopped wood. He was a mover. When he started out in strongman, he slept in his truck at competitions. If Dawson needed something, Jesse was ready to do without. "Jesse didn't have an ego," Breck Gault says. "He put others in front of himself."
---
The Sequim Crew -- as Travis, Sarge and Beck called themselves -- was all about Jesse. "You could be with us but you had to understand that it wasn't about you," Sarge says. "We were there for him and it was easy for us to accept; he was just so gifted. He was just so much stronger than us … I spent more time taking plates off a bar than lifting."
The Sequim Crew had plans. The plan called for Jesse to win WSM, to win it again just to prove that luck wasn't involved, and to move on from strongman. They were going to ride with Jesse. Jesse dreamed big and his dreams included them.
"We talked about climbing Everest without oxygen," Sarge Allen says. "We talked about eco-racing the length of South America." It all started with Jesse proposing to his wife in Africa at 23 and marrying her a year later in a crater in Hawaii. Jesse Marunde had a full inventory of memories, but the bigger stuff was still out there when he wrote up the plans for July 25 on the dry-erasable board. The last line: back squat drop set 230x8, 190x8, 150x8, 110x8, 70x10 The numbers are in kilograms. That's more than 550 pounds on the first set, decreasing by 90 pounds per rapid set. No rest. An endurance test. Then, not on the board, right after the last squat set: flipping a 900-pound tire. And then, right after that: loading a 265-pound Atlas stone onto a platform. That's the pretty intense moment, trying to find explosion in shaking legs.
The video camera was rolling, something for the Web site, something for posterity, something to look back on after a victory at the World's Strongest Man. Jesse made it through the squats, made it through the tire flip.
Then came the Atlas stone. Two-hundred sixty-five pounds: Fresh, he could have chest-passed the thing like a medicine ball. His best was 200 pounds more than that. This time he couldn't raise it onto the platform for all the Sequim Crew's shouting; maybe someone else would have walked away. Jesse Marunde didn't.
"I've got this," he said and he dipped and strained and made the lift, dropping it on the wooden platform that Breck had constructed.
High fives, fist bumps and "oh-yeahs."
Marunde was foggy. He dropped to the floor. Not unusual. That was where Jesse gathered himself after a tough lift. Sarge went to hand him a water bottle and noticed that Jesse was having trouble breathing. Within minutes an ambulance was on its way while Sarge administered CPR. An hour with a defibrillator and shots of adrenaline couldn't bring him back. Gone.
---
The workout after the funeral was supposed to be a celebration. The other strongmen spread out around the gym and went through their workouts, like a team of dancing bears moving around the three rings of a small circus. But tears welled up in Sarge's eyes. He was second-guessing himself. He couldn't help it. He was going to be playing it over in his mind for weeks and months, even after an autopsy found that Jesse had an enlarged heart and a genetic condition that put him at risk. Sarge wouldn't let go.
"I've asked myself so many times, 'Did he push too hard? Did I push him too hard?'" Sarge says. There was no telling Sarge Allen that it had been Jesse pushing himself. Not Sarge pushing him, but Jesse going out and testing the limits of human strength on his own. Maybe Jesse Marunde realized when he set the Atlas stone down that he was in trouble, that he hadn't left enough for the return trip. Maybe the high fives and fist bumps he exchanged with the Sequim Crew weren't just a way of saying goodbye but also a way of saying that he was good with it.
Gare Joyce is a regular contributor to ESPN The Magazine and ESPN.com. His new book is "Future Greats and Heartbreaks: A Year Undercover in the Secret World of NHL Scouts."
PAGE 2 TRIBUTES
Page 2 tells the stories of some of those who passed away this year.
TAYLOR BRADFORD, 1986-2007
Taylor Bradford was a defensive lineman for the University of Memphis. He was also a thoughtful, intelligent brother and friend.
ABE COLEMAN, 1905-2007
Abe Coleman was 5-foot-3, 220 pounds and wrestled before a crowd of 60,000. He was one of a kind.
EDDIE FEIGNER, 1925-2007
Softball pitcher Eddie Feigner was more than a traveling sideshow: he may have been the best ever at
any
craft.
JOHN FERGUSON, 1938-2007
John Ferguson isn't in the Hall of Fame, but the Montreal Canadiens wouldn't have won five Stanley Cups without him.
BUDDY HANCKEN, 1914-2007
Buddy Hancken played just one inning in the major leagues, but he had a lifetime of stories to tell after spending 50 years in pro baseball.
MARQUISE HILL, 1982-2007
Patriots defensive lineman Marquise Hill tried to do what was right, and he had a perspective far beyond his years.
JESSE MARUNDE, 1979-2007
Jesse Marunde was one of the strongest men on the planet. Did he push himself too far?
ISAK RAIN, 1985-2007
Isak Rain was a budding star in the wrestling world, but an auto accident took his life far too soon.
BILL ROBINSON, 1943-2007
Bill Robinson enjoyed a long, productive major league career. He also knew how to take a joke.
VERN RUHLE, 1951-2007
Did he catch it or not? We can't say for certain, but either way, Vern Ruhle is a part of baseball history.
ESPN Top Headlines