When former major league outfielder Bill Robinson was found dead in his Las Vegas hotel room this past July, the ensuing obituaries evoked his 16-year career; his 104 RBIs for the 1977 Pittsburgh Pirates; his work as the Dodgers' minor league hitting coordinator and his early-1990s stint as an ESPN analyst.
Somehow, nobody mentioned the smoking shoe.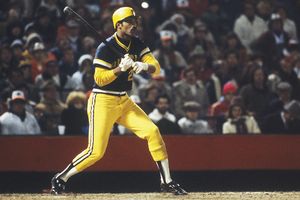 Focus on Sport/ Getty Images
Bill Robinson hit 24 home runs in helping the Pirates win the World Series in 1979.
Ah -- the shoe. Ask nearly any '86 Met about Robinson and tears of sadness immediately turn to tears of laughter over what may well be the greatest prank in baseball history.
In the bottom of the second inning of a game at Cincinnati that May, Robinson, the Mets' first base coach, was digging through a bag of sunflower seeds in the New York dugout. As "Uncle Bill" (as he was called by the players) munched away, reliever Roger McDowell was lying beneath the bench at Robinson's feet, a Marlboro cigarette and a roll of gaffer's tape in one hand, a fully loaded book of matches in the other. McDowell removed the staple from the matchbook, wrapped the book around the cigarette and taped the two together. Then, gently as a Key Largo breeze, he adhered the contraption to Robinson's left cleat. When the inning ended, McDowell lit the cigarette and wormed his way to the other end of the dugout.
As Robinson rose from the bench, McDowell and his teammates expected the shoe to light up. But it didn't. Robinson strolled out to first base. He watched the pitcher warm up. He yelled encouragement to Darryl Strawberry. He clapped his hands. He adjusted his cap. Finally, as Gary Carter approached the plate after a Strawberry single, the smoke began to emerge. Then it happened. Whoooosh! Robinson morphed from baseball coach to pig roast. The flame shot up his shoe and along his leg, and he jumped up and down, screaming and kicking.
"It was like NASA just launched something," McDowell said years later. "The greatest hotfoot ever. And Bill, to his credit, never got mad. He just said, 'You won't get me anymore. I'm done with that.'"
McDowell nodded. By season's end, Robinson fell victim to at least 15 more shoe lightings.
He endured each one with a smile.
Jeff Pearlman is a former Sports Illustrated senior writer. You can reach him at anngold22@gmail.com.

PAGE 2 TRIBUTES
Page 2 tells the stories of some of those who passed away this year.
TAYLOR BRADFORD, 1986-2007
Taylor Bradford was a defensive lineman for the University of Memphis. He was also a thoughtful, intelligent brother and friend.
ABE COLEMAN, 1905-2007
Abe Coleman was 5-foot-3, 220 pounds and wrestled before a crowd of 60,000. He was one of a kind.
EDDIE FEIGNER, 1925-2007
Softball pitcher Eddie Feigner was more than a traveling sideshow: he may have been the best ever at
any
craft.
JOHN FERGUSON, 1938-2007
John Ferguson isn't in the Hall of Fame, but the Montreal Canadiens wouldn't have won five Stanley Cups without him.
BUDDY HANCKEN, 1914-2007
Buddy Hancken played just one inning in the major leagues, but he had a lifetime of stories to tell after spending 50 years in pro baseball.
MARQUISE HILL, 1982-2007
Patriots defensive lineman Marquise Hill tried to do what was right, and he had a perspective far beyond his years.
JESSE MARUNDE, 1979-2007
Jesse Marunde was one of the strongest men on the planet. Did he push himself too far?
ISAK RAIN, 1985-2007
Isak Rain was a budding star in the wrestling world, but an auto accident took his life far too soon.
BILL ROBINSON, 1943-2007
Bill Robinson enjoyed a long, productive major league career. He also knew how to take a joke.
VERN RUHLE, 1951-2007
Did he catch it or not? We can't say for certain, but either way, Vern Ruhle is a part of baseball history.
ESPN Top Headlines