The baseball hung in the air …
… and fell, barely a second passing from the time it left Garry Maddox's bat and landed in the glove of one Vernon Gerald Ruhle, a starting pitcher for the Houston Astros and the man asked to shut down Philadelphia in Game 4 of the 1980 National League Championship Series.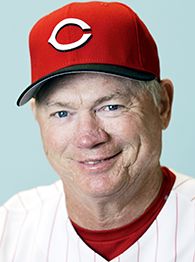 AP Photo/Al Behrman
Vern Ruhle, who joined the Reds organization as a coach in 2004, was 67-88 in his major league career from 1974-1986.
Or did it?
With Phillies on first and second and nobody out in the fourth inning of a scoreless game, Maddox's soft bip rose off his bat handle and floated toward Ruhle's left. The pitcher reached out his glove and appeared to have made the grab. When plate umpire Doug Harvey gave the no-catch signal, however, Philadelphia's Bake McBride and Manny Trillo bolted from second and first bases, respectively. Ruhle proceeded to throw to first base for an out as the runners advanced.
Pretty basic stuff, right? Right?
Uh, right?
First-base umpire Ed Vargo said Ruhle did, in fact, catch the ball and therefore what was momentarily a single out was now a double play. As Philadelphia manager Dallas Green and his legions stormed the field to protest, Astros first baseman Art Howe ran to second base and tagged the bag to complete what Houston claimed was a triple play.
Enter: Bedlam.
Phillies yelled at Astros. Astros yelled at Phillies. Green went classic crazy on the umps and the fans went classic crazy on Green.
When emotions cooled, the umpires met with NL President Chub Feeney and -- after a lengthy delay -- decided to send McBride back to second and allow the double play to stand.
Green protested the game.
Astros manager Bill Virdon protested the game.
Ruhle, well, he could only laugh. That was ol' Vern.
"See how long my glove is?" he joked afterward.
"I felt I made the play," he added. "My glove is long and it might have looked like the ball bounced off the ground when it really was just bouncing from the front of my glove to the back. I didn't really feel it, but that's because my fingers are so far away from the front of the glove."
In the end, it mattered little. The Phillies won the game, won the NLCS and, 10 days later, beat Kansas City to win the World Series. But for Ruhle, who in January died at age 55 of complications from a donor stem cell transplant during treatment of multiple myeloma, that game -- that memorably controversial moment -- makes him significantly more than a four-team journeyman with a 67-88 record and 3.73 ERA.
No, it freezes Ruhle in time, back to an era when the Astros dressed their players like Froot Loops boxes and men named Cedeño and Sambito and Ashby temporarily turned gridiron-obsessed Houston into a baseball town and an otherwise forgettable 29-year-old right-hander found himself in the center of a storm.
Jeff Pearlman is a former Sports Illustrated senior writer. You can reach him at anngold22@gmail.com.

PAGE 2 TRIBUTES
Page 2 tells the stories of some of those who passed away this year.
TAYLOR BRADFORD, 1986-2007
Taylor Bradford was a defensive lineman for the University of Memphis. He was also a thoughtful, intelligent brother and friend.
ABE COLEMAN, 1905-2007
Abe Coleman was 5-foot-3, 220 pounds and wrestled before a crowd of 60,000. He was one of a kind.
EDDIE FEIGNER, 1925-2007
Softball pitcher Eddie Feigner was more than a traveling sideshow: he may have been the best ever at
any
craft.
JOHN FERGUSON, 1938-2007
John Ferguson isn't in the Hall of Fame, but the Montreal Canadiens wouldn't have won five Stanley Cups without him.
BUDDY HANCKEN, 1914-2007
Buddy Hancken played just one inning in the major leagues, but he had a lifetime of stories to tell after spending 50 years in pro baseball.
MARQUISE HILL, 1982-2007
Patriots defensive lineman Marquise Hill tried to do what was right, and he had a perspective far beyond his years.
JESSE MARUNDE, 1979-2007
Jesse Marunde was one of the strongest men on the planet. Did he push himself too far?
ISAK RAIN, 1985-2007
Isak Rain was a budding star in the wrestling world, but an auto accident took his life far too soon.
BILL ROBINSON, 1943-2007
Bill Robinson enjoyed a long, productive major league career. He also knew how to take a joke.
VERN RUHLE, 1951-2007
Did he catch it or not? We can't say for certain, but either way, Vern Ruhle is a part of baseball history.
ESPN Top Headlines