Commentary
Baseball cards with bugs -- yes, really
Originally Published:
March 1, 2010
By
Chris Olds
| Beckett Baseball Magazine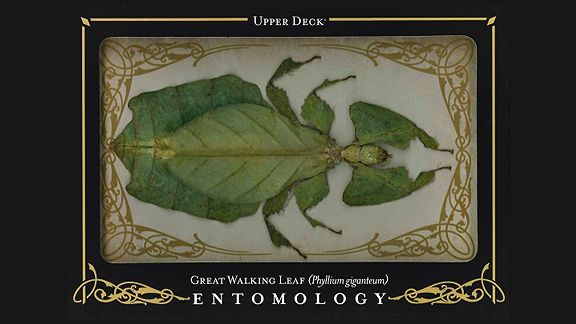 Courtesy of Upper DeckYes, that really is an Upper Deck baseball card.
Sports fans collect a lot of things -- baseball cards, autographs, memorabilia, bugs.
Bugs?
That's not a Joba Chamberlain reference there -- it's the latest concoction in the baseball card world from Carlsbad, Calif.-based Upper Deck.
It has put actual insects into baseball cards.
Last summer, Upper Deck issued Goodwin Champions, a baseball card set featuring the design and look of the 1880s tobacco cards of the same name -- but with a modern twist that included autographs of sports stars (not just baseball players) and pieces of game-used memorabilia on their cards.
Autographs and memorabilia are the modern norm -- but Upper Deck added a few extras.
"I want to create some watercooler talk," said Upper Deck baseball product development manager Grant Sandground. "I want to have people talking about these products. Here are tobacco-era cards redefined."
You see, tobacco cards -- pieces of cardboard placed into packs of cigarettes to firm up the packaging -- originally featured bugs, flags and athletes from all types of sports before baseball became the norm and the smokes were dropped in favor of bubble gum.
For the modern version of the old-time tobacco card, Upper Deck put the actual bugs into the cards for its Goodwin Champions Entomology cards. And because exotic insects come in all shapes and sizes, the company put redemption cards (think Willy Wonka's Golden Ticket) into packs instead of the cards containing the creepy crawlers.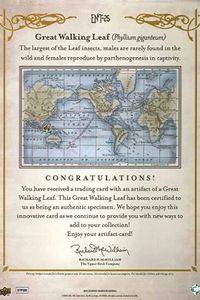 Courtesy of Upper DeckHere's a look at the back of the card.
"I wanted to show to the modern consumer that tobacco cards weren't all about baseball players. … They had Civil War generals, racing horses, bicycles, animals and all sorts of stuff," Sandground said. "What I wanted to do was take those subjects and completely turn them on their ear in a style befitting of Upper Deck -- to take those concepts from 100 years ago and deliver them in the most modern manner possible."
The company is preparing to ship the "bug cards" out to customers who have patiently waited for their collectibles, unveiling a peek at the Great Walking Leaf card seen here. That card is four times the size of a standard baseball card -- but it's infinitely creepier.
"People thought I was crazy when I came here and pitched this product," Sandground said. "But we're all pretty excited about it."
The novelty of these cards hasn't been lost on collectors -- they've routinely been paying $100 a pop for the exchange cards, despite not knowing exactly which insect they might get in return.
Upper Deck has announced that there will be more than 30 different bugs to be collected, including specimens of the giant centipede (which can be a foot long), the walking stick, baby-back scorpions, the man-faced beetle, and several types of butterfly.
Something tells me that the Great Walking Leaf might not be the creepiest of the bunch.
Chris Olds is the editor of Beckett Baseball magazine. What are your baseball cards worth? Check out Beckett.com -- and be sure to get the latest news on sports cards and memorabilia at The Beckett Blog.