Commentary
Meet Kent Katich, yoga guru of the NBA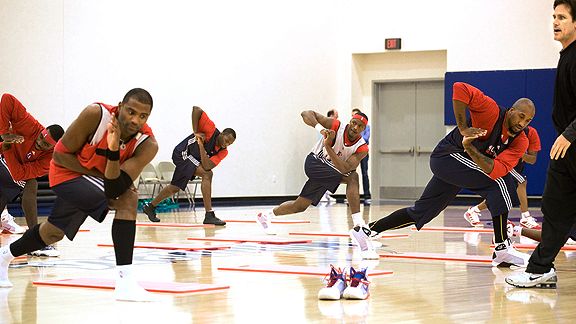 Scott Dukes Photography Yoga instructor Kent Katich leads the Clippers in a group session at the team's practice facility.
LOS ANGELES -- Baron Davis shifts from one yoga pose to another as Kent Katich, the Clippers' "yoga coach," guides the veteran guard through a pregame routine in the Staples Center locker room.
Yes, the Clippers have a yoga coach. It's the kind of thing that might raise eyebrows elsewhere, but hey, it's Hollywood. Isn't everyone into those kinds of things out here? You know, drinking wheatgrass, driving Priuses, doing yoga.
Of course, this is still the NBA, in which Gatorade abounds, SUVs are the ride of choice and yoga has definitely never been a legitimate part of the equation -- until now.
Katich isn't the first person with NBA ties to promote the practice of yoga (Kareem Abdul-Jabbar has been a fan since the mid-1970s), but Katich is certainly revolutionizing the way NBA players approach the Eastern tradition.
[+] Enlarge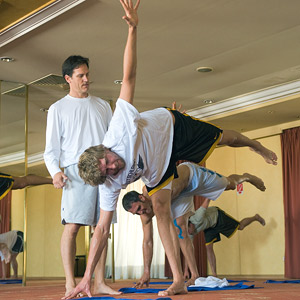 Dirk Schlickman photo Dirk Nowitzki is one of many NBA players who trust Katich's instruction to assist their playing careers.
He is the only yoga instructor working full-time with an NBA team, currently or -- as far as he can tell -- in the history of the league.
"I've been around a long time," Katich said, "and I've never seen it, never heard about it, and it's the kind of thing that I would have heard of."
The impact of yoga on players is difficult to quantify. The positive results from downward-facing dogs, half-moons and warrior poses are not the kinds of things that show up on stat sheets or box scores. But the players who train with Katich swear by him.
"Going into my 11th year in the NBA, I feel as though the work that we've been doing has allowed me to regain my youth," Davis said. "I believe if I can continue to master this art, then I can have a very long career in the NBA."
In a field in which an extra year can mean a few extra million dollars, that's really saying something. The biggest hurdle has always been getting players to give it a try.
"I thought it was something that girls did," said Lakers guard Jordan Farmar. But when Farmar was invited to take part in a 2008 yoga retreat Katich organized in the South Pacific, Farmar figured "it couldn't hurt, and if I didn't like it, well, I still got to go on a nice trip and see what Tahiti was like."
Farmar has since become one of basketball's biggest yoga advocates, joining a long list of converts.
"[Kent] is just a good dude," Clippers rookie Blake Griffin said. "He's laid-back. He's not all up in your face about it. Well, I guess most yoga instructors aren't like that or yelling, but he's just easy to talk to. He has a way of relating what he wants us to do."
Connecting on that level is something Katich is able to do because he understands the game. He played basketball at the University of South Dakota and in Sweden, where the yoga seed was planted.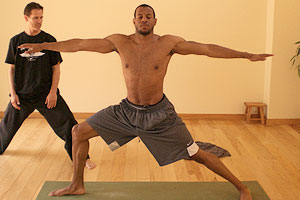 Courtesy of Kent Katich Sixers guard Andre Iguodala also works with Katich.
It was 1988, and yoga was considered about as New Age as healing with crystals and reading auras. Katich gave it a try at the suggestion of a "teammate in phenomenal shape" and was hooked. After returning stateside, he traveled the country picking up tips and refining his skills as an instructor. He combined it with his love of basketball and began selling friends, agents, anyone he could on the idea of blending the two. Slowly, it's caught on.
Katich estimates he's worked with about 25 percent of the players in the league, including Dirk Nowitzki, Andre Iguodala, Kevin Love and Brook Lopez. Now he's shooting for the remaining 75 percent.
It doesn't take long to figure out that Katich isn't your stereotypical yoga teacher.
"People probably think of a yoga instructor, and they think of somebody like Gandhi or somebody like that," Clippers forward Craig Smith said.
Katich certainly breaks that mold. He strives to.
That's why visitors to his Westwood studio are far more likely to walk into the "Yoga Court" and hear Tupac blasting from the speakers than new age goddess Enya. His Yogaletics DVDs were shot in a gym as opposed to next to the ocean. There are no spandex tights. No chanting. No discussion of finding your inner chi. Oh, and no Sanskrit.
"Players don't want to hear tree-ay-muka-ukah-maka-pasana," Katich said (or something that sounded like that). "They just want to hear, 'Bend forward, touch your toes.'"
It's about flexibility, figuratively and literally.
"The yoga community," Katich said, pausing as he searched for the right words, "I say this with kindness and respect, but the yoga community can be a little … weird. They don't really understand athletes so much."
Katich wants to change that -- one NBA player (or in the case of the Clippers, one team) at a time.
Maria Burns Ortiz is a Page 2 contributor and covers college soccer for ESPNsoccernet. She can be reached at mariamburns@gmail.com.