Commentary
The Harvard Sports Analysis Collective
The members of the Harvard Sports Analysis Collective insist they're just like average fans when it comes to speculating about sports statistics.
[+] Enlarge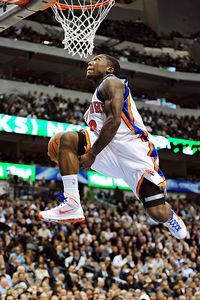 Jewel Samad/Getty ImagesDo shorter players tend to do better in the NBA's slam dunk contest? Ask the Harvard Sports Analysis Collective.
That might be believable if they weren't sitting in a room with a "very basic" equation (consisting of "P = 15 yds," a bunch of fractions and letters, and a percent sign) to calculate the break-even point for Saints coach Sean Payton in deciding to go for a second-half-opening onside kick in Super Bowl XLIV scrawled on the blackboard behind them.
The group (mostly undergraduates) posts its research and findings, which have been cited by major newspapers, on its blog and regularly contributes to the Huffington Post.
What kinds of findings has their research yielded? I asked them to break it down a little further -- for the really statistically disinclined.
• When it comes to results, do overweight college football coaches do any worse than their skinny counterparts? Nope.
• Want to pull off an upset in the NCAA men's basketball tournament? Pick up the pace. Games with a higher tempo (more possessions per game) in March Madness are more likely to result in upsets.
• Is there any validity to Bill Simmons' assertion that football coaches actually begin to decline after the age of 55? For the most part, that's true. Joe Paterno is in a league of his own.
• Does the level of success an NFL coach achieved as a player correlate with his success as a coach? No. (That's good news for Chiefs coach Todd Haley, who played college golf.)
• Whom should you put your money on in the NBA's slam dunk contest? Bet on the little guy. Nate Robinson's not a fluke. Not being the tallest guy in the field actually makes a player more likely to win.
Yes, the members freely admit, they're stats guys who crunch sports numbers on a computer while eating mini Hostess donuts. But let's be honest -- if you can do that and be productive, that's not a bad deal.
However, there is a downside. As secretary Jonathan Adler put it, "It's not a great place to meet the ladies."
Maria Burns Ortiz is a Page 2 contributor and covers college soccer for ESPNsoccernet. She can be reached at mariamburns@gmail.com.