Commentary
Scotty Lago's hometown still behind him
SEABROOK, N.H. -- It's less than a five-minute drive from one end of this coastal town to the other -- and that's if you hit a red light or two. You can now tell when you've reached the city limits by the large signs flashing "Welcome Home Scotty Lago … Olympic Bronze Medal Winner."
[+] Enlarge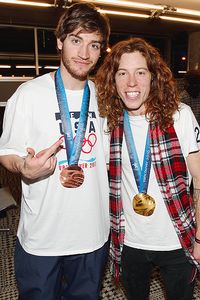 Christopher Polk/Getty ImagesScotty Lago was celebrating with Shaun White one minute, and leaving Vancouver the next.
With a population of roughly 8,000 residents, Seabrook is the kind of place where anyone who doesn't personally know Lago at least knows someone who does. It's a town that, according to the ever-scientific Wikipedia, boasts just one notable resident -- one who up until Feb. 17 was unknown outside of Seabrook and the snowboarding world -- and that's Scotty Lago.
Of course, in the Internet age, notoriety can change overnight. Which is how Lago went from virtual unknown to an NBC prime-time competitor to a guest on the "Today" show to a TMZ target in the span of 30-some hours.
For those who missed it, Lago, 22, put together an incredible first run in the men's snowboard halfpipe to bring home a surprise bronze medal and share the podium with U.S. teammate and snowboard icon Shaun White. That's where the story -- at least with regard to the Olympics -- should have ended.
Instead, it became a crash course in the pitfalls of the 24-hour news cycle, popping up across the Twitterverse in 140 characters or less: U.S. bronze medalist Scotty Lago leaves Olympic Games after picture hits Web.
The picture in question, posted on TMZ and touted as "racy" and "risqué," showed Lago in a crowded bar, fully clothed, with a young woman bending in front of him holding his bronze medal in her mouth. Tacky? Sure. Risqué? Worse things air regularly on network television.
"They obviously know that there's a certain degree of 'social human activity' that's going to go on," local sports columnist Mike Sullivan said of Olympic officials. "And this wasn't even that!"
His response seemed to be the general reaction.
"When I heard about it, I absolutely expected worse," said Jim McKenzie, a bar manager at the Prime Time Sports Bar and Grill in Seabrook. "My first thought was something really bad happened that's going to color this. When I saw what it was, I was like, 'Really?'"
Lago left Vancouver, and U.S. Ski and Snowboard Association president Bill Marolt, in a statement to The Associated Press, called Lago's conduct inappropriate and "his involvement in this situation unacceptable."
Cue eye-rolls along the New Hampshire seacoast.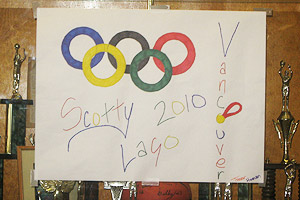 Maria Burns Ortiz for ESPN.comSigns supporting Lago can be found all over Seabrook.
"It's stupid," Morgan O'Connor, a sophomore at the area's Winnacunnet High School, said of the reaction to the Lago photos. "He is 22 years old, and he is going to party because he got a medal in the Olympics. It's not that big a deal. I'm sure other Olympians have done worse things. They should have given him a break. Everybody here is still supporting him because everybody makes goofy mistakes."
Somewhere along the line, it's been propagated that the slightest misstep doesn't sit well in small-town America. But Seabrook is small-town America -- the kind of place where people slow down for yellow lights and rally around one another. Along its residential streets, construction paper cutouts of Olympic rings and other handmade signs for Lago are visible in the windows. The kids at the local school made posters to plaster area businesses with.
"It's put a lot of spirit into this community," Seabrook state representative Al Weare said of Lago's Olympic success. "To the young people, it shows that no matter where you come from, you can succeed if you put some effort forward. That's nothing but positive for the town both young and old."
Seabrook's main commercial stretch along Route 1 reflects its dedication to the hometown Olympian. Marquees -- from chain restaurants to small businesses, car washes to hot dog stands -- display messages of congratulations and encouragement.
"Whether somebody's been directly involved in his life or not, just the fact that Scotty's from here, I think people feel like he's one of us, and that's something to be proud of," Sullivan said.
The response Sullivan got from a column he wrote on Monday defending Lago -- and 22-year-olds in general -- received an overwhelming response from locals who share his view.
"Especially coming from a small town, the Olympics is such a big scale, and for him to have done that well, he's in a position to be a role model for the kids," said Patrick Collins, the sports director for the Seabrook Department of Recreation. "He shows what can be done with the hard work, how that got him to the position he's at."
Collins was taking a quick break from trying to pull together Lago's homecoming parade. The scale of the event kept growing from what was initially anticipated to be a meet-and-greet at the local community center to a parade expected to draw a few thousand people.
[+] Enlarge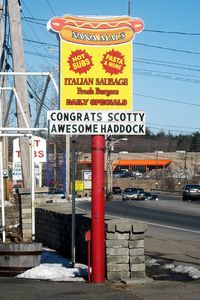 Maria Burns Ortiz for ESPN.comThe parade celebrating Lago will be a very big deal here.
"We're, of course, very proud," Michael Lago said of his grandson's bronze medal. "But the reaction from the town has just been great. From New Hampshire to the Massachusetts border is littered with signs [for Scotty]. There's a lot of positive things coming out of this. There's no town like Seabrook. They're behind you 100 percent."
The Sunday paper touted Lago as a hero -- and to the community where he grew up, he's not just a hero, he's their hero.
"With what just popped up on a horrible Web site, it could be a little bit of a blow to how people perceive him, but you can't hide the fact that what he did was something that kids can look up to," Collins said.
In fact, Weare sees the experience as giving Lago one more motivational message to pass on.
"If anything, I think it should teach young people another lesson, which is to take the darn cameras and cell phones and whatever else and stay off the Internet with them," Weare said with a laugh.
Lago seems to have maintained his sense of humor as well, tweeting on Saturday: "Got home this morning to all my homies. Such a good Olympic experience. Keeping my medal in a safe spot for now haha."
Fitting words, considering many people -- not just those in Seabrook -- feel this whole situation has been blown out of proportion to the point where it comes across as a joke.
Maria Burns Ortiz is a Page 2 contributor and covers college soccer for ESPNsoccernet. She can be reached at mariamburns@gmail.com.