Commentary
A two-on-two game for the ages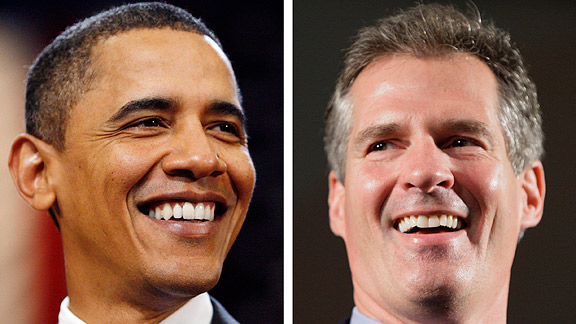 AP PhotoWill Barack Obama and Scott Brown go head-to-head on the basketball court? We'll see.
Just a couple days after his election to the U.S. Senate in January, Scott Brown issued President Obama a challenge -- to take Brown and his daughter on in a game of two-on-two.
President Obama has yet to officially comment, but it's possible he's just been waiting for the right partner to appear. Enter UConn's Maya Moore, who on Monday said if the commander in chief is looking for a teammate, she's available. "Whatever the president needs, it is my patriotic duty to help him," Moore told The Associated Press.
The mayor of Springfield, Mass., has extended an invitation to host the game in his town, considered to be basketball's birthplace.
The White House is said to be considering Brown's offer. In case the Oval Office staff needs a little help in breaking down the lineups, here's a quick look:
THE POLITICIANS
• Barack Obama
Experience: Varsity second team at Punahou High School, regular pickup games on the campaign trail and at the White House.
Notable titles: President of the United States, named Person of the Year by Time magazine in 2008.
• Scott Brown
Experience: Four-year player and senior co-captain at Division III Tufts University (1977-1981), nicknamed "Downtown" Scotty Brown for his ability to hit long-range shots, career average 9.9 points per game.
[+] Enlarge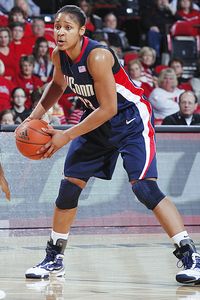 Joe Robbins/Getty ImagesMaya Moore wants to play with the President -- yes, that would be pretty cool.
Notable titles: U.S. Senator, won Cosmopolitan magazine's "America's Sexiest Man" contest in 1982.
THE PLAYERS
• Maya Moore
Experience: Junior forward at Connecticut, averaging 17.9 points, 8.3 rebounds and 4.0 assists per game this season.
Notable accolades: 2009 NCAA championship, and virtually every high school and college player of the year awards possible.
• Ayla Brown
Experience: Senior guard at Boston College -- averaged 5.8 points, 5.0 rebounds and 1.6 assists per game this season.
Notable accolades: Massachusetts Gatorade Player of the Year in 2005 and 2006, "American Idol" semifinalist.
Who has the edge? Predictions are likely split down party lines, but as Vice President Joe Biden reportedly said when the senator approached him with the idea, "I think it would be a hell of a game."
Maria Burns Ortiz is a Page 2 contributor and also writes for ESPNSoccernet. She can be reached at mariamburns@gmail.com.