The best baseball movie never made
The snow is piling up on my Maine lawn on a March afternoon. The phone rings.
"How'd you like to hear a baseball story that could be bigger than 'Field of Dreams'?" the voice on the other end asks. "This isn't just one movie, it's two, or maybe three."
"Who's this?" I say.
"I'm calling from California, just finished working out a couple of minor leaguers, and I've got a baseball story that'll blow your mind."
"You've piqued my interest. Who is this?"
"I'm talking 'Rocky' and 'Rudy' and 'Field of Dreams' all rolled into one. This could be huge. And you could be the guy who writes it."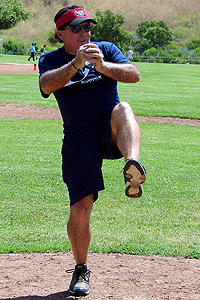 Courtesy of Rich Pohle
Rich Pohle, now 69, spins a yarn for the ages about trying to reach the minor leagues.
It'll be another 15 minutes before Rich Pohle will come up for air long enough for me to cajole a name out of him, and by then I'll have filled half a yellow legal pad with hastily scribbled notes. After all, I'm not a scriptwriter; I'm a baseball travel writer. But Pohle keeps reminding me that he's dropping the next big Hollywood blockbuster right in my lap, if only I listen attentively enough, if only I write it convincingly enough.
---
It's a story about a ruse, a gag, about just maybe the best hidden-ball trick baseball's ever seen.
As Pohle (pronounced POE-lee) pitches his story, I soon realize that it does indeed touch upon several of the themes that make for compelling cinematic fare.
Like nearly every 12-year-old boy to grow up in America since the Bambino was swatting balls out of parks in the Roaring '20s, Pohle spent his childhood believing that one day he'd be a professional ballplayer. Unlike most Little Leaguers, though, he never abandoned the delusion. When he was supposed to give up the dream -- at age 18, or 22, or 26 -- and accept that his 5-foot-7 frame and the countless tryouts that always seemed to leave him the last player cut were never going to get him to the pros, he kept fighting. And when he finally began to realize that gumption alone wasn't going to cut it, he decided that bending the rules a little -- OK, a lot -- was a justifiable means to an end.
And so, when Rich Pohle was 36 years old he stepped onto a minor league diamond in Lewiston, Idaho, and played his first professional baseball game. Only, he wasn't Rich Pohle that night. By then, Rich Pohle had ceased to exist. The year was 1974 and as far as anyone knew, Pohle was a 21-year-old whiz kid freshly arrived from the Australian outback, and his name was Rocky Perone.
---
It's a story about the age-old search for the fountain of youth, about someone who actually finds it.
Pohle grew up in Lisbon, Maine, which, as I soon learn, helps explain why he picked me -- a fellow Mainer whose books he came across in an Orange County bookstore -- to tell his story. Maybe there aren't too many Mainers writing for Hollywood, I figure. Or maybe there are, and they've all already given Pohle the old "Sorry babe, but it's not for me." (In fact, as I later learn, Pohle has told his story before: Sports Illustrated ran a first-person account in 1979.)
The story begins in Maine, on a high school field in the 1950s, where Pohle flashed his leather at shortstop and sprayed hits all over the lawn. By then he knew -- just knew -- that he was going to play pro ball. Sure, there were those who told him he was too small, and those who said he'd wind up cutting meat behind the counter of his father's meat market, and those who encouraged him to get an education. But he knew better. He just knew.
"I was on my way," Pohle says, "but then I met a girl and you know how it goes, we had to get married, and I had to drop out of high school, and then the baby came along, and suddenly I was afloat in life."
And so, just as the naysayers had predicted, Pohle took his old man up on that job at Pohle's Quality Meats. And well, you're probably thinking you've heard this story before. He lives a life marred by regret, grows old and bitter, never stops wondering, what if. Right?
Only Pohle didn't let his life follow the script. He wrote a different one.
---
It's a story about starting over, about building a new life, about someone who heads west and decides it's never too late to seize one's own destiny.
Fast-forward eight years to 1963. Pohle's marriage had dissolved and his ex-wife now had a new life, a new husband, and for the better of everyone involved, his son. That was all Pohle needed to leave everything from the meat market to the whole state of Maine in his rearview mirror. He's in Los Angeles, staying at his sister's place, sleeping on a sofa that's not quite big enough for him to stretch out. He's realized by now that, by god, he's wasted enough time. He's got to get serious about his career. He's got to find a team that needs a shortstop.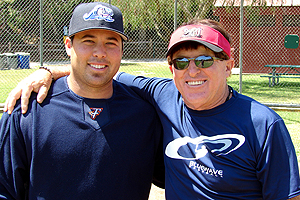 Courtesy of Rich Pohle
Pohle runs a baseball school in Southern California, along with his son, Richie.
He spends the winter playing before scouts amidst otherwise barren grandstands in a California winter league. One day a Los Angeles Angels scout pulls him aside and says he likes what he sees. Meanwhile, bird dogs from the Kansas City A's and Los Angeles Dodgers say they're interested too. When the man from A's, Art Lilly, offers a contract -- small money and airfare to Florida to play for Kansas City's Class D affiliate in Daytona Beach -- Pohle says he'll sign.
"How old are you?" Lilly asks.
"Just turned 19," Pohle deadpans, knowing full well that 26-year-olds aren't prospects. They're not even has-beens. They're never weres.
"Nineteen?" Lilly says, "You'll need a family member to co-sign."
Pohle explains the situation to his sister, Anne. She tells him his fib can't possibly work. But when the scout comes knocking on her door the next day, she signs her name beneath her brother's. And just like that, he's off her couch, and on a plane to Daytona Beach for spring training.
---
It's a story about a time traveler, only the protagonist forgets the first rule of thumb regarding time travel, forgets that to rewrite the past is to forever alter the future.
Pohle reported to the A's "Diamond City" complex, a multifield facility they shared with the Pittsburgh Pirates. There were hundreds of players in camp, major leaguers and minor leaguers from both organizations.
As winter gave way to spring beneath the Florida sun, Pohle took his grounders and his turns in the cage, and sat in awe when it came time for lunch each day.
"The Pirates sat on the other side of the cafeteria," he recalls, "And I remember seeing [Roberto] Clemente for the first time. I remember how handsome he was with that olive skin, and those teeth like pearls. And when he walked across the room, it seemed like he was a god, the way we all looked at him."
After a month of workouts, Pohle assumed he'd made the team and was ready to begin his pro career for real. But then Daytona Beach manager Bobby Hoffman called him into his tiny office one day.
"Bobby Hofman, remember that name," Pohle says, "It's a name that'll come up again later. Bobby Hofman and I would meet again."
On that day, Hofman told Pohle that "he could play" but that the organization had more money invested in other players, guys who had to make the team. He handed Pohle an envelope and wished him luck.
By the time Pohle packed his bags and looked inside the envelope, he realized the A's hadn't even afforded him the dignity of a flight home.
"I had to ride a train all the way from Florida to Los Angeles," he remembers. "I arrived at the station at 3 a.m. and I didn't want to wake up my sister, so I walked the six miles to her place. When I got there, I found parking tickets all over my car. I spent my first day back in California holed up in the police station."
Suddenly, Pohle pauses for the first time in what's already been an hour-long conversation. "A lot of little stories that tell the story of my life," he says, "I guess they have dramatic endings."
But that wasn't the end of Pohle's strange baseball odyssey, just the first of many near misses.
---
It's a story about those hours in the middle of the night, when you're 36, or 37, or even 69, when you lie awake and start to realize that "almost" and "never" essentially mean the same damned thing.
Fast-forward another 10 years and Rich Pohle still hasn't gotten his one big break. He's spent half a decade in Australia, where he arrived to work as an importer/exporter in the jewelry trade. Only a funny thing happened.
He was driving past a rugby field in Sydney one day when he noticed some men playing a pickup baseball game. The next thing he knew he was rolling up his sleeves and showing those Aussies how to hang in there just a little longer on a curveball, how to get on top of a high fastball, how to close their stances so they wouldn't pop up.
He winds up playing semipro ball, winds up a player-manager.
In 1974 he returns to Florida with an Australian pitching prospect he's been tutoring. He sets up a tryout for the kid in front of some scouts. Then he gets an idea. No, that's not right. It's an idea he's been entertaining all along.
"By then I understood baseball scouts," Pohle explains. "I knew their eyes always lit up when they heard a prospect was from another country. They'd think they'd found someone who slipped through the cracks, someone other teams hadn't heard of."
Pohle invents an alter ego, assumes the identity of a smooth-talking Australian named Bill Kearns. He calls a Padres scout who, rumor has it, is looking for a middle infielder. "I told him I was just back from Australia and I found this kid that he had to see. The best damned player on the continent. Only he doesn't know if he wants to play pro ball. He just turned 21 and he's in the States to go to school. His name? Oh, right, Rocky Perone."
A day later, the scout dials the phone number where "Kearns" told him "Perone" could be reached.
Pohle answers in a thick Australian accent, plays dumb, as if he's been living under a rock his whole life. "A tryout? Sure, mate, why not?"
Plans are made for Rocky to work out the next morning with the Florida Southern University baseball team. This is it, Pohle thinks. Might be his last chance. He's so close that he can practically taste it. Only … only, how will he ever pull it off?
"I knew I had to look the part," Pohle says. "I had to look dumb, like I just walked out of the woods. I found a surplus store in St. Petersburg and picked up a Dutch Boy painter's cap and some gray sweatpants. I went to a wig store and bought a big moppy wig that made me look like Pete Rose, who was wearing his hair all shaggy at the time. And I shaved two times that morning so I'd look young."
And so a 36-year-old American becomes a 21-year-old Australian, so outlandish in his outfit and mannerisms that the only laughs he draws, from scout Jim Marshall and the team of collegians, concern his naiveté, not his age.
"You have to realize God gave me the youth gene," Pohle explains. "I'm 69 today and I could pass for 45. And besides, I was in the best shape of my life. I'd been running every day, and I'd been putting a cream from Sweden on my face to make my skin soft."
So they laugh at his outfit, his accent. Then they stop laughing when he bangs the ball all over the park, when he goes deep in the hole at short and guns a laser beam across the diamond. When the college coach says that actually he could use a shortstop, offers a campus tour, hints at a scholarship, the Padres scout pulls Rocky aside, says anybody can get an education in the U.S. but only a select few can play pro ball. He'll stop by Rocky's place the next morning he says, with a contract.
Only it wasn't quite that simple. Pohle wasn't kidding when he said that each of the little stories that make up the story of his life ends in dramatic fashion.
That night the man in the apartment below him starts blaring "hillbilly music" at 3 a.m., so Pohle ambles downstairs and asks him to turn it down. The next thing he knows he's out in the street answering questions for police officers. Then he's being led to the back of an ambulance. The hillbilly's jaw is broken. Pohle has a busted thumb. It's his right thumb, his throwing hand. And he knows too well that scouts don't sign guys with broken thumbs.
An hour after leaving Doctor's Hospital in St. Petersburg with a cast that goes all the way up to his elbow, Pohle sneaks back in. He barricades himself in a room at the hospital, figures out how to operate the machine, cuts off the cast. Then he heads home, puts on his wig, soaks his arm in alcohol to get the remnants of plaster off, and spends the next hour practicing signing "Rocky Perone" left-handed.
When the scout arrives, he makes Rocky the official property of the San Diego Padres. Then, as soon as the scout leaves, Pohle heads across town to a different hospital, says he fell out of a hammock, and gets a new cast. He spends the next three months rehabbing his hand and getting ready for his last best chance, another spring training.
---
It's a story about love, loss and redemption, only the protagonist mixes up the sequence, finds his redemption before he ever really loses anything, and then faces a future in which he can never make himself whole.
The Northwest League season would begin two months after the big leagues began, so Pohle had ample time to heal. Since he was living in California, he received an invitation to work out with some big leaguers at Jack Murphy Stadium in March. The Padres were scheduled to host the Cincinnati Reds for an exhibition game, and as batting practice for Pohle and some of the Padres' other minor leaguers wound down, some of the Reds began making their way onto the field to warm up.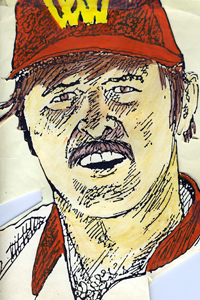 Courtesy of Rich Pohle
Pohle would use facial creams, shave three times a day and wear a wig to make himself look younger.
"They assign me Dave Hilton's uniform jersey, since Hilton had just been sent down," Pohle explains. "So there I am, Rich Pohle, pretending to be Rocky Perone, wearing a jersey that says 'Hilton' across my back."
And then things get dicey.
From a distance, Pete Rose mistakes Pohle for his friend Hilton, and starts hollering out to him from across the field, "Hey, Hilton. Hey, Hilton, I thought you got farmed out?"
At closer range the Reds star realizes that Pohle is not Hilton, looks him up and down, sees the mop of hair, the goofy grin that's part of the "Perone" persona.
"Hi, mate," Perone says.
"You're not Hilton," Rose replies.
"No, mate. Who are you?"
"I'm Pete Rose. Who the f--- are you?"
Perone explains that he's from the world's smallest continent, the mysterious land of crocodiles and kangaroos. Suddenly, Rose and Johnny Bench and other familiar Reds are congregating around him. "What are the women like down there?" they want to know.
---
It's a story about a man who knows his best efforts can result only in failure, but he keeps trying anyway.
A month later, when his turn comes, Rocky Perone stands up in a hotel conference room and introduces himself to his new teammates in Walla Walla, Wash. Even at 21 he's the oldest player on his Class A team.
Pohle keeps to himself, eats his meals at the local American Legion, rather than with the guys, pretends to have "bathroom issues" so his roommate won't get suspicious when he's in the can half an hour every night applying his special creams and plucking the fraying hairs from his wig. He smiles a lot, maintains a carefree exterior, but inside his mind is always on edge. What if he forgets one day and accidentally talks without the accent? What if the wig falls off as he slides into second base? What if it suddenly dawns on somebody, anybody, that his can't possibly be the body of a 21-year-old? As opening day approaches, he's racked by constant doubt. And yet, he's so close now. A part of him is strangely exhilarated. He's weeks, then days, then hours, then mere minutes from taking the field for his first professional game.
On a warm June day shortly after the season begins, Walla Walla manager Cliff Ditto pencils Rocky Perone into the lineup at second base for the second game of a doubleheader in Lewiston, Idaho. The ballpark lights have just flickered on as the first game gives way to the nightcap. Pohle trots onto the infield dirt in the bottom of the first, and his spirit soars.
"I stood there [on the field] and I looked up at those lights," Pohle says, his voice almost cracking. "I thought, this is it. I'm actually doing it."
Pohle is retired his first time up. In his second plate appearance he hits what looks like a routine grounder to the right side of the infield. But the ball kicks off a stone, takes a crazy hop over the second baseman's head, winds up in right field. It's a gift from the baseball gods, a base hit. Then he steals second base. He walks in his final plate appearance. He's that cool. That composed. Even after a lifetime of waiting, he's willing to wait a little longer until he sees a pitch he knows he can hit.
By the time the last inning of the seven-inning game rolls around, Pohle knows he's had a pretty good debut: 1-for-2, with a walk and a steal.
Only the game doesn't end there. The story continues until it reaches what has to be its only plausible conclusion.
But for a few moments, however fleeting, Pohle has moved beyond a lifetime of "almosts" and "nearlys" and "not quites." He feels the satisfaction a man feels when his faith in himself and his tireless dedication pay off.
---
It's the story of Icarus, who flew too close to the sun not because he had to, or even because he particularly wanted to, but because he thought he could.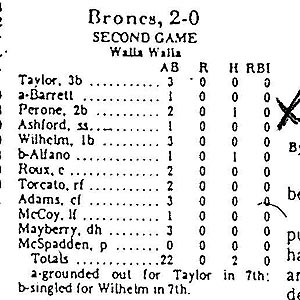 From the Walla Walla Union-Bulletin: Rocky Perone did, indeed, play one game in the Northwest League.
Pohle decides to show off a bit. He's got more baseball smarts than these kids, and he knows it. He pulls a fast one on the Lewiston Broncos -- or so he says; the game account in the Walla Walla Union-Tribune makes no mention of the following. He takes a cutoff throw from right field, trots the ball back to the infield grass and pretends to slap it into the pitcher's glove. Then he heads back toward second base while the pitcher mills around on the grass behind the mound. Now, Pohle knows that even in the bush leagues, the hidden-ball trick is considered "bush," but he just can't help himself. When the runner steps off second, he tags him out.
The Lewiston manager comes flying out of the third-base coach's box, throws his hat in disgust, utters a string of four-letter words. He's spitting. His face is beet red. "You don't show up my player that way," he barks. "That's not baseball, that's horses---."
Pohle recognizes the manager at once. It's Bobby Hofman, the man who handed him the train ticket in Daytona Beach 12 years ago.
Pohle tries to walk away, tries to hide behind the second-base ump, wishes he could climb into a hole. Hofman doesn't seem to recognize him. Or does he? Uh-oh, it looks as though he might.
"After the game, I saw my manager talking to Bobby on the field," Pohle remembers. "They talked for a while. As I stood there in the dugout, I thought, 'Pohle, it's over. The jig is up.'"
After a long bus ride back to Walla Walla and a sleepless early morning, Pohle was already packing his bags when his phone rang.
It was manager Ditto and he wanted to see Rocky Perone in his office right away. Pohle tossed his bags in his car and drove to the ballpark.
"How old are ya, Rock?'" Ditto asked.
"How old do you want me to be?" Pohle said.
"Hofman says he had you at Daytona Beach 12 years ago."
"He's right."
"How old are you?"
"Thirty-six."
"Holy s---. We'll all get fired."
"What are you going to do?"
"What do you think?"
"Release me."
"Yeah," Ditto said. "Release you."
"I just wanted to play pro ball," Pohle said.
"I know," Ditto replied, "I don't blame you."
---
It's about believing, still believing, that you're just one break away from making it, even when all of the breaks have always gone the other way.
Rich Pohle played out the rest of the summer in a Canadian semipro league, then he became a baseball scout. He returned to Australia and scoured it for baseball talent. He remarried (and redivorced) and raised a son on his own -- the now 28-year-old Richie Pohle, who batted .338 for the Orange County Flyers of the independent Golden Baseball League in 2007. Since 1984 Pohle has operated a popular baseball school in Southern California, one that has tutored more than a dozen youngsters who have gone on to enjoy professional careers. But those stories are ones best left for another day, another article, another movie. But rest assured, they all end, as you might expect, dramatically.
The snow has stopped falling in Maine. The sun is peeking through the clouds, and I really should be outside shoveling the driveway. It's time for me to wind down the phone call, and Pohle takes the hint.
"Well, that's the first story, anyway," Pohle says. "But before you go, what do you think? Wouldn't it make one heck of a movie? It's got a chance, right?"
"Maybe," I say. "You never know what the folks in Hollywood are thinking, though. And like I said, I don't write movies, I write books."
"A book's OK," Pohle says. "A lot of books get made into movies."
"That's true," I say. "But how about we start with a magazine article?"
"And then, maybe a book …" Pohle says.
"Sounds good."
"I think it's got a chance. Don't you?"
Josh Pahigian is a writing professor at the University of New England in Biddeford, Maine. He is the author of six baseball books, including the recently released "101 Baseball Places to See Before You Strike Out."