Commentary
Labor woes invade Playboy Mansion
Originally Published:
March 22, 2011
By
Chris Palmer
| Page 2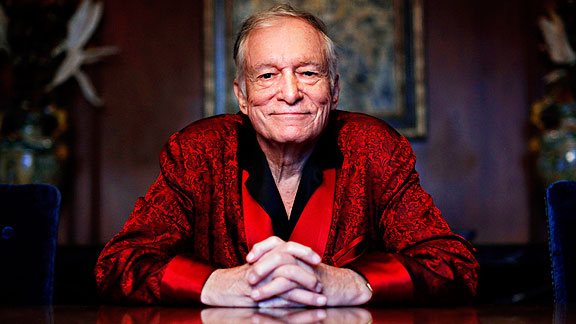 AP Photo/Jae C. HongOnly Hugh Hefner seemed to be able to forget the NFL's labor woes.
A trip to the Playboy Mansion is a once in a lifetime experience that one would remember the rest of his days. Unless you happen to be an NFL player, love golf and get a free pass to Hef's house once a year.
The Playboy Golf Finals in Los Angeles is just that for many gridiron stars. Over the weekend Playboy combined football, celebrities, 18 holes of golf, open bars and, of course, Playboy Bunnies for three days of intoxicating fun. The annual event, which benefits the International Brain Research Foundation, is capped off by a lavish lingerie and pajama bash at the Playboy Mansion.
"I don't think you can meet a man who can't have fun at the mansion," said Cleveland Browns wide receiver Josh Cribbs. "I had a great time out on the course too. My putting game is amazing."
The event is the highlight of many players' offseasons, but the ominous cloud of labor negotiations hung over the festivities all weekend. Players couldn't resist talking about what most figure will be a tumultuous summer at the negotiating table.
"I don't think a deal will be in place by the start of the season," Cribbs said. "That's going to make things tough because TV contracts have already been paid and guaranteed and so many jobs will be lost if there's a lockout. That's just bad business for the league."
Players receive daily emails from Roger Goodell, the NFLPA and team player reps updating them on the latest developments on the labor front.
A big sticking point according to the players in attendance is the league's push to add two games to the schedule. Many players feel the NFL's crackdown on violent hits this season was a public relations ploy by the league to pave the way for an 18-game schedule.
"The league is talking out of both sides of its mouth when they say they are concerned with health and safety but then they want to extend the season," said Dolphins guard Richie Incognito. "How can you do both?"
Like most players, Cribbs agreed.
"It's a mirage that the league is putting on trying to make the game seem safer so they can go to 18 games," said Cribbs. "If our contracts were guaranteed it might be different. It's hard to make a sport safe that's so brutal. I definitely believe they care about concussions but their motive to care about it is money. Their motive needs to be the safety of the players."
To a man, players who came to the party said they were sticking together. Not just for the current crop but for the next generation of players.
[+] Enlarge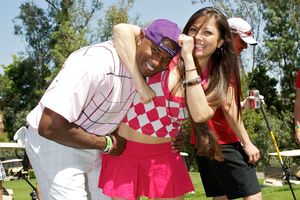 Playboy Golf Playmate Pilar Lastra does her best to take Terence Newman's mind off the NFL lockout.
"We kicked their butts in the last negotiation so we're not going to settle," said Incognito. "This is our livelihood and as players we're united. We're sticking together 100 percent."
Even with real life problems, ballers including Knowshon Moreno, Golden Tate, Calais Campbell and Terence Newman seemed to enjoy the fantasy element that is a night at the Playboy Mansion. Many players danced, engaged in a little playful trash talk and took pictures with bunnies.
"We love when the athletes come through because most of the girls are such big sports fans," said August 2004 Playmate Pilar Lastra.
Around midnight an actual rain cloud moved over Hef's playground, sending revelers running for the party tent set up on the back lawn and equipped with four fully stocked bars and roped-off VIP areas where Craig Robinson of "The Office" surveyed the action.
Quinton Aaron, still riding the wave of fame from his turn in "The Blind Side," caused a stir when girls rushed over to "get a picture with Big Mike."
Kentucky-born country singer Scott Lindsey, who scored a Top 40 hit with the catchy "You Only Call Me When You're Drunk," spoke glowingly of his beloved Kentucky Wildcats and tries to follow the pro careers of John Wall and DeMarcus Cousins. But his favorite Wildcat ruled Rupp Arena 25 years ago. "Rex Chapman was like a cult hero," said Lindsey. "When he played, the town would just shut down."
When the house lights came on around 1:30 a.m., just as the party was getting into full swing, there was a discernible groan. Troops of pajama clad partiers made their way through the drizzle to a dozen shuttles to be ferried back to reality. Hef had already been in bed for three hours.