By Sal Paolantonio
ESPN
EDITOR'S NOTE: Page 2, along with ESPN2's "Cold Pizza," is counting down the 15 Most Tortured Sports Cities in America. This week Sal Paolantonio provides a historical look at Philadelphia's suffering, and we also have our list of the Top 10 most painful moments in Philadelphia's sports history.
PHILADELPHIA -- On a recent Friday night when somebody had dropped a sticky August evening into the middle of June, I climbed up behind Ashburn Alley at Citizens Bank Park -- the Phillies' quaint new home -- and took a look around.
Down below, the alley itself was thick with baseball fans waiting in line for cheesesteaks and beer, hot dogs and soda. And the panoramic view displayed the dazzling spectacle of a city that seemed to have it all -- an impressive skyline to the north, the Eagles' new home across the street, and a pristine new grass-field ballpark overflowing with a capacity crowd spending like Ronald Reagan was still president.
THE 15 MOST TORTURED SPORTS CITIES
15. Tampa Bay
14. Kansas City
13. Cincinnati
12. Phoenix
11. Washington, D.C.
10. Houston
9. San Diego
8. Atlanta
7. Seattle
6. Minneapolis
5. Boston
4. Chicago
3. Buffalo
2. Philadelphia

Finally -- the moment we've all been waiting for. Want to find out what the No. 1 city is? Tune into ESPN2's "Cold Pizza" next Tuesday morning. Then head back to Page 2 to read all about it.
But scratch the surface and you'll find something drastically wrong with this snapshot. Philadelphia, as a sports town, hasn't won anything since Ronald Reagan
was
president.
That's right. The last championship came in 1983, when Julius Erving led the Philadelphia 76ers to the NBA title. No city with all four major sports -- football, baseball, basketball and hockey -- has gone longer without a championship.
Lately around here, they've been calling it The Curse, although they can't quite put their finger on the cause of this particular supernatural civic downer. Philadelphia didn't sell Babe Ruth. There is no famous goat. Steve Bartman doesn't live here.
And this seems to make it worse. Without a plausible theory, without some event or person to blame, Philadelphia has been left shaking its collective head, living in an echo chamber of talk radio psycho-babble.
Recent events haven't helped. Let's recap:
Larry Brown leaves the Sixers to take the head-coaching job in Detroit, the team that knocked Philadelphia out of the playoffs last season. Local TV anchors and newspaper columnists stand on their heads to urge Philly fans to put the hex on Brown in the NBA Finals -- even if it means that the dreaded Lakers, who beat the Sixers in the Finals three years ago, must prevail. What happens? Lakers fall apart. Brown wins his first NBA title.
The expansion city of Tampa first spoils the Eagles last game at Veterans Stadium by winning the NFC championship at the end of the 2002 season, then rolls the Flyers as the Lightning advance and eventually become Stanley Cup champs this year.
Even the horse gets into the act. Smarty Jones, the home-town thoroughbred, wins the first two legs of this year's Triple Crown with a strut that suggests equine royalty, but runs out of gas with a furlong to go in the Belmont Stakes.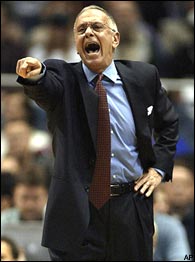 Philly fans weren't happy when Larry Brown deserted the Sixers and won a title with the Pistons.
Some thought Veterans Stadium, that concrete beast which presided over the industrial ruins of South Philadelphia for three decades, was the culprit. When the Eagles moved out of the Vet at end of the of 2002 season, and moved into $500 million Lincoln Financial Field, the city's fans really started to believe that their star-crossed football team was finally going to the Super Bowl.
After back-to-back losses in the NFC championship game, who could blame them? The first one, in St. Louis to the powerhouse Rams, could be forgiven -- no one expected Donovan McNabb's team to get that far in 2001.
Then, Jon Gruden, who was once the Eagles offensive coordinator, came back to Philly ("We'll play them on the Walt Whitman Bridge," he said) and led the Tampa Bay Bucs to an upset win in the NFC championship game -- the last football game played at the Vet.
So last year, when the Eagles hosted the underdog Carolina Panthers in the NFC championship game at Lincoln Financial Field, the city really started believing that -- despite decades of disappointment -- this was it. Indeed, no team in NFL history had ever lost back-to-back NFC Championship games at home.
But that's, of course, exactly what the Eagles did. Carolina 14, Philadelphia 3. While another expansion city found a way to win, the Eagles failed to find their way into the end zone. Standing near the tunnel entrance to the locker room after that game, I distinctly remember the vacant looks of disbelief on the fans as they shuffled out -- so numb that they allowed Jake Delhomme and Co. to celebrate and depart without the customary chorus of expletives undeleted. It was stone silence.
And that profound disappointment has not subsided.
In mid-June, when I took my two oldest daughters to hear Hilary Clinton speak, a friend of mine named Louis Capelli, who is a prominent Democratic elected official in South Jersey, came up to me. He didn't want to talk to me about the former First Lady's speech or John Kerry's chances in November.
No, the first words out of his mouth were: "You know, I gave up my tickets."
"To what?" I asked.
"The Linc," he said. "I'm through with them. I can't take it anymore. I can't take the disappointment."
---
To understand the origins of Philadelphia's tortured soul, you really have to go back to the origins of our country.
From 1790 to 1800, Philadelphia enjoyed what renowned city historian E. Digby Baltzell called the "Silver Decade." The federal government operated among the cobblestones and row houses along the Delaware River, which was the busiest port of entry in North America.
But then the nation's capital was moved to a swamp located between Virginia and Maryland. The District of Columbia was created, and Philadelphia missed its first opportunity to be the nation's center of power.
Three decades later, it missed its second chance. President Andrew Jackson closed the powerful and, he contended, intrusive U.S. Bank, which was located in Philadelphia down the block from Independence Hall. Shortly thereafter, the center of the young nation's high finance started migrating to -- and took up permanent residence in -- New York.
Indeed, for generations, Philadelphia was not considered a destination. H.L. Mencken called Philadelphia "a well-lit cemetery" -- because for well over a century, the city was run by secular political bosses who never thought outside their parochial or financial interests.
Many city residents were happy to live in the quiet caution of the city's Quaker heritage. Baltzell, in his definitive study of the social and religious roots of urban leadership called "Puritan Boston and Quaker Philadelphia," argued that Philadelphia was suffocated by the egalitarianism of Quaker philosophy. Lawyers, financiers and industrialists in Philadelphia amassed personal wealth and comfort, but shunned fame and power.
While the Kennedys in Boston gave the nation a president and two U.S. senators, Philadelphia has never sent anyone to the White House. And until Ed Rendell was elected three years ago, the city hadn't even produced a governor of Pennsylvania for nearly 100 years.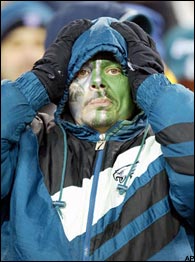 Eagles fans were in shock when the Carolina Panthers won last year's NFC championship game.
Baltzell points out that Oliver Wendell Holmes Jr. of Boston eagerly fought in the Civil War, attended Harvard, and served on the U.S. Supreme Court ... while John Graver Johnson of Philadelphia, clearly possessing a legal acumen equal to Holmes, reluctantly served with the Union Army, turned down two chances to serve on the highest court in the land and died a rich but obscure man.
Lacking Washington's power and New York's pull, Philadelphia was left out. When the federal government built I-95 running north and south to connect Florida and Boston, Philadelphia was a detour. In fact, a Russian journalist visiting the Philadelphia Inquirer editorial board years ago marveled at the fact there was no highway linking Philadelphia to New York direct, non-stop. There still isn't one.
This subtle, but complex, feeling of inferiority seemed to become a self-fulfilling prophecy. While New York built skyscrapers, Philadelphia's planners refused for decades to allow a building taller than the cap on Billy Penn's head atop City Hall. While New York had Babe Ruth and the Mick and all those World Series titles, the Phillies gave away the pennant. No sports franchise in North America lost more games during the 20th century than the Phillies.
In their history, the Phillies own one World Series title -- 1980. Amazingly, it was the only world championship Philadelphia celebrated at Veterans Stadium, which rose in 1970 as a municipal marvel, one of a generation of multi-purpose stadiums designed to symbolize the fiscal restraint and urban renewal of that time.
But unlike its sisters which graced the downtown riverscapes in Pittsburgh and Cincinnati, the Vet was exiled to a neighborhood of warehouses and abandoned lots and had all the charm of a forgotten concrete outpost far from the historic center of Philadelphia -- a fitting place for the home of the city's two underachieving franchises. The Vet quickly adopted the unforgiving and hard-bitten personality of its location and, perhaps more important, its frustrated fans.
Everybody thinks the famous incident in which Eagles' fans threw snowballs at Santa Claus happened at the Vet. Not so. It happened at the Eagles' previous home, Franklin Field, on Dec. 15, 1968, at halftime of a game the Eagles were winning. Santa got pelted because the fans were angry that the Eagles' late-season victories meant they would not finish last and would not have an opportunity to draft O.J. Simpson.
So the Vet inherited the Philly 'tood, which a long-suffering Eagles fan once described as, "It's better to be pissed off than pissed on."
Consider another snowball-throwing incident. In December, 1989, two days after one of the worst ice and snow storms in recent Philadelphia history, Jimmy Johnson arrived with a young Dallas Cowboys team that would go on to greatness -- but now had to face Buddy Ryan and his menacing "86 defense," which devoured young quarterbacks and ground their bones into the green cement surface of the Vet turf.
City workers had done their usual bang-up job clearing the snow; and by the fourth quarter of a lopsided game, the fans were left to their own devices -- not a good idea in the only stadium in the country that housed its own municipal court to deal with misdemeanors and mayhem.
Police officers often were posted in plainclothes on the infamous 700 level to collar the more creative hooligans. For example, any fan wearing the jacket or jersey of the opposing team usually required a little help getting down to one of the lower levels -- just a nudge, a push, or full body toss would do.
Up on the 700 level that day against Dallas, a very prominent attorney was taking bets that nobody could throw a snowball and hit the Cowboys bench from that distance. By the fourth quarter, the police were involved. After the game, Jimmy Johnson needed an escort through a hail of white projectiles.
Of course, the snowball-throwing contest became bigger news than the game itself. And the next day, that famous attorney was exposed in the Philadelphia Inquirer. His name is Edward G. Rendell. Two years later, he was elected mayor of Philadelphia. He's now governor of Pennsylvania.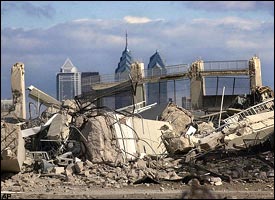 Philly fans hope their bad luck is being carted away along with the remains of Veterans Stadium.
I once asked Phillies manager Larry Bowa why the fans in Philly are so tough.
"They work for every dollar they earn," said Bowa, who was on the '80 championship team. "Nothing is given to these people. They're blue-collar workers. They love to see people get their uniform dirty. They love to see people put in time at their job. They love to see passion, emotion."
Glen Macnow, co-author of the recent local best-seller, "The Great Philadelphia Fan Book," said: "Here in Philadelphia, sports isn't a diversion. It's not entertainment. It's religion."
So perhaps the Phillies -- who seem to possess a lineup built perfectly for the friendly distances of their new ballpark -- have finally performed a much-needed exorcism.
When you climb to the top of Citizens Bank Park and turn around to face the parking lots, you can see an enormous pile of gray and white concrete. It looks like an ancient Greek ruin that has finally tumbled to earth.
It's Veterans Stadium -- imploded back in March and now being hauled away from the city, chunk by chunk, as if the city were removing the bad memories, one by one, perhaps excavating the tortured soul of the Philly fan so that a new history can be written.
Before he covered the NFL for ESPN, Sal Paolantonio was a political correspondent at the Philadelphia Inquirer and wrote a biography of the late mayor, Frank L. Rizzo, called: The Last Big Man in Big City America, which was re-issued in a 10th anniversary edition last spring.
Sal
Paolantonio
TORTURED CITIES