Party of Five rides into the danger zone
Originally Published:
April 27, 2011
Page 2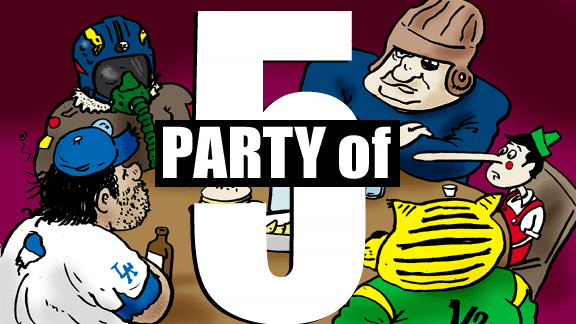 Kurt Snibbe for ESPN.comParty of five ... your overopinionated table is ready.
Welcome to another edition of Page 2's Party of Five, where five writers tackle five questions that the world needs answered right now.
(Or later, depending on how much time you have to kill.)
Today, we cover the "Madden NFL 12" cover vote's Founding Fathers-flouting lack of an electoral college, Major League Baseball going Bobby Brown from the "Ghostbusters II" soundtrack on the Los Angeles Dodgers, dumb things we've done for sports, dumber things we'd like to do with lie detectors, the re-release of "Top Gun" and the tragically underexposed NFL draft:
1. The NFL draft is this week. What are you most looking forward to seeing?
Patrick Hruby: Former Texas A&M linebacker Von Miller shaking Roger Goodell's hand -- and then serving the league commissioner a deposition summons.
DJ Gallo: I'm hoping an NFL team will use a late-round pick on Goodell. Making him an NFL player is the best shot at getting him to see the players' point of view. Given a choice, he'd definitely choose being a backup player over league commissioner -- no kid dreams of one day becoming NFL commissioner. Chances are the Oakland Raiders will be the team that picks him. They probably legitimately have Goodell rated above some top prospects on their draft board already.
Mike Philbrick: I'm looking forward to seeing all the Eagles fans that drove for hours in their $200 jerseys and $30 New ERA caps ... so they can boo any pick their beloved team makes. Either that or Andy Reid finding a way to run out of time to make the pick.
Thomas Neumann: Speaking of the Raiders, I look forward to Al Davis -- wearing his trademark track suit and making his selection via overhead projector -- drafting Kentucky Derby favorite Dialed In.
Gallo: Wow. Imagine the vertical passing threat provided by a racehorse at receiver! And I bet hooves can catch better than whatever it is that Darrius Heyward-Bey uses.
Hruby: Speaking of Davis, it's jarring to read article after article about courts, lawsuits and the NFL without seeing his name mentioned. What kind of America are we living in?
Philbrick: Which side would be more frightened if the courts ruled that this whole lockout thing was going to be decided in 30 minutes (including commercials) by Judge Judith Sheindlin?
Jim Caple: I look forward to watching all the first-round picks standing on the sidewalk outside Radio City Music Hall, attempting to go inside when their names are called only to be told by security guards, "Sorry, but you're locked out until we exhaust every last option in appellate court. On the bright side, we can get you tickets for the Rockettes' Christmas Spectacular during what would be the 14th week of the season.''
---
2. The first thing Major League Baseball should do after seizing control of the Los Angeles Dodgers is __________
Hruby: Go through the books and make sure Manny Ramirez isn't somehow collecting maternity leave payments.
Neumann: Go through the books and make sure Frank McCourt's adult sons aren't somehow collecting maternity leave payments.
Philbrick: Hand the keys over to Vin Scully.
Caple: See if they can get their players to make side-splitting cameos in some great sitcoms like they did in the old days.
Hruby: I think the Mister Ed clip proves that Dialed In to the Raiders could work.
Gallo: Move them to Brooklyn. Not for history or anything like that. But because bearded Casey Blake would be the Hipster King of Brooklyn.
Philbrick: Not to mention Old Timer's Day with Eric Gagne.
---
3. The website camnewtonliedetector.com is offering former Auburn quarterback Cam Newton $1 million to answer four questions while taking a professionally administered lie detector test. Which sports figure and/or celebrity would you like to see undergo a polygraph exam, and what questions would you want asked?
Hruby: I'd ask David Stern:
1. Why did Michael Jordan really "retire"?
2. Does the 2002 Western Conference finals haunt your dreams?
3. Bent corner or frozen envelope?
4. What was up with your early 1980s porn 'stache?
5. When you bury my body, can you make sure the unmarked grave is in a nice area of the yard?
Neumann: Four questions for Stephon Marbury:
1. Which is the bigger basketball thrill -- winning an Olympic bronze medal or being named MVP of the Chinese Basketball Association All-Star Game?
2. Did you, in fact, buy a private jet for $45 million in 2008?
3. How about sharing all that [stuff] you know about Isiah Thomas?
4. What does Vaseline taste like?
Philbrick: Four questions for LeBron James:
1. Did you really not know what "contraction" meant?
2. Do you even know what karma means?
3. Would you consider Kemba Walker well-read compared to you?
4. Do you guys make Erik Spoelstra mow your lawns and do your errands?
Caple: I'd like to ask a question from my first year covering baseball, when I asked then-Mariners manager Dick Williams if he had considered taking pitcher Mark Langston, who had given up a team-record five home runs, out of the game earlier than he did.
Williams got in my face and yelled, "When? WHEN? IF YOU LOOKED DOWN AT THE BULLPEN YOU COULD HAVE SEEN I DIDN'T HAVE A RELIEVER WARMNG UP! SO WHEN WOULD YOU HAVE TAKEN HIM OUT?!?!? JUST TELL ME!'' When I didn't reply, he said, "I thought so. But it's easy to second-guess and criticize.''
After we left his office, he got angry again and came up to me and yelled, "THIS KID ASKED ME WHETHER I SHOULD HAVE TAKEN OUT LANGSTON EARLIER WHEN I DIDN'T HAVE A RELIEVER READY. WELL, WHEN SHOULD I HAVE TAKEN HIM OUT? WHEN?!?!?''
It is my last regret that I was too scared to say, "I don't know. Maybe after the fourth home run?''
Hruby: I'd like to ask Jim's therapist how many times he's heard this story.
Neumann: Take heart, Jim. It could've been worse.
Gallo: I would ask the owner of camnewtonliedetector.com the following four questions:
1. Do you actually have $1 million if Newton accepts your challenge and passes the test?
Actually, that's the only question I'd have. I think that would cover it.
---
4. The "Madden NFL 12" cover athlete vote wrapped up, with Peyton Hillis edging out Michael Vick for the honor. Who had your vote?
Caple: Not Vick. Sorry, but I was too busy petting my dog to hold a control pad. Or does that sound dirty?
Hruby: I'm with Caple. And PETA. In fact, I'm with anything PETA wants, so long as they keep putting up billboards of naked celebrity babes. They're trying to save the rainforests, right?
Philbrick: I was all for Vick winning, mostly because I'm from Massachusetts and there's no way I could ever vote for anyone named Peyton. What? No, I'm not wearing Uggs and holding a goat. Why does everyone ask me that?
Gallo: I was pulling for Hillis because I want to see what the "Madden Curse" does to a Cleveland Browns player. Can things somehow get worse? Or is the "Madden Curse" plus Cleveland a "two wrongs make a right" kind of thing and the Browns will become ... well, not good. But maybe 8-8?
Neumann: Neither. I'm not ready to abandon my support for write-in candidate Jeff Reed.
Hruby: Hey, if punters are eligible, I'll take Chris Kluwe. Only instead of a cover photo, I want one of Kluwe's locker room white board illustrations.
---
5. The Alabama fan accused of poisoning the oak trees at Toomer's Corner in Auburn said he also named his son "Bear Bryant" and his daughter "Crimson Tyde." What's the dumbest thing you've ever done out of sports fandom?
Hruby: You mean besides believe Jim Tressel when words come out of his mouth?
Caple: You mean other than rooting for the Mariners?
Gallo: I see your Mariners and raise you the Pittsburgh Pirates. (Note: I don't literally "see" your Mariners. I have the Extra Innings package, but under no circumstances would I willingly watch the Mariners.)
Philbrick: I've lost several hundred dollars in NCAA pools by picking the Holy Cross Crusaders to reach the second round -- or third round -- whatever it is they're calling the second set of games people care about. I know that sounds pretty boring, but I'm just not ready to talk about how I spent money to see "Fever Pitch."
Neumann: I wore this hat. On the other hand, I did get to fire a cannon.
---
Extra Credit: To celebrate the 25th anniversary of "Top Gun," AMC is screening the movie this weekend. A quarter century later, what's the enduring life lesson from Maverick and company?
Gallo: Playing beach volleyball nearly nude is a completely appropriate way for a bunch of bros to spend an afternoon.
Hruby: Sorry, Ronald Reagan, blue jeans, strategic containment and communist economic inefficiency -- upside-down cola pouring won the Cold War.
Philbrick: Never leave your wingman, and to all my fellow ghost riders out there, never listen if the man tells you the pattern is full.
Neumann: That Kenny Loggins wasn't a musician capable of leading us into the danger zone. We needed an artist that evoked unwavering strength and machismo, who would stare down all challengers effortlessly on sheer intimidation factor. You know, like Night Ranger or something.
Hruby: Go back in time. Replace Loggins with Phil Collins on the "Top Gun" soundtrack. Do the 1980s instantly implode in a flash of pure heat and light?
Caple: "Top Gun''? Refresh my memory. Was that the movie in which Tom Cruise played the cocky young guy?