Commentary
The saga of the grave hunter
Originally Published:
September 15, 2009
By
Rick Paulas
| Special to Page 2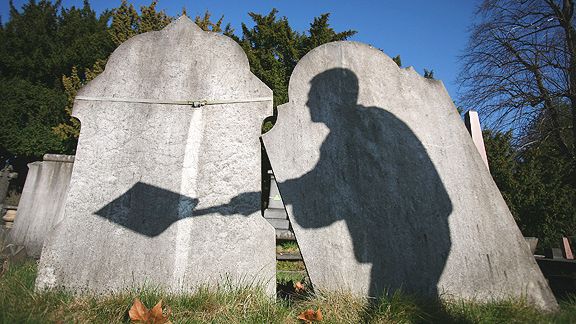 Dan Kitwood/Getty ImagesWho says visiting the gravesites of Hall of Famers isn't a fine way to spend a vacation?
On March 24, former Detroit Tigers third baseman George Kell died in his sleep at the age of 86. Kell's impressive playing résumé included batting over .300 in nine seasons, playing in 10 All-Star games and winning the 1949 batting title by hitting .343, spoiling Ted Willams' Triple Crown bid in the process. These credentials led to Kell's induction into baseball's Hall of Fame in 1983.
Nearly four months after Kell's death, a Minnesota man entered a desolate cemetery in the sleepy town of Swifton, Ark. (population: 871). Carrying only his camera, the man found Kell's grave, lined up at an ideal angle to capture the many contours of the massive memorial stone and snapped a photo.
The man's collection was once again complete.
"The hobby seems a little morbid," Stew Thornley admits. "It's strange to a lot of people."
You can't blame folks for reacting that way: Thornley is a grave hunter. With the visit to Swifton, he has now visited the known graves of every baseball player in the Hall of Fame.
The "known" aspect is key. Of the 289 players, coaches, umpires et al who have been inducted into the National Baseball Hall of Fame, 65 can immediately be removed from Thornley's list for the obvious reason that they're not yet eligible, i.e., they're still alive. Fifteen others have no known burial site, either because the ballplayer's body was cremated (such as Roy Campanella), never found (Roberto Clemente), or is currently frozen in a cryogenic chamber awaiting improbable advances in science (Ted Williams). That leaves a definitive list of 209 people who have both a tombstone and a plaque in Cooperstown, with Kell being the latest.
"When I heard [Kell] died, I said to my wife, 'Why don't we go down to Arkansas?'" Thornley said. "It's kind of a fun weekend trip." Thornley speaks in a slight Minnesotan drawl, an intonation that seems like the weaker cousin of the "Fargo" accent. His gentle mannerisms make even odd proclamations like "I'm still trying to get to all of the Manson victims" seem downright quaint.
A nearly lifelong resident of the Twin Cities, the 54-year-old Thornley is living a version of the American Dream, turning his passion (in this case, baseball) into a source of income (by working as official scorer and online gamecaster for the Twins). But it's his other scorekeeping duty that garners the strange looks. "Some people sneer and say, 'Oh, what a silly thing to do.'" But for Thornley, going to cemeteries is nothing out of the ordinary. Like any lifelong pursuit or hobby, this one sunk its teeth in early.
"Back in 1967, I was with my folks driving through the Upper Peninsula in Michigan, and we saw a sign that directed us to George Gipp's grave," Thornley said of the iconic subject of Notre Dame's famed "Win One For the Gipper" battle cry. "My mom and my brother thought it was stupid, but my dad was driving so off we went."
Since then, Thornley has been to the graves of all 40 deceased U.S. presidents -- including that of David Rice Atchison, who was left out of most history books despite serving as acting president for one day between administrations in 1849 -- a number of Civil War generals ("It's a kind of infinite list") and yes, even Charles Manson murder victims. "It's a little tacky sounding, but that goes with the spirit of the whole thing." But it wasn't until a Hawaiian vacation in 1995 with his future wife, Brenda Himrich, that Thornley's grave-hunting hobby started focusing on Cooperstown.
"We were looking for fun things to do in Hawaii," he said. "And I knew [one of the 'inventors' of baseball and Hall of Famer] Alexander Cartwright was buried there."
Now there's no question it takes a, let's say, "specific" type of personality to sit on a beach, relaxing in the cool Pacific breeze, and believe the definition of "fun things to do in Hawaii" extends to searching out the graves of little-known inventors of baseball. (The answer to the obligatory question of how Brenda reacted when she found out how they were going to be spending part of their time: "She's a terrific sport. She's up for whatever adventure.") But that's the dedication any good collector has to have.
To Thornley, that's all a grave hunter is: a type of collector that should be lumped into the same category as baseball card fanatics, autograph hounds, comic book aficionados and can't-remove-it-from-its-original-plastic toy collectors. "My form of collecting isn't so much acquiring stuff. It doesn't take up any room other than the photos," meaning the various mega- and kilobytes of photos on his hard drive, many of which can be found at his Web site.
Besides not having to relinquish an entire garage to its pursuit, another appeal of grave hunting is the built-in excuse to take a road trip and see the country. "Having the grave gives a destination to the journey," Thornley said. In the meantime he and his wife can see a nearby state capital -- Thornley's been to all 50 -- or eat at some quaint hole-in-the-wall diner in the middle of nowhere. (It presumably also gives him something other than simply "Let's go to the cemetery" to sell Brenda on the trip.)
But an even more universal allure -- a reason Web sites such as FindAGrave.com, to which Thornley is a regular contributor, have such a large and devoted following -- is the investigative nature of the chase. While the locations of high-profile memorials such as Grant's Tomb or JFK's eternal flame or Elvis' Graceland are just a Google search away, discovering the final resting places of more obscure influential Americans is a tougher task.
"Sometimes you get this circuitous route, not getting the answer but at least getting a lead to go on," Thornley said.
Sometimes all it takes is getting lucky and asking the right person.
"We were on a trip in Cuba, and I asked the tour guide if there was any way we could see [Hall of Famer] Martin Dihigo's grave," Thornley said. The tour guide knew right where it was, and when the group got there, the entire community came out for a reception. "In the town hall, they had a dance for us. Dihigo's son, who played minor league ball in the '50s or '60s, came out to welcome us." And Thornley checked another name off his list.
From George Wright to George Kell, it's taken Thornley nearly 15 years to complete his goal of visiting the grave of every Hall of Famer. (This is a good point to note that, unless there's some unprecedented and harrowing discovery in the realm of death prevention, "complete" isn't exactly the correct word; more like "put on temporary hold until someone else joins the club.") While Thornley admits he hasn't had "any great spiritual epiphanies or anything like that," it's nearly impossible to spend that amount of time on any task and not be affected in profound ways. For example, the lifelong Minnesotan now sees the value of leaving something more tangible behind.
"Originally, we were going to get cremated and whatever happens to us happens to us. But there's this one cemetery in Minneapolis that I've always loved, so we decided to get a plot there," he said. The plot is marked with Stew and Brenda's names and their birth years, leaving only two significant numbers yet to be carved. For this couple, that means they better have some fun while they can.
"Brenda and I both posed for it," Thornley said, "and we use the photo for our Christmas card."
Rick Paulas is a freelance writer based in Los Angeles who has previously written for ESPN The Magazine, McSweeney's and Vice magazine. He can be contacted through his Web site, rickpaulas.com.