By Jeff Pearlman
Excerpted from "The Bad Guys Won!"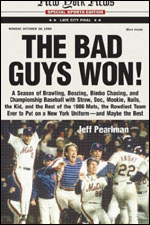 EDITOR'S NOTE: The '86 Mets marked a turning point for baseball. Ever since their wild and unruly romp to the World Series title, baseball seems to have grown more corporate and straitlaced with each passing season. That's a point not missed by author Jeff Pearlman in his new book, "The Bad Guys Won! A Season of Brawling, Boozing, Bimbo Chasing, and Championship Baseball with Straw, Doc, Mookie, Nails, the Kid, and the Rest of the 1986 Mets, the Rowdiest Team Ever to Put on a New York Uniform -- and Maybe the Best" (HarperCollins, $24.95). Today, Page 2 excerpts Chapter 1 ("Food Flight"), about the team's trip back to New York after it won a tense NLCS over the Astros.
* * * * *

"It wasn't just guys destroying a plane. It was guys destroying a plane after an emotional roller coaster. There's a difference."

-- Randy Niemann, Mets pitcher
Ray Knight's arms were numb. Not just numb as if he'd spent a few too many minutes in the snow. Numb numb -- as if he'd just swum two thousand laps in an Olympic-sized pool. As if he'd just sparred eight hundred rounds with George Foreman. As if someone had grabbed a 10-foot machete, reared back, and sliced off both limbs. "Maybe someone did," he says with a laugh. "I wouldn't have known."
It wasn't just his arms, either. Inside the head of New York's third baseman a drum was beating. His hands were shaking. His mouth was cotton-dry. His feet were on fire. His uniform must have held twenty pounds of sweat. "I couldn't walk, I couldn't talk, I couldn't move," Knight says. "I couldn't even think."
It was exhaustion, more pure and painful than any he had ever felt before. Than any he would ever feel again. "I haven't been in war," he says. "But ... "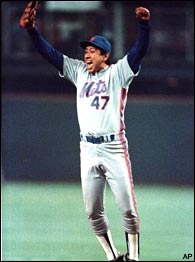 Jesse Orosco celebrates on the mound after beating the Houston Astros.
But this was war. Or at least the next closest thing.
Sixteen innings. In 16 beautiful, electric, heart-wrenching, gut-churning, bladder-bursting, finger-twitching, eye-bulging, throat-burning innings of baseball, the New York Mets had been pushed to the brink over and over again. On enemy turf, no less. Finally, they had pushed back.
Game 6 of the 1986 National League Championship Series:
Mets 7
Astros 6
The Mets were going to the World Series. It was everything they had dreamed of, but now -- what? The hardest-living players in baseball entered the visiting clubhouse of the Houston Astrodome and didn't know what to do. Scream or cry? Party or pray? A couple of the men had tears streaming down their cheeks. Others slumped in front of their lockers, sandbags for shoulders and rocks for feet. "I could have slept for twenty hours," says Ed Hearn, New York's backup catcher, "and I hadn't even played in the game."
Then and there the Mets reached a collective decision. Perhaps it was inspired by the popping of a champagne cork. Or the cracking open of a beer can. Or the lighting of a cigarette. Or the primal "Whoooo!" bursting from Wally Backman's throat. Whatever the stimulus, the message was clear and powerful: Before they went to the World Series, the Mets would party their f------ brains out.
There was one problem: time.
Although the game had begun early enough, at 3:05 p.m., 16 innings was 16 innings. After four hours and forty-two minutes of baseball, it was 8:20 when the first Mets players stumbled into the clubhouse. Even as the bottles of Great Western bubbly were being distributed, Arthur Richman, the club's traveling secretary, was doing everything he could to hurry people along: Congratulations, Ray -- now get dressed! Good job, Keith --and don't forget your shaving kit! The team had to fly back to New York immediately, and the trip was a long one. Yet in the aftermath of triumph, it didn't matter. Richman was ignored. Kevin Mitchell, the barrel-chested rookie, grabbed Bobby Ojeda around the neck and doused his head with champagne. Ojeda, in turn, doused Jesse Orosco, who doused Doug Sisk, who doused Rick Aguilera, who doused Dwight Gooden, who doused Backman. The Mets didn't just let loose, they bear-hugged and gang-tackled. They were a fraternity without classes to attend, a rock-and-roll band without instruments. Shortly after he entered the clubhouse, journeyman reliever Randy Niemann snatched a bottle of bubbly and poured it on the head of bow-tied general manager Frank Cashen, who responded with a bitter glare of death. As Phil Mushnick of the New York Post wrote, "Cashen's candid crankiness ... created a national image as a party-pooper."
No matter. Some ninety minutes after the victory, a sticky, drenched Cashen, surrounded by empty bottles and crushed cans, made an announcement to his sticky, drenched players: "The World Series bus is leaving! Anyone not on it gets left behind!" This was not a joke. The Mets and their entourage piled onto a pair of buses that went to Houston's William P. Hobby Airport. En route, beers were chugged. The remaining champagne bottles were polished off and then tossed to the ground. Even manager Davey Johnson was indulging.
It was mini-mayhem.
Then they reached the plane.
---
Women are bad news. Very bad. They take real men -- ball-playing men -- and turn them to mush. They transform ruggedness and determination into sentimentality and passivity. Yes, there are good women in the world. But they are at their absolute best away from the ballpark, preparing dinner over a hot stove and tucking the children into bed. It's a simple equation, really:
Women + Baseball = Trouble
In the mind of Frank Cashen, this was established. Cashen was old school, and he wore the reputation proudly. When Rusty Staub, longtime Mets star, commonly referred to the players' wives as "c----" and the players' extramarital girlfriends as "special c----," he was speaking Cashen's language. In his eighteenth year as a baseball executive, Cashen was a throwback to the good old days when a ballplayer would never use the opposite sex as an excuse. Baby due any day? Tough luck -- you're staying with the team. Wife sick? Send her a note. Honeymoon? Not during the season, kid. Cashen's philosophy could be summed up in one sentence: Frank Robinson never missed a day for no friggin' broad, and neither should you. Now, in the midst of the playoffs, this news: The Mets players wanted their wives to fly with the team.
Cashen knew there had been rumblings concerning this issue, but he tuned them out until two of the more respected Mets -- Knight and pitcher Ron Darling -- requested a meeting. In Cashen's office they made an impassioned case for women in flight. "The wives cook, they raise the kids, and they've stood behind us through a long season," said Darling, New York's assistant player representative. "They've contributed to this as much as anyone."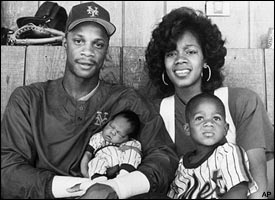 Darryl and Lisa Strawberry, along with their two children.
While Cashen still felt -- no, knew -- that it was a terrible idea, he and the players reached a compromise: The wives could fly with the team, but only on the two return trips from Houston.
This news was great for several of the Mets, insignificant for many of them, and terrible for a few. Gary Carter, the straight-out-of-Mayberry catcher, considered each new day with his wife, Sandy, as blessed as a budding rose. Keith Hernandez was in the midst of divorce proceedings with his wife, Susan, and was unaffected by Cashen's decision. And then there was Darryl Strawberry, the combustible twenty-four-year-old right fielder. Strawberry's relationship with his wife, Lisa, was troubled and, at worst, bloody. Two years earlier, when Strawberry told his teammates that he was about to propose, the reaction was bad. Lisa Andrews rubbed many of the Mets the wrong way. Unlike the typical ballplayer wife -- a petite, large-breasted, dumb-as-a-shoe platinum-blond trophy with an extensive Hooters background -- Lisa was big, hard, and loud. In the ocean of beautiful, submissive young women who hungered for ballplayers, this was Strawberry's grand find? "She was a tough girl," says Vinny Greco, an assistant equipment manager. "His wife could probably knock out half the guys on the team." And the way she spoke to Strawberry in public! Bossy, even downright demeaning. "There may have been affectionate feelings, but they were just a match and a bomb," says John Ruffino, also an assistant equipment manager. "They brought the worst out in each other, and guys told him and told him and told him not to do it. But he didn't listen."
During the National League Championship Series, the marriage of Darryl and Lisa reached new lows. When Lisa accompanied her husband to Houston (on a separate plane) to try to work things out, the yelling and pushing were fit for "Jerry Springer." In their hotel room at the Westin Galleria, the bickering was nonstop and -- to neighboring rooms -- audible. In his 1992 autobiography, "Darryl," Strawberry said that, combined with the intensity of the playoffs, it was all too much. "There was no backing off and no backing down as Lisa and I kept fighting. I could feel the violence rising inside of me like the howling of so many demons. I was out of control. I was being paid to be out of control and physical. I'm sorry for what I did, but I did it at a time when everybody around me wanted violence and a display of raw power. I tried to tell her to stop. I almost begged her to just wait another week or so. Go back to California. Go to New York. Go stay with your mother, for heaven's sake. Just don't mess me up while I'm trying to play this game."
But Lisa didn't listen. She stuck around and, from Darryl's vantage point, nagged and nagged and nagged. Before the games she would nag. After the games she would nag. During games -- during at-bats -- Darryl could hear his wife, in his head, nagging. The night before the now-famous Game 6, Strawberry lost control. He took a swing and nailed his wife square in the face, sending her backward and breaking her nose. It was an ugly, bloody moment, and that image -- Strawberry out of control -- would define him for the next decade.
And now, to Cashen's chagrin, Lisa and Darryl and all their troubles would be on the plane, surrounded by beer, bubbly, whiskey, and God knows what else.
For much of the 1970s and 1980s, Ozark Airlines was the charter company for major league baseball. They handled the air transportation for some fifteen to eighteen teams a year, and did so with the class and dignity of a five-star hotel.
Along with safety and promptness, the good folk at Ozark prided themselves on cleanliness. They might not have had the fleet size of Delta or American, but Ozark's planes -- primarily DC-9s -- were the most sparkling in the business. Carpets were vacuumed after every flight, magazines were neatly stacked, the tray tables were wiped down, and the armrests shined like a new nickel. "We went above and beyond," says Bill Mihsk, the airline's vice president of marketing. "Our mission was to provide great service in a wonderful atmosphere. First class."
Like any other corporation that relies on image, Ozark routinely put a happy public face on the world of jock transportation: Ozark is proud to be the airline of choice of the [FILL IN THE TEAM)! Ozark wishes [FILL IN THE TEAM] luck in their fight for the World Series!
But truth be told, many members of the Ozark family -- primarily flight attendants -- detested the sporting life. Ozark's athletic clients were primarily hockey, football, and baseball teams, and there were enough horror stories to fill Vincent Price's memoir. More than one flight attendant found herself the target of sexual barbs ranging from the forgettable to the stupid to the mean to the detestable. (Usually, the detestable ones were accompanied by a pinch on the rear.) Several male staffers were stuffed in overhead compartments. Oftentimes athletes turned the plane's minuscule bathroom into an Olympic-style venue. (Do you believe in miracles? Yes! The Cowboys have stuffed a football down the toilet!) On one memorable voyage Mihsk watched as members of the California Angels, angry over a less-than-delectable meal, picked the steaks off their trays and taped them to the bottom of their shoes. Even this was better than the Raiders, who enjoyed dumping their entire meal -- salad, soup, dessert, and all -- into the seat pocket. "It seems that some teams were always finding things to do with food," says Mihsk. "Most other people just ate it."
But as Mihsk well knew, athletes aren't like most other people. Far from it. And the '86 Mets weren't even like most other athletes. They were, hands down, the most unruly team Ozark had ever transported. On June 29 of that 1986 season, Ozark was flying the Mets from Chicago to St. Louis when a half-dozen dinner rolls were fired through the air, lifting off near the airplane's rear and landing twenty rows up. The flight attendants ducked for cover, then stood up and continued service. In the back, the culprits -- pitchers Jesse Orosco and Doug Sisk -- snickered with delight. But there was a problem. Cliff Day, Ozark's supervisor of charter sales and operations, had accompanied his crew on the flight, and he wasn't happy. He stood at the head of the plane and made an announcement. "Here's what we're gonna do," he said. "You're gonna straighten up immediately, or we're gonna land and you can take a bus to St. Louis!"
The response was loud, angry, and unanimous: F--- you! F--- you! F--- you!
---
Because the Mets' playoff traveling party was too large for Ozark's DC-9s, the team hired a United DC-10 for the trip. It was New York's first dealings with the airline, and United's executive staff hoped it would be the beginning of a long relationship.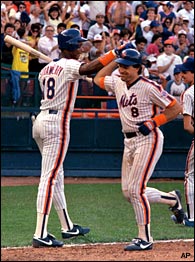 The '86 Mets stuck together, on the field and in the air.
As everyone boarded, flight attendants distributed glasses of champagne to the already buzzed clientele. Some players -- Hearn, Knight -- politely took one. Others -- Sisk, Orosco, Heep -- grabbed two or three or four. Or ten.
Sisk, Orosco, and Heep. They were the Three Musketeers of the Mets, only this trio was as dashing as a scrum of street rats. Their collective nickname was the "Scum Bunch," and it fit perfectly. The "Scummers" took pride in antics that made "Porky's" look like a documentary on convent life. By day they were mild-mannered baseball players. But by night, watch out. The Scum Bunch ran the back of the plane on team flights, holding drink-a-thons and sometimes, as a result, puke-a-thons. And now the wives were here, equally indulgent but unfamiliar with the effects of getting wasted thirty-five thousand feet above ground.
After takeoff the boozing reached epic levels. The champagne was followed by beer, beer, and more beer. Almost everybody -- even Carter -- partook. (He had only one.) On this night the Scum Bunch were magnets, drawing people to the rear of the aircraft. "It was the loudest flight I've ever been on," says Michael Ruffino, one of the team's batboys. "It was sheer craziness."
"It was the one time when everybody -- and I mean everybody -- was drinking," says Wally Backman, the team's second baseman. "It was all-out partying."
For the first hour the all-out partying was little more than drinking and yelling. But then, the United crew committed the ultimate mid-celebration error: They served cake. It was the kind you see at childhood birthday parties -- spongy yellow with chocolate icing on top. The flight attendants distributed a piece to every person on the flight. Ruffino remembers sitting in his seat and biting into his piece when -- Whoooosh! Splat!
What the?
Whoooosh! Splat!
What the hell?
Whoooosh! Splat!
What the hell is that?
Whoooosh! Splat!
It was cake. Lots of cake. It started with Jane Heep, who chucked a piece at her husband. Suddenly -- Whoooosh! Splat! -- pieces of cake were -- Whoooosh! Splat! -- everywhere. On the backs of seats. On the fronts of suits. In hair. Covering eyes. Brown icing was all over the carpet. Brown icing on the ceiling. Soon it was a free-for-all. Bottles of champagne rolled down the aisle. Peas were smooshed up and used as shampoo. "Tore up that plane like 'Bay Bay's Kid's," says Kevin Mitchell. "I couldn't believe the things I saw going on."
More and more alcohol made its way from United's refrigerators to passengers' throats. When the beer ran out, the airline distributed small bottles of hard liquor. To a man the players insist that this was where the real trouble began. The wives were able to handle champagne and beer, but not the strong stuff, especially combined with the altitude and the food. Who was the first to throw up? Eighteen years later it's hard to say. One thing is certain: At least three wives did so, and none seemed to feel that the toilet or a barf bag would serve them any better than the seat pocket.
Meanwhile, a couple of players -- demonstrating the '86 Mets trademark intellectual curiosity -- decided to see if with some jiggling the seats could unfold into a couch. Strawberry, for one, pushed and pushed until -- crack! -- the seat folded down.
"It was like watching 'Animal House' with John Belushi having the food fight in the cafeteria," says Vinny Greco. "You were just ducking from stuff the whole time. It got to a point where even I was like, 'Whoa, what the hell is going on here? What are we doing to this plane?'"
In his autobiography, "Heat," Gooden recalls his most vivid image of the flight. "At one point the partying was so out of control, the lavatory door accidentally flew open and there was one of my teammates, his face in front of lines of cocaine," he writes. "I wasn't shocked that he was using. I was shocked that he was so high, he didn't even realize the door was open."
Meanwhile, the airplane was a disaster area. Upon landing, two or three wives had to be carried off the jet. Others weren't quite sure of their whereabouts. Half the team exited wearing T-shirts and ties. Sisk wore one shoe. Fans who had waited for hours at Kennedy Airport to greet the team were shocked at what they saw. "To have the wives in their snazzy North Beach Leather outfits, covered in vomit, it didn't make for a pretty picture," says Mets pitcher Ron Darling. "And the guys were coming off in various forms of disarray of dress. We were gross."
The plane was even grosser. A few days after the flight, Cashen received a bill from United for $7,500, along with a note saying that the Mets' business was no longer welcome. Besides the innards of the craft being layered in food, three rows of broken seats had to be completely removed. Cashen was furious -- at his players for turning a DC-10 into a toilet; at his manager, Davey Johnson, for displaying the disciplinary skills of a fig; and at himself for allowing the wives to fly.
He called Johnson into his office and, after a good bout of back-and-forth screaming, insisted the manager tell his players that they would be financially responsible for the damages.
That afternoon Richman, the travel secretary, held a closed-door meeting with the team. In front of the disbelieving players, Richman let them know that Cashen was livid, that the New York Mets were a first-class operation and would not stand for this and blah, blah, blah.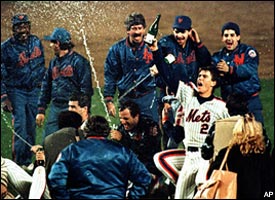 The '86 Mets sure knew how to celebrate.
Once he left the room, Johnson spoke. This was one of his shining moments as Mets manager.
"Guys," he began, "do you realize how much damage we did on the plane? I mean, does anybody in here have anything to say? Does anybody in here feel guilty?" Johnson was pacing back and forth, a copy of the United bill rolled up in his hand. The players were awkwardly staring at the ground, quiet and motionless. "Men, what are we going to do about this? What should we do?"
There was silence.
"Well," said Johnson, "do you know what I think? I think in the next four games you'll probably put enough money in these guys' pockets to cover this. So f--- this bulls---!"
With that, Johnson ripped the bill in half, crumpled it up, and threw it into a nearby garbage can. The room exploded with comments.
YEAH! F--- THEM!
F------ A-!
MOTHERF------!
The Mets were heading to the World Series.
Jeff Pearlman covered Major League Baseball for six years as a senior writer at Sports Illustrated. He received national attention for his article on controversial relief pitcher John Rocker. He is now a features writer for Newsday.