By Jeff Pearlman
Specal to Page 2
Editor's note: The following is adapted from Jeff Pearlman's new book, "Love Me, Hate Me: Barry Bonds and the Making of an Antihero," copyright (c) 2006 by Jeff Pearlman. Excerpted by permission of HarperCollins. All rights reserved. No part of this excerpt may be reproduced or reprinted without permission in writing from the publisher. Here, you get a taste of Barry Bonds' college days at Arizona State.
Arizona State coach Jim Brock looked forward to Barry Bonds' sophomore season with mixed feelings. ASU's roster would be its most talented ever, yet Barry was a social leper. In the weeks before the start of the 1983-84 academic year, Brock telephoned George Lopez and strongly suggested that he room with Barry. This wasn't a coach trying to forge friendships, but a response to a dilemma: Nobody wanted to live with his star. There was good reason.
BUY THE BOOK
Click here to buy "Love Me, Hate Me: Barry Bonds and the Making of an Antihero" by Jeff Pearlman.
As a freshman, Barry boarded with first baseman Reggie Mosley in an apartment on Orange Street. In the neighboring pad lived another two players, pitcher Jose Rodiles and third baseman Bert Martinez, who hailed from the nearby town of Chandler. Every week, Martinez's mother, Helen, would bring her son large bags filled with her homemade specialty, green chili. "One day I come back from class and the window to my apartment is cracked and there's a hole," says Martinez. He searched high and low but found nothing missing. He then opened the refrigerator. "My mom's food was gone," he says. "All of it." Martinez confronted Mosley, who ratted out Barry. "He knew my mom brought this food for me," he says. "and here he is, driving a new Trans Am, cracking my window."
Brock had been told of Bonds' crime and ignored it. Now he was encouraging Lopez to take Barry in. Was he insane? "I did it, but only because I was intimidated by coach Brock," says Lopez. "There were about four of us on the team who were on a somewhat friendly relationship with Barry. But it wasn't easy. He had the ability to get under somebody's skin and just not care. We could lose 10-2 and he would let us know that at least he'd done his job."
Lopez and Barry lived in an apartment on Rural Road, near a popular bar named "After the Gold Rush." In a rare display of charisma that several teammates still chuckle over, Barry once arrived at the saloon for an unofficial team function and did a spot-on Michael Jackson impersonation, break-dancing across the dance floor to "Billie Jean." (He was equally adept at mimicking Stevie Wonder.) "He could be like that," says Lopez, "and you'd think, 'Really, he's not so bad.'"
Most of the time, Barry and his girlfriend, a pretty blonde named Leslie, kept to themselves. This wasn't unusual behavior for the Sun Devils, a team with four married players and minimal social interaction. But Barry was different. He would sit alone in front of the TV every morning, watching the cartoon "He-Man" and giggling hysterically. He would sneak into Lopez's closet and swipe his new Ralph Lauren shirts without asking. "(Guy sweated like a pig," says Lopez.) He would write the odometer reading from his Trans Am on a scrap of paper, convinced teammates were taking his vehicle without permission ("Confession," says Lopez. "We were. It was the nicest car around, and when he went home for Thanksgiving or Christmas we'd cruise around in that thing like rock stars."). At times, Barry could be warm and outgoing -- as when he would cradle Danielle Henry, teammate Doug Henry's baby daughter, in his arms -- but those moments didn't come often.
Barry posted strong numbers (.360, 11 home runs, 55 RBIs, 30 stolen bases) in 1984 for a team that went 55-20 and was ranked No. 1 in the nation for much of the season, but his attitude was terrible. He missed a bus trip, arrived late to several practices, often took BP with half-hearted intensity and turned in lukewarm efforts in the outfield that infuriated the pitching staff. "He would never attempt to throw a guy out at home if it was going to be a close play," says Randy Rector, a pitcher. "There'd be 15 scouts in the stands, and he didn't want them to see that he had no arm."
In the ensuing years, Barry would deflect Pittsburgh- and Bay Area-based media hostility by noting, "Hey, my past is clean." The intent would be to imply, "OK, maybe I'm not always that nice. But there's no real dirt to dig up." Were this actually true, it would be a fine defense. In 1984, however, Barry committed a pair of acts that would have lost a lesser player his scholarship. First, he spent several hundred dollars using a stolen calling card that belonged to the university. Second, there was the incident that, in one humiliating blow, officially killed the ASU reputations of Bonds and Brock.
In March of '84, the Sun Devils flew to Honolulu for a four-game series against the University of Hawaii. This trip was troubled to begin with. On the seven-hour flight an ugly exchange took place when Rector -- who earlier in the season had made an ill-advised comment about placing bombs in the lockers of black teammates -- referred to black outfielder Mike Devereaux as a "n-----." The mild-mannered Devereaux barked back at Rector, and shoves were exchanged. "That was a total misunderstanding," says Rector. "Mike and I were friends. I was just joking around. I liked almost all of the colored guys on the team."
Brock punished Rector by sentencing him to six miles of running, but by the time the team had landed and checked into their hotel, the players had a filthy taste in their mouths. That night Brock set an 11 p.m. curfew, to be enforced by the team's tri-captains, outfielder Oddibe McDowell, shortstop Romy Cucjen and pitcher Kendall Carter. Four players, including Barry, did not return to their rooms in time.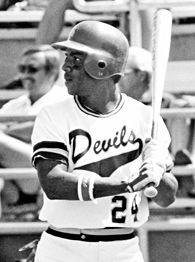 ASU/Collegiate Images/Getty Images
Barry Bonds already had developed his unique personality by the time he hit Arizona State.
At the stadium the following afternoon, McDowell gathered the four night crawlers together. "We're trying to win a national championship, and you guys are just killing us," he said. "So when we get back to Tempe, y'all are gonna have some serious punishment running to do." Three of the four nodded in agreement. Barry did not. He looked McDowell in the eyes and said, "Who do you think you are? You're not the coach here. Jim Brock is. You can't make me f------ run."
The taunt was a bad idea. The 5-foot-9, 165-pound McDowell was beloved as a player and a peer. During his junior year at McArthur High School in Hollywood, Florida, McDowell suffered a ruptured spleen when his bicycle collided with a moving van. Doctors said he would never play baseball again, but he returned to sports six weeks later. Ignored by Division I schools, he spent two seasons at Miami-Dade North Community College, then received a scholarship offer from Brock to play center field. McDowell hit .352 as a junior at ASU, and would bat a team-leading .405 during the '84 campaign. He was Bonds' polar opposite: Humble and hard-working; the son of a tile setter; a leader. "Oddibe was the most respected and well-liked person I ever played with," says pitcher Dave Graybill. "We'd go out and have a few drinks, and Oddibe would always be drinking orange juice. He was just that type of man."
A former state high school wrestling champion, McDowell could have grabbed Barry and tossed him into the nearest ball bin. Instead, he nodded, walked away and seethed. Barry resented McDowell's abilities and leadership, and everyone knew it. He was supposed to be the star of the team. That's what Brock had told him during the recruiting period -- that this would be "Barry's ship." But it wasn't, and Barry pounced on every opportunity to chip away at McDowell's reputation. Now he had crossed the line. Upon returning to Tempe, Brock suspended Barry and held a team meeting. Barry was not invited.
"It's been brought to my attention that a lot of you think Barry is causing more harm than good," he told his players. "And I don't believe I can excuse his actions any longer. So here's the deal -- I'm going to give you boys the authority to vote on Barry's future. Do you want him to continue on the team, or do you want him off? Keep in mind, our ultimate goal here is to win a national championship, and he's obviously a big part of that. But it's your decision." Brock walked off, and his troops retreated to the player's lounge to talk. He was certain that, with enough thought, Barry would be asked to apologize and stay. Nobody wanted to lose one of the team's brightest stars -- not over a late curfew. Right?
But the vote wasn't about a curfew. It was about Barry's bad habits and arrogant indifference; it was about the way he referred to himself in the third person during interviews and always made excuses for misplays. "He was missing practices, showing up late, leaving early," says Louie Medina, the Sun Devils' first baseman. "He would say, 'Oh, I have a stomach virus,' and it would be allowed. I can't speak for everyone, but I was tired of his act."
"It wasn't a white thing or a black thing or a star or bench warmer thing," adds Graybill. "It was about the value of a team -- about loving to play, and to do it together."
When McDowell informed Brock of the team's decision, the coach got what he had expected -- a strong consensus. But shockingly, the majority had voted against Barry continuing as a Sun Devil. Only two players, outfielders Devereaux and Todd Brown, were in favor of Barry's return, and their support was tepid. The rest had decided that he was finished. "I'd never seen the expression on Jim Brock's face that I saw right there," says Jeff Pentland, the team's hitting coach. "Absolute shock. It was obviously a plan to have the vote come out in favor of Barry, and it backfired."
For a moment, Brock earned the grudging respect of his players. He had asked them to vote, and they voted. He was willing to lose the club's most talented offensive weapon -- a wonderful lesson for young men on the true meaning of responsibility. Good for Jim Brock.
It didn't last. Brock told the team that because the vote wasn't unanimous, he could not -- "with a good conscience" -- expel Barry. "The players might have thought they were voting," explains Pat Brock, the coach's wife. "Jim was just asking for their input." Instead, Brock ordered Barry to run 10 miles (Bonds never did it). Unreported at the time was that immediately following the Hawaii trip Brock had received a threatening visit from Bobby Bonds, demanding that he revoke Barry's suspension -- or else. The incident took place during a closed practice, when Bobby drove his Mercedes onto the field, parked in front of the dugout and bull-rushed Brock. "If you mess with my son," he yelled, veins bulging from his neck, "I'll own this school!"
The Sun Devils went on to have a fabulous year, but the injustice of the Hawaii affair stained the season. In the past, Brock's irrationality had been grudgingly accepted as part of the ASU package. Medina had been temporarily kicked off the team after tearing his forearm muscle and being unable to play. Graybill was forced to run 20 miles in his cleats. Todd Brown, an outstanding walk-on outfielder from upstate New York, had to wait until his final season to receive a scholarship. Before Hawaii, such behavior from a cruel, victory-obsessed coach was taken in stride. But no more. The Sun Devils would play hard, but they would not play for their coach. When Arizona State was eliminated by eventual champion Cal State Fullerton in the College World Series, players consoled one another as if there had been a loss in the family. But few consoled Bonds, who set a World Series record with seven consecutive hits. And none consoled Brock.
Jeff Pearlman's new book, "Love Me, Hate Me: Barry Bonds and the Making of an Antihero," is available now on Amazon.com.