Usually I don't do this type of thing.
Usually if I'm interviewing someone, I stick to the subject at hand. Shawn Green wants to talk hitting the opposite way, we talk hitting the opposite way. Allen Iverson wants to talk crossovers, we talk crossovers.
But this, I couldn't resist.
A couple of weeks ago, I was on the phone with Blair Thomas, speaking specifically about his brief late-career stint with the Dallas Cowboys in 1994. Thomas was humble and introspective, fondly recalling the zip on a Troy Aikman spiral and the circuslike atmosphere that followed the team from city to city. "So anyhow," he said upon emptying his mental notebook, "if there's anything else you need to know …"
Again, I couldn't resist.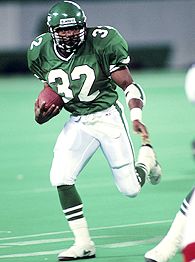 Jim Turner/WireImage.com
Blair Thomas finished with 2,236 yards rushing in his NFL career.
"Well, now that you mention it," I said. "Just out of curiosity, if the New York Jets select Emmitt Smith with the No. 2 pick in the 1990 draft and Blair Thomas is picked later by the Cowboys, are you going to the Hall of Fame?"
Loooooong pause.
"I know it's sort of a dumb question," I interjected. "I just …"
"Well," said Thomas. "Yes."
What?
"Yes," he said. "I think I am."
This sounds arrogant.
This sounds silly.
This sounds 100 percent correct.
Take it from me, a former no-hope-remaining, please-toss-me-out-of-a-moving-car-before-they-pick New York Jets fan. When it comes to the first round of the NFL draft, nearly everything my old team touches -- Kyle Brady, Johnny Mitchell, Mike Haight, Ron Faurot -- turns to gnat-infested dung. If you don't believe me, click here.
My personal trek through hell dates back to a cold winter morning in 1980 when my older brother announced to the kitchen table that he was officially a Giants fan. "Fine," I said. "Then I'll root for the Jets."
Oy.
A mere three months later, the green and white made a trade with San Francisco for the No. 2 pick in the draft. Was I happy! Was I excited! J-E-T-S! Even my mother knew that the Jets were in dire need of offensive line help and that USC's Anthony Munoz was a can't-miss superstar in the making.
So, of course, the Jets took Johnny (Lam) Jones -- a wide receiver from Texas with incredible speed, a sound work ethic, a killer nickname and (gulp) Crisco hands.
With no further ado, so began the remarkable, unparalleled run of the Jets not merely selecting mediocre players but ignoring future legends in the process:
• In 1981, the Jets used the third pick to take Freeman McNeil, a UCLA running back who went on to have a very solid career. Four spots later, the 49ers drafted Ronnie Lott -- perhaps the greatest defensive back ever to play the game.
• In 1982, the Jets used the 23rd pick on a Boston College linebacker named Bob Crable. Eighteen spots later, New England landed Iowa linebacker Andre Tippett, who would appear in five Pro Bowls and be named to the NFL's All-Decade team.
• In 1983, commissioner Pete Rozelle approached the microphone and announced to the assembled crowd at Madison Square Garden that "the Jets take, as their first-round selection, quarterback Ken O'Brien of California-Davis." Three spots later, the Miami Dolphins nabbed, um, well, ugh, some guy. Another quarterback.
• In 1985, the Jets, needing a wide receiver to play opposite Wesley Walker, nabbed Al Toon of Wisconsin. Great! Al Toon! Six picks later, Jerry Rice went to the 49ers.
The list, like an unyielding trip to the dentist, goes on and on and on and on and on. Fullback Roger Vick in 1987 over linemen Harris Barton and Bruce Armstrong (the next two picks). Offensive guard Dave Cadigan in 1988 instead of cornerback Terry McDaniel (five Pro Bowls), receiver Michael Irvin (five Pro Bowls), linebacker Ken Harvey (four Pro Bowls), tight end Keith Jackson (five Pro Bowls), offensive guard Randall McDaniel (12 Pro Bowls) or cornerback Eric Allen (five Pro Bowls). Defensive end Jeff Lageman -- projected to go in the first round by absolutely nobody -- in 1989 before Steve Atwater and Andre Rison. Linebacker Marvin Jones in 1993 instead of Willie Roaf or Jerome Bettis, two sure-shot Hall of Famers. Brady in 1995 over Warren Sapp -- even as Jets fans were filling the Garden with chants of "We want Sapp! We want Sapp!"
Of all the gaffes, the most painful for 99 percent of Jet fans was Thomas. Until that time, I truly believed the Jets were merely boneheaded; their front office lacked the wisdom, experience and know-how to differentiate between a Billy Vergantino and a Billy Kilmer. But Thomas was different.
Everybody -- absolutely everybody -- agreed the All-American from Penn State was the perfect pick for the Jets. Thomas was fast, strong and hard-nosed -- William Andrews with a pinch of Tony Dorsett for seasoning.
Hence, when Thomas burned in a heap of ashes, never running for more than 728 yards in four seasons in New York, I knew there was something … fishy. Six years later, a similar phenomenon occurred when the Jets used the No. 1 pick on Keyshawn Johnson -- universally regarded as the draft's best player. Had Keyshawn been selected by, say, the Patriots or Broncos, I know -- I mean, I really know -- we'd be preparing his bust for Canton. I am equally certain that had the Jets passed on Johnson and picked Marvin Harrison of Syracuse, the future Indianapolis great would have instead joined the likes of Jones, JoJo Townsell and Kurt Sohn as mediocre, forgettable green-and-white schlubs.
To paraphrase Phil Jackson, it's karma, baby.
So, as his 40th birthday approaches, laugh at Blair Thomas if you will.
Call him misguided, a dreamer, a fool, a bust.
Just do me one favor, Jets fans. This Saturday, when Roger Goodell approaches the podium to announce the Jets have used the 25th pick to select "Matt DeMartino, kicker, Bucknell University," save yourself another year of heartache.
Assume the worst.
Jeff Pearlman is a former Sports Illustrated senior writer and the author of "Love Me, Hate Me: Barry Bonds and the Making of an Antihero", now available in paperback. You can reach him at anngold22@yahoo.com.

Also See
ESPN Top Headlines