Sixteen years ago I called for a coach to be fired.
He was Loren Kline, head coach of the men's soccer team at the University of Delaware. At the time, the Blue Hens were in the midst of a 4-14 season -- their third consecutive losing campaign. Kline had coached the team for 28 years, and I believed the moment was right to install some new blood.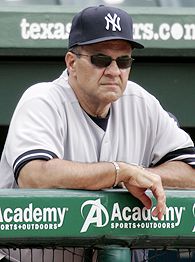 AP Photo/Tony Gutierrez
Joe Torre may have lost his magic touch with this team.
It remains my greatest journalistic regret.
When those of us in the media feel compelled to demand a person lose his or her job, we damn well better be right. Though Kline's record suggested that perhaps a change was in order, I was hardly the person to call for it. Truth be told, I was nothing more than a pimply-faced sophomore trying to make a name for himself at the student newspaper. I'd never attended a men's soccer game; never even worked up the guts to call Kline and get his take. It was pathetic, and I still owe the man a thousand apologies.
I bring this up because today, for only the second time as a writer, I am recommending a person be fired.
This time, however, I am right.
The New York Yankees need to rid themselves of Joe Torre. Now.
When George Steinbrenner first hired Torre to replace Buck Showalter back in 1996, I was among the legions of people befuddled by the move. In his 14 years of guiding the Mets, Braves and Cardinals, Torre captured just one division title (with Atlanta in 1982) and never won 90 or more games. Surely there were more qualified candidates -- Gene Michael … Clyde King … Billy Martin's ghost … Alf … me.
Yet, in one of the great managerial achievements in Yankees history, Torre took a team of castaways (Mike Aldrete, Matt Howard, Charlie Hayes), youngsters (Derek Jeter, Andy Pettitte, Mariano Rivera) and big-name vets on the downside of their careers (Dwight Gooden, Cecil Fielder, Tim Raines) and molded the franchise's first world champion in 18 seasons.
Torre's touch was subtle, yet undeniable -- he knew when a button needed to be pressed, and when a player was best left alone. He allowed pitching coach Mel Stottlemyre to handle the arms, and hitting coach Chris Chambliss to deal with the intricacies of bat control. And he rarely overmanaged, opting for trust in his players over trust in his own brilliance.
Over the ensuing five years, Torre and the Yankees were an ideal match. The front office always managed to find the right piece -- be it Scott Brosius, Luis Sojo or Chili Davis -- to fit Torre's world. These were mostly mature, self-motivated men in their early-to-mid 30s who didn't need to be pumped up by their manager before a big game. Torre's greatest strength was not his handling of the bullpen or sticking with a steady lineup (in both areas he was only fair), but his innate ability to relate. Black players loved Torre, white players loved Torre, veterans loved Torre and rookies loved Torre. When the 32-year-old Jeter refers to his manager as "Mr. Torre," it is done not for effect, but out of respect.
Unfortunately for Torre, times have changed. With the departures of coaches like Stottlemyre, Willie Randolph and Don Zimmer, he is left with a cast of failed managers (Tony Pena, Larry Bowa) and future failed managers (Don Mattingly) as his assistants. Whereas once the Yankees built a team primarily through player development and small- and medium-scale trades, now it seems like the team (with rare exception) is built on other franchises' blocks. When you nurture and develop the Jeters and Riveras and Jorge Posadas of the world, those men will live and die for those pinstripes. On the other hand, when you shell out fat wads of cash for Alex Rodriguez and Carl Pavano and Jason Giambi, are you buying skill and passion, or just skill?
Watching the current Yankees -- 10½ games behind Boston and going nowhere fast -- answers that question. They are a flat tire, with nary a jack for miles. Here is a team in dire need of pizzazz, of intensity, of spirit, of soul.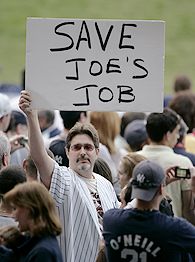 AP Photo/Julie Jacobson
Many Yankees fans would be sad to see Joe go.
Torre is routinely ripped for overworking his bullpen, but his biggest problem is that, quite frankly, nobody except for Jeter and Johnny Damon appears willing to surrender a left kidney for a win. And now they're going to throw Roger Clemens in the mix -- a man whose idea of teamwork is a Wednesday afternoon picnic with his wife and the ol' transistor radio. The old Joe Torre never -- never -- would have let Clemens come in and pitch under his own rules. The new Joe Torre said, "Eh, why not? Pour me some tea."
Just a few miles away at Shea Stadium, the New York Metropolitans scrap and claw and bite for every run. They play with immense heart, celebrate like puppies in a bowl of Triscuits and shave their heads in a sign of team unity. The Yankees, meanwhile, are blah. No spunk. No fire. No urgency. Torre is the best calming-influence manager in the game, perhaps in major league history. But when it comes to getting something out of nothing, he's no different than Don Baylor or Bill Plummer or any other run-of-the-mill skipper.
In an odd twist, right about now the Bronx Bombers could use a sixth helping of Billy Martin -- throwing bases and kicking dirt and challenging his dogs (Martin vs. Bobby Abreu would rival Martin vs. Marshmallow Salesman) to step up and show some cojones.
With No. 1 long deceased, the logical choice is Bobby Valentine -- who's currently managing the Chiba Lotte Marines of Japan's Pacific League. Those who've had the fortune/misfortune (depending on your perspective) of covering Valentine speak of a man who is annoying/passionate/insensitive/intelligent/self-absorbed/inspiring. But one thing goes without debate -- he can manage, and he can push guys to play hard.
Torre has had a great run. And, like Tom Landry before him, he deserves to be ushered out with a parade through the city's downtown avenues.
But make no mistake about it. He deserves to be ushered out.
Jeff Pearlman is a former Sports Illustrated senior writer and the author of "Love Me, Hate Me: Barry Bonds and the Making of an Antihero", now available in paperback. You can reach him at anngold22@gmail.com.