Tim Raines will not be elected to the Baseball Hall of Fame.
I say this because I know a large number of voters -- many of whom adhere to a strict, in-depth, complicated scientific equation of Pythagorean inanity when it comes to determining Cooperstown worthiness.
That's right -- inanity.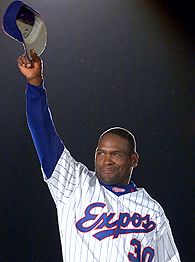 AP Photo/Ryan Remiorz
If you take a long look, Tim Raines deserves a place in the Hall.
It happened to Keith Hernandez. It happened to Jim Rice. It happened to Ron Santo. For some reason, players more than worthy of enshrinement are picked apart like chicken carcasses at my mother-in-law's house (it's an ugly scene), ripped to the bone and left for naught.
Trust me, because this one's a lock: When Raines' name is officially listed on the next ballot, electors will look over his 23-year major league career and cite the following:
A. His early days of cocaine abuse
B. His (only) 2,605 career hits and sub-.300 average
C. His time spent playing in the baseball-indifferent city of Montreal
D. His career numbers compared to Rickey Henderson, Raines' leadoff-hitting contemporary.
Then, with nary a flinch, they will vote: No.
A dark, dark day, that will be.
To start with, Tim Raines is a Hall of Famer. Not a Bruce Sutter Hall of Famer. (Translation: A player who inexplicably gets in based on five stellar seasons.) Not a Don Sutton Hall of Famer. (Translation: A solid lengthy career results in the compilation of gaudy numbers, and thus enshrinement). Not a Ty Cobb Hall of Famer. (Translation: A jackass with great stats.)
No, Raines is a legit first-ballot selection.
In the history of the game, there have been two -- maybe three -- better leadoff hitters than Raines during his 10 prime seasons with the Montreal Expos. In that span, from 1981-1990, Raines led the National League in steals four times, and ranked second once, third once and fourth twice. In 1986 he led the NL with a .334 batting average, and two other times he ranked third. In seven of those seasons, Raines ranked in the top 10 in on-base percentage. He hit 30 or more doubles six times, and at least seven triples in eight seasons.
Ho hum, you say? Big whoop? Well, how about this: Before Henderson came along and revolutionized the leadoff position (power plus speed plus unflinching bat control and discipline equals dominance), consensus said the greatest top-of-the-order hitter was Lou Brock, the legendary Cardinals speedster. When Brock was eligible for enshrinement in 1985, there was little debate. He was elected with 79.75 percent of the vote -- and rightfully so. Brock was certainly Hall of Fame worthy.
Raines was better than Brock.
Compare their numbers: While Brock scored more runs (1,610 to 1,571) and had more hits (3,023 to 2,605), all the other important figures favor Raines, who retired with 1,460 fewer at-bats. Raines hit for a higher average (granted, .294 compared to .293), hit more home runs (170 to 149), drove in more runs (980 to 900), walked more often (1,330 to 761) and had a better on-base percentage (.385 to .343).
Most surprising of all, Raines was also a far superior base stealer. Over their lengthy careers, both players usually had the green light to run whenever they chose. Though Brock's 938 thefts exceeded Raines' 808, what truly matters when it comes to a thief's impact on winning and losing games is success percentage. The man who steals 500 bases but is caught 250 times is as useless as a Keith Garagozzo rookie card. Henderson's career stolen-base percentage: 80.8 percent. Brock's: 75.3 percent. Raines': 84.7 percent -- the best of any man with more than 300 steals.
How awesome was Raines? Heading into the 1981 season, Expos coach Steve Boros told the UPI that Raines would steal 150 bases that year. "I'm convinced of it," Boros said. "As the first-base coach for this club, I'm lucky enough to be closer than anybody else in the world to be watching the most exciting base stealer in the history of baseball. There's no other place I'd rather be."
Alas, Raines broke Boros' heart. He only swiped 71 -- in 88 games.
As they tend to do (fairly, I believe), Hall of Fame voters will recall Raines' unfortunate early claim to fame -- the fact that he slid headfirst so he wouldn't puncture the bag of coke in his back uniform pocket. Some look at that and think, "Deviant!" As the son of a substance-abuse counselor, however, I think, "Survivor!" Unlike so many from his day, Raines was able to overcome addiction, and he became one of the best clubhouse guys of his era. Teammates worshipped "Rock." Managers craved him even more.
I still fondly recall seeing Raines during spring training in 2002 -- sitting by his locker stall at the Florida Marlins' facility, telling stories and dispensing wisdom to a gaggle of young, wide-eyed teammates. At age 42, Raines knew it would be his final go-round, but he bounced through those days with the energy and pep of a 20-year-old. At the time, I asked Raines whether he pondered the Hall.
"I do," he said. "But mostly I think about playing the game the right way. If that's my legacy, I'll be very content."
It is, indeed, Tim Raines' legacy.
He deserves even more.
Jeff Pearlman is a former Sports Illustrated senior writer and the author of "Love Me, Hate Me: Barry Bonds and the Making of an Antihero", now available in paperback. You can reach him at anngold22@gmail.com.