Playing Back into the Majors
CENTRAL ISLIP, N.Y. -- He should not be here. It's obvious, right? So what if in his last major league go-around, Donovan Osborne posted a 7.13 ERA in nine games with the 2004 New York Yankees? He was hurt.
"Now I'm healthy," says the 38-year-old, "and it's clear I can get major league hitters out. I just need a chance."
He should not be here. It's obvious, right? So what if Damian Rolls batted .162 for the Tampa Bay Devil Rays in 2004, his final major league season? He wasn't getting enough at-bats to prove his worth. "I can contribute to any major league club as at least a utility player immediately," says the 29-year-old. "I have no doubt about it."
He should not be here. It's obvious, right? So what if Jose Offerman batted .229 with two home runs for the Phillies and Mets in 2005, his farewell tour of the majors? He wasn't being used correctly. "A baseball player knows when his time is up," says the 38-year-old. "And I still have three years left in me."
He should not be here. It's obvious, right? So what if Edgardo Alfonzo hit -- egad! -- .126 with Toronto and the Angels last year? He needed a better opportunity. "When you're used to playing as much as I have," says the 33-year-old, "it's hard to adjust to anything less. But I am still the player I used to be with the Mets."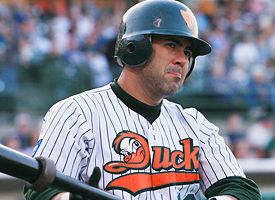 Long Island Ducks photo
Edgardo Alfonzo, 33 years old and a year removed from the major leagues, says "I am still the player I used to be with the Mets."
None of them should be here. It's obvious, right? Not Osborne, Rolls, Offerman or Alfonzo. Not Pete Rose Jr. ("Hurt by his last name," says Rolls), not Carl Everett ("Great guy," says manager Dave LaPoint, "but reputations unfairly follow people."), not Danny Graves ("I lost my confidence, but now it's back," he says) and not Lance Davis ("I still have it in me," he says.). Nary a one of the 13 ex-major leaguers listed on the 25-man roster of the Long Island Ducks of the independent Atlantic League belongs here, in a small brick clubhouse where the TV is normal in size, the cuisine du jour is a lumpy bowl of tuna fish salad (with a Jackie Gleason-sized fly buzzing around it) and the groupies are big-breasted, long-legged, scantily dressed … and 100 percent imaginary.
They don't belong here because, in the mind of the professional ballplayer, acceptance of inadequacy is acceptance of death. "The day you're happy settling for being a Duck," says Osborne, "is the day you need to retire and move on with life. This is an excellent organization, and I'm appreciative. But all I want is to get back to the major leagues."
It's what they all want -- every single one of them. Hope. Redemption. Rejuvenation. The Ducks' Citibank Park is not so much Ponce de Leon's fountain of youth (after all, the ex-big leaguers are almost all in their 30s) as it is Dr. Emmett Brown's souped-up DeLorean. Catch enough speed and maybe -- just maybe -- you can get back to the future. Back to the big leagues.
BIRDS OF A FEATHER
Thirteen former major leaguers are on the roster of the Long Island Ducks of the independent Atlantic League:
• Edgardo Alfonzo
(12 MLB seasons: 1,532 hits, 146 HR, 744 RBI, .284 avg., one-time All-Star)
• Lance Davis
(1 MLB season: 8-4, 4.74 ERA)
• Todd Erdos
(5 MLB seasons: 2-0, 5.57 ERA, 58 K, 45 BB)
• Carl Everett
(14 MLB seasons: 1,304 hits, 202 HR, 792 RBI, .271 avg., two-time All-Star)
• Danny Graves
(11 MLB seasons: 43-44, 182 saves, 4.05 ERA, two-time All-Star)
• John Halama
(9 MLB seasons: 56-48, 4.65 ERA, 492 K, 277 BB)
• Jose Offerman
(15 MLB seasons: 1,551 hits, 57 HR, 537 RBI, .273 avg., two-time All-Star)
• Donovan Osborne
(9 MLB seasons: 49-46, 4.03 ERA, 558 K, 246 BB)
• John Riedling
(6 MLB seasons: 17-13, 4.41 ERA, 198 K, 148 BB)
• Damian Rolls
(5 MLB seasons: 203 hits, 9 HR, 73 RBI, .248 avg.)
• Pete Rose Jr.
(1 MLB season: 2-for-14 in 11 games)
• Mark Watson
(3 MLB seasons: 1-1, 10.95 ERA, 7 K, 7 BB)
• Ed Yarnall
(2 MLB seasons: 1-0, 5.40 ERA, 14 K, 13 BB)
Or, maybe not. In eight seasons of Ducks baseball, a mere four players -- Carlos Baerga, Pedro Borbon Jr., Bill Pulsipher and Ken Ray -- have gone from Long Island to the majors. For the rest, from Doug Jennings in 2001 to Kevin McGlinchy in 2003 to John Rocker in 2005 and Juan Gonzalez in 2006, the promise of the Atlantic League's model franchise has been a tease. They came, they played (often well), they, umm, vanished.
Poof!
So maybe, for the sake of narrative, the story here is not about making a comeback, per se, so much as, well, a truly unique undiscovered reality TV show. Think about it: A dozen ex-big leaguers, some of them former All-Stars (Graves, Alfonzo, Offerman, Everett), some of them ex-megaprospects (Davis, Ed Yarnall), some of them wizened veterans (Osborne, John Riedling), some of them the offspring of legends (Rose), adapting to life in a town where Friday nights at Target pass for excitement; where fans don't boo or cheer but blow into $3 plastic quackers (Writer's note: Please kill me); where the biggest of studs is paid $3,000 per month. It's "The Surreal Life" meets suburbia.
"We take a lot of things," says Dave LaPoint, the Ducks manager, "but we don't take egos." A 12-year major league veteran, LaPoint knows whereof he speaks. He has seen heads as large as the Opryland Hotel, and they don't interest him. "If you walk into our clubhouse thinking you're better than this, you'll get cut down to size very quickly," he says. "Guys will make fun of you mercilessly. And if that doesn't work …"
LaPoint leaves the thought blank, because the finale is obvious. Two years ago Rocker came to town accompanied by immense hype and criticism. How could you let this guy pitch for you? Who would hire such a jerk? "We believe in giving people second chances," says Bud Harrelson, the Ducks co-owner, first base coach and resident goodwill ambassador. "Too often, people are doomed by bad reputations." Upon arrival, however, Rocker repulsed teammates and fans with a boorish attitude and erratic behavior. After 23 appearances (and a 6.50 ERA) he was gone. "This can be a wonderful, fun place to be a ballplayer," says LaPoint. "But you have to be open to the idea."
These modern Ducks are. Though everyone here longs to reign in the land of 40,000-seat cathedrals and a bottomless tub of sunflower seeds, there is a … fun, an easiness oozing through the Long Island clubhouse that can't be found in the big leagues. For starters, with nothing else to do, the Ducks stick around long after the games end. "We watch TV, we talk, we eat, we compare notes and experiences" says Rolls, who spent parts of five seasons with the Devil Rays. "We're in this together." Nearly all the players share digs. Rolls and Rose split an apartment. Osborne, Riedling and Graves co-rent a house -- with Graves serving as the official driver to and from the park (he's the only one with a car). "No parties," says Osborne. "Maybe we'll crack open a beer, but that's where it ends." With the Yankees or Mets or Dodgers or Padres, the games are played, the chartered jets are boarded, the iPods are turned on and the world is tuned out. With the Ducks, X-Box tournaments are ongoing, card games never seem to cease and conversations of yesteryear can stretch deep into the night. Though no one seems to enjoy the team bus rides for away games, they serve as undeniable bonding tools. "It's refreshing," says Graves. "Sorta like Little League all over again -- in a great way."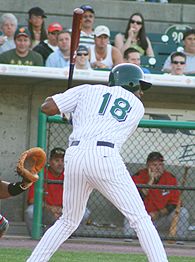 Long Island Ducks photo
Jose Offerman, at age 38, says he still has three years of productive baseball left in him.
Sitting in the stands before a recent game, Rolls stares out at the ballpark's perfectly manicured field. A slight breeze blows in from left, and the scent of hot dogs lingers in the air. Of all the Ducks, Rolls may well be the most big league ready. He's hitting .284 with 20 RBIs and five stolen bases in 39 games. Most important, he's played six positions -- well. And with obvious pep. "You will never hear me complain about this," says Rolls, who, upon signing with the Ducks, went to his garage to find his old green Devil Rays cleats. "I've loved baseball since the first time I started in T-ball as a 4-year-old back home in Kansas City. I mean, I truly, truly love baseball. Everything about it. And if you love the game, it shouldn't really matter where you're playing it. I'm getting paid to do what I cherish, I never have to wear a suit to the job and the guys here are great. How can I whine?"
A similar sentiment is routinely echoed by Alfonzo, the unofficial team guru and unfortunate leader among fans in the category of suddened He's-playing-where?s. A 12-year major league veteran with 1,532 lifetime hits, Alfonzo came to fame as the cornerstone of a mid-to-late 1990s New York Mets infield that Sports Illustrated once called "the best ever." He combined power, bat control and flawless defense into one of the game's most complete packages. Then, with San Francisco two seasons ago, it vanished.
One day, Alfonzo was among the game's elite second basemen. The next, he was Rick Schu. "There are a lot of factors," he says, speaking quietly in a clubhouse corner. Inches away is the fly, swarming above Alfonzo's head. He eyes it away. Eyes it again. Then continues. "Last year, I had trouble with playing time and began developing some bad habits. I still need to get my timing and confidence back. But I think it's coming around."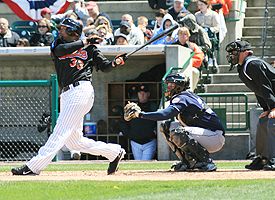 Long Island Ducks photo
Damian Rolls has played six positions for the Ducks this season, and he's confident he could contribute immediately to a major league team.
Later in the evening, Alfonzo's grand slam will lift Long Island (28-17 record) to a come-from-behind 9-8 triumph over Somerset before a capacity crowd of 6,011. Both LaPoint and Harrelson believe Alfonzo will be signed by a major league club sooner than later. "He's just too good," says LaPoint. "He can help a lot of teams."
But wherever he goes, will Alfonzo find the devotion that lingers on Long Island? Since their debut season, the Ducks annually have led the Atlantic League in attendance -- an ode to a shockingly loyal fan base. They are, according to Harrelson, largely experience fans more than baseball fans.
"People come here to have a good time, to see some talented players, to get autographs, to enjoy something unique," he says. "The beauty here is that whether we win or lose, people seem to go home happy." That includes Harrelson, who during 1965-77 stood out as the Mets' scrappy, pull-no-punches shortstop and later went on to coach third base and manage the team. Like LaPoint, Harrelson experienced the business-business-business outlook of the majors, and he grew tired of it. With the Ducks, he'll coach first for a few innings and then, when the mood strikes, roam the stands signing autographs.
Or engaging in small talk. Or helping with promotions. Or eating a hot dog.
"This has been the most fun I've had in my life, and the most rewarding experience ever," says Harrelson, who lives four miles from the stadium, in Hauppauge. "Sometimes on the biggest stage, it's hard to see the impact you're making. Here, it's very obvious and very rewarding. People love the Ducks and what we're doing for the community. We're a part of it."
With a shrug, Harrelson says he knows players are focused first on their careers, second on victories. "It's understandable," he says. "But there are still plenty of pros out there who are all about winning, and are driven by the need and desire to succeed."
This year, that man is Yarnall, perhaps the only ex-MLBer on the Ducks' roster willing to admit he's earned his status as Atlantic Leaguer. Drafted by the Mets in the third round of the 1996 amateur draft out of Louisiana State, Yarnall quickly wowed player development gurus with his poise and wide assortment of pitches. He was one of the Mets' top prospects when, in 1998, the team traded him to Florida as part of a package for Mike Piazza.
Less than a year later, he was sent to the Yankees with two others for Mike Lowell, and in 2000 he went to spring training as the leading candidate to become Joe Torre's fifth starter. "Well, I fell on my face," says Yarnall. "I was 23 years old, there were reporters everywhere, it was the New York Yankees -- and I couldn't handle it. I tried to paint the corners, and I stopped being aggressive and I lost my way." On the bright side, Yarnall earned a World Series ring for pitching in five games with the '99 Yankees. On the down side, he pitched twice for the club in 2000, and has never returned to the show. The Yankees traded him to the Reds, the Reds released him, he signed with the A's, was released by the A's, signed with the Red Sox, traded to the Phillies, released by the Phillies, signed by the Nationals, let go by the Nationals, so on and so on. "I played two years in Japan, which was smart because the money I made was excellent and gives my wife and I some security," he says. "But I had to give this one final shot before I move on with my life."
At age 31, Yarnall is no longer a kid; no longer a prospect on the rise. One month ago, he found himself playing for Laguna in the Mexican League when the entire team -- Yarnall included -- suffered from severe food poisoning. "I said, 'This isn't worth it,'" he says. "But then a friend with the Ducks called and asked if I had any interest. Here I am."
Yarnall pauses. He is sitting at his locker, watching some teammates play pregame poker. Unlike the other 10 Ducks interviewed for this piece, he has an idea of what life after baseball will entail. He'll head home to Baton Rouge, teach the game, work as an instructor, start a family. "I've sort of accepted the fact that I may never fulfill the potential people saw in me," he says. "But when I look back, I'm proud. I always tried my best, I have a World Series ring and I've played as hard as I could. What else could anyone ask for?"
What else could anyone want in a Duck?
Jeff Pearlman is a former Sports Illustrated senior writer and the author of "Love Me, Hate Me: Barry Bonds and the Making of an Antihero", now available in paperback. You can reach him at anngold22@gmail.com.