In the late weeks of 2000, I flew to Los Angeles to spend a couple of days with Barry Zito.
At the time, the 22-year-old pitcher was a still-obscure up-and-comer with the Oakland Athletics. He had recently completed a rookie season during which he went 7-4 with a 2.72 ERA in 14 starts, but could safely walk the sands of Manhattan Beach without being identified.
In our two days together, Zito and I ate Mexican, went to a jazz club, surfed (well, he surfed; I took notes), talked life and death and the electoral college and french toast and The Roots and seemingly all things beyond the boring ol' world of offseason baseball. By the time we parted ways, I was absolutely dazzled by a man boasting the free-spiritedness to inevitably morph into the modern-day Bill (Spaceman) Lee.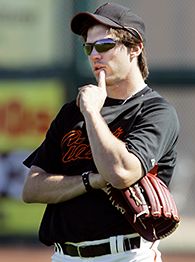 AP Photo/Jeff Chiu
Publicists and attitude? Where did the old Barry go?
As I wrote in Sports Illustrated at the time: "Ever since his freshman year at UC Santa Barbara, in 1997, Zito has practiced yoga and meditation. He travels with the satin bed pillows his mom sewed for him, as well as scented candles, which he spreads throughout his hotel room. 'They relax me,' he says, 'and hotels don't always smell so good.' He is learning to play the guitar, and he admits to holding dialogues on the mound with his left arm 'whenever I need someone to talk to.'"
What struck me most about Zito was that he didn't care. He didn't care if my article would be full of praise or full of scorn. He didn't care if his hair was messy or his shirt torn or his socks unmatched. He didn't care if you liked his girlfriend or didn't -- just that you treated her with respect. He was as nonchalant as a warm breeze in July, and eminently more likable.
"I know I'm lucky," he told me. "I've been given this odd gift to throw a baseball well. It's random -- and I appreciate it."
In the ensuing years, as Zito emerged from promising rookie to the 2003 AL Cy Young Award winner, I was extremely happy. Like Shawn Green, Josh Hamilton, Mike Sweeney and Tim Hudson before him, here was a guy I would follow with enhanced interest. I wanted Zito to succeed because, in my heart of hearts, I knew he wouldn't change. He was who he was.
Or was he?
In my decade of covering professional sports, few people have disappointed me as greatly as Barry Zito. Though I'm unsure when, exactly, the transformation began, Zito is no longer the kid with the surfboard; the laid-back, Cali-cool dude with the ungodly talent coupled with uncommon humility. No, now he has (egad) a publicist. He has (egad) dated Hilary Duff. And Alyssa Milano (well, no shame there). Worst of all, he has (egad) an attitude. Not an especially good one.
Talk to former teammates and front office officials in Oakland, and several will quietly moan that, with time, Zito began to place too much emphasis on his own press clippings and Q rating. Even more disappointed are the men and women who cover Zito on a daily basis. Once upon a time, Zito was a writer's best friend: a never-ending quote on whatever filled his mind. Now, while still accessible, Zito seems to view the media with skepticism and angst. He'll talk, but behind a guarded boundary that never before existed.
"He's OK," says one regular Zito writer. "But he won't give you very much."
Just listen to what he told Sports Illustrated's Chris Ballard a few months back: "Anyone who knows me knows that I'm not flaky. It's just a fun thing to put on a guy -- 'Hey, lefthanded, long hair, surfer!' But these people don't know, because they've never come in here and talked to me. Because if they did, I'd call them on that s--- in a second."
The words were ludicrous for too many reasons to count, but what the hell, I'll try:
No. 1: Zito fostered that image himself by talking up stuffed animals and man-to-ball conversations with unabashed regularly.
No. 2: Factually, Zito was/is quirky.
No. 3: Factually, those who played with Zito in the early years said he was quirky.
No. 4: How many writers have compiled a Zito-is-nutty piece after meeting with the man? My guess: no fewer than 50. We came, we saw, we wrote.
No. 5: I can go on.
No. 6: And on.
Nos. 7 through 2,321: And on and on and on.
Back in the day, Zito was quirky -- and it was fantastic. Whether he pitched brilliantly or terribly, he was guaranteed to be the life of the party once the game had ended. Teammates loved him because he was one of them. Fans loved him because he was one of them. He talked trash, played Halo, told stories and found pleasure in the little things; in walking on the freshly cut grass and throwing strikes.
Now, with a seven-year, $126 million deal from the Giants, Zito isn't the same.
Not -- as his 6-8 record and 4.71 ERA indicate -- as a pitcher.
And not as a person, either.
Jeff Pearlman is a former Sports Illustrated senior writer and the author of "Love Me, Hate Me: Barry Bonds and the Making of an Antihero", now available in paperback. You can reach him at anngold22@gmail.com.