He came along right out of a dream -- the tall, dashing, well-spoken former New York Mets right-hander with the Yale education and 136 major league victories under his belt. Ron Darling had even been something of a movie star, what with his gripping portrayal of Handsome Li'iBoy in the 2001 film "Shallow Hal."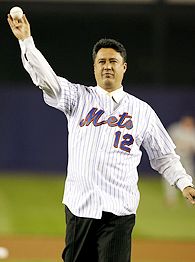 AP Photo/Andrew Gombert
After a little time on the job, Darling has grown into an outstanding analyst.
So when he was hired by SNY (SportsNet New York) last year to serve as a color commentator on Mets broadcasts, one could assume the first-year network would simply wind Darling up and let him talk and talk and talk and talk …
There was just one problem.
The Can't-Miss Kid was bad.
Really bad.
Just watch the old tapes. Throughout the 2005 season, Darling worked for Washington's Mid-Atlantic Sports Network, for which he called 150 Nationals games with the wooden indecisiveness of Jon-Erik Hexum portraying Phineas Bogg.
"There was a lot of work needed," says Greg Picker, SNY's producer for Mets telecasts. "First and foremost, he had to relax and rely on his knowledge and intelligence. The package was obviously there. It just had to be tinkered with."
Two years later, the Emmy award-winning Darling is part of what has to be considered major league baseball's top three-man broadcast team, along with play-by-play announcer Gary Cohen and analyst Keith Hernandez. The SNY trio is funny, insightful, and -- most importantly -- brutally honest. When the Mets blew yet another pennant race game to the Washington Nationals Tuesday night, Hernandez trashed stars Carlos Delgado and Jose Reyes, holding little back as their defensive gaffes helped New York lose yet another critical contest. Darling willingly chimed in that pitcher Jorge Sosa was inexplicably, inexcusably out of position on a play. It's the sort of stuff fans need to hear; the sort of stuff the crosstown Yankees' TV and radio announcers (John Sterling, Michael Kay, Suzyn ("Roger Clemens is in George's box and Roger Clemens is coming back! Oh my goodness gracious! Of all the dramatic things I've ever seen!) Waldman et al) refuse to utter.
"Yeah, after some of the things we say we're not always welcomed with open arms in the Mets clubhouse," Darling says. "But you know what? Keith and I had a lot of success here. We don't have to hide or tiptoe around."
Indeed, as two stars of the beloved '86 Mets -- their No. 2 starting pitcher and first baseman -- Darling and Hernandez have earned their places. They are icons from a bygone era, when Mets players could be seen picking up the ladies with Rico Suave dexterity and closing Long Island bars on a nightly basis. At the time New York was a grimy, dirty place, and the Mets were an even grimier, dirtier team. Hernandez smoked cigarettes in the dugout. Darling was involved in (and arrested after) a brawl at a Houston pub, Cooters, and emerged all the more popular. Lenny Dysktra passed gas in front of priests, Kevin Mitchell ripped an opposing player's ear lobe during a brawl, and Dwight Gooden and Darryl Strawberry irretrievably dove into excess. The '86 Mets were New York. Still are New York.
Twenty-one years later, Darling and Hernandez could easily mail it in, rest on their laurels and spend, oh, 50 percent of their booth time pleasing Mets fans with mind-numbing tales of yesteryear. After all, neither man needs to do this. They are both financially secure, both content not to be in the spotlight, and both comfortable with their places in the world.
And yet, both also suffered through the pangs of baseball incompletion. Hernandez, the 1979 co-NL MVP, retired after the 1990 season, during which his bad back caused him to hit .200 in 43 depressing games with Cleveland. Darling's farewell was no better -- he went 4-7 with a 6.23 ERA for the '95 Oakland A's. "In all honesty, after I retired I didn't watch a baseball game for four or five years," Hernandez says. "I was very bitter about the way it all ended, and I wanted to distance myself from those feelings, that hurt."
"You always think you can play," Darling adds. "And when you finally can't, the sting is awful."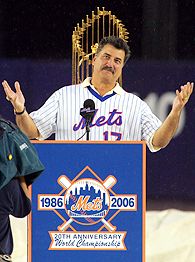 AP Photo/Ed Betz
Hernadez is a hit in those "Just For Men" commercials, and on Mets telecasts.
In a sense, that's what this is all about -- alleviating the sting. These two learned at the end of their playing careers what it's like not to be good at something, and neither particularly cared for the experience. That's why, when it comes to broadcasting, Darling (in particular) is a voracious student. He eagerly solicits advice; repeatedly studies his game tapes; reminds himself constantly to slow down, to explain everything clearly, to break down, say, the splitter, with a Ph.D.'s precision. "Ronnie's fantastic -- really fantastic," Hernandez says. "I never thought he was bad, but you'd have to be blind not to see how good he's become. He brings a pitcher's perspective to the broadcasts, and it's invaluable."
For his part, Hernandez is, well, Hernandez. "He's arrogant, vain, condescending, impolitic, opinionated, judgmental, profane, sarcastic, obnoxious and scornful," Phil Mushnick once wrote in the New York Post. "And because of it, rather than in spite of it, he's among the best pure baseball analysts we've ever heard or ever hoped to hear." Occasionally gruff and dismissive, even offensive (last season he faced justifiable criticism for asking aloud why the Padres allowed massage therapist Kelly Calabrese -- a woman! -- in the dugout during a game) -- but eternally insightful -- the 11-time Gold Glover is actually at his best at the end of a 12-4 blowout, when he can freely expound on all things nonbaseball ("Seinfeld," a great restaurant, candy, his mustache, the Civil War) and toss lollipops into the stands below the broadcast booth.
"I'll always be a baseball player first, an announcer second," Hernandez says. "But for me, this is joy. It's like being on the couch, kicking back with Gary and Ronnie and talking baseball.
"And at the end of the day," he says, "I'm not sore."
Jeff Pearlman is a former Sports Illustrated senior writer and the author of "Love Me, Hate Me: Barry Bonds and the Making of an Antihero," now available in paperback. You can reach him at anngold22@gmail.com.