"It seems like everywhere Wally goes, good things happen."
-- Nick Leyva, Philadelphia Phillies manager, 1991
PRINEVILLE, Ore. -- In this blue-collar town of 9,090 residents, two pizzerias, Boss Hogg's Smokes and the Dixon Saddle Shop ("Saddle Repairs While You Wait!"), you are allowed to root for the New York Yankees, the Boston Red Sox, the Atlanta Braves and the Chicago Cubs.
You can root for the Blazers, Dolphins, Knicks, Pacers, Predators, Chiefs, Bills, Penguins, Cowboys, Raptors, Blues and Timberwolves.
Heck, you can even root for teams that no longer exist. The San Antonio Gunslingers. The Hartford Whalers. The Montreal Expos. Pick a franchise. Any franchise.
Just don't root for the Arizona Diamondbacks.
Seriously. Don't.
When the Diamondbacks were swept by Colorado in last week's NLCS, the good folk of Prineville did not merely applaud. They cheered and whooped and hollered and screamed. They high-fived and low-fived. They embraced. "You have no idea how many people here wanted the Diamondbacks to fail," says Sandi, a hairdresser and lifelong Prineville resident. "That's all I heard during the playoffs -- 'I sure hope they get what's due.'"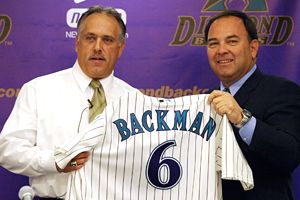 AP Photo/Roy Dabner
Four days after getting hired by the Diamondbacks in November 2004, Backman was fired.
If Sandi takes excessive delight in Arizona's peril, it is more than a wee-bit understandable. Along with being Prineville's best perm practitioner (this is an unofficial designation), Sandi happens to be married to one Walter Wayne "Wally" Backman, outdoorsman, defunct deli owner, second baseman for the 1986 World Series champion New York Mets and -- for a glorious four days in November 2004 -- manager of the Arizona Diamondbacks.
"After what that team did to my husband," Sandi says, "I hope for nothing but them to lose every game. How could I ever forgive them?"
With this, Sandi takes a bite of her sandwich and glances toward her spouse, who sits across the table at the Meadow Lakes Golf Club and nods glumly. He has retold the story dozens -- hell, hundreds -- of times by now, each rendition yet another spear to the psyche.
How, after seven years of managing in the minors, Arizona made an offer that brought tears to his eyes. ("Finally!" he says. "Finally, I was getting my shot!") How, having managed the Diamondbacks' Class A club in 2004, he never had to fill out an application upon joining the big club. How when Ken Kendrick, the team's managing partner, asked, "Is there anything we need to know that might prevent us from offering you the job?" he said, "Nope," because, well, it seemed to be the truth. How when the Diamondbacks first brought up concerns about his past he thought, "Big deal? What's past is past." How he didn't tell the team about his DUI because it took place in 2000. How he didn't tell the team about the restraining order filed by his first wife, Maggie, because it was obtained ex parte, meaning only the party seeking the order has to be present when it is issued by a judge (the order was immediately canceled). How he didn't tell the team about his Oct. 7, 2001, domestic violence arrest because, according to both Wally and Sandi, it was merely a heated marital moment overblown by police involvement. ("People think I'm a battered wife in denial," Sandi says. "That makes me laugh. The idea of Wally hitting me is comical.") How, while he had indeed once filed for bankruptcy, well, what the hell did personal finances have to do with his managerial skills?
"When they told me they were taking away the job, it was like a death in the family … the death of a dream," Backman says. "It's strange -- you're talking about something that took place three years ago, and yet the pain is still raw. All I wanted to do was manage a major league baseball team.
"Now here I am …"
His voice tails off; his eye gaze downward toward a half-eaten plate of soggy greens.
At age 48, Backman bears little up-close resemblance to the spunky kid who once blazed around the Shea Stadium basepaths. His skin is weathered and rough; his teeth slightly discolored by thousands upon thousands of cigarettes. There is a seafarer's look to the man; one too many days engulfed by the salty air.
In the two years following the Diamondbacks debacle, Backman dabbled in this and that -- a fruitless search for fulfillment. Baseball? Who needed baseball? Wally and his brother Mike chartered fishing trips. Wally opened up Prineville's first authentic deli, the New York on Seventh Street Café, and worked as its chef (the business didn't last). He went on dozens of hunting excursions.
Mostly, though, he subconsciously waited. And waited. And waited. In his first season as a manager, with Catskill of the Northern League in 1997, Backman went 3-23. That was an aberration. In the six ensuing years, he suffered one losing campaign. After guiding the Lancaster JetHawks to an 86-54 record in 2004, managing future major leaguers including Conor Jackson, Carlos Quentin and Dan Uggla, he was named The Sporting News' minor league manager of the year. (Backman said he watched the NLCS on-and-off: "I wasn't rooting against Arizona. I was pulling for my guys; guys like Conor Jackson who had played for me.") His approach, appropriately termed "Wally Ball," involved an all-out, soiled-uniform, combative style of play that left no umpire safe and no loafer employed. In a Zen age of Art Howes and Joe Torres, Backman was Billy Martin.
"He's the best I ever played for," says Steve Garrabrants, a former Lancaster outfielder. "First, the man would take a bullet for one of his players. I mean that -- a bullet. But he was more than that. I would watch the things he did, the signs he puts on. It seemed like he always did the right thing at the right time. He puts pressure on defense. He creates havoc on the other team. Other managers had to be thinking, 'What's Wally gonna do now?'"
Surely, Backman thought, somebody will call. Aren't we a nation of comebacks and second chances? Giants slugger Barry Bonds is accused of cheating and receives standing ovations and a new contract. Vikings cornerback Fred Smoot is accused of hiring prostitutes and using a sex toy on two female dancers for a team boat cruise and continues his NFL career. Phoenix Suns All-Star Jason Kidd is arrested and pleads guilty to domestic abuse -- and winds up reading to kids in a series of "NBA Cares" ads. Even Tony La Russa has bounced back from a DUI.
"Look, don't make this a story of someone who hates his life, because I don't," says Backman, who has four children from his first marriage, including a son, Wally Jr., playing in the Texas Rangers farm system. "I'm not one to sit back and mope. What happens, happens. But there's also a part of me that says, 'All these other f------ guys get second chances.' That's what I don't understand. I don't know why I'm different. I don't know if it's something someone in Arizona said. The baseball world is a small world. Especially in the front office. I have my suspicions, but I just don't know for sure why I'm such an outcast."
Finally, after grudgingly accepting that professional baseball had moved on without him, last spring Backman agreed to manage the South Georgia Peanuts of the fledgling South Coast League, an independent operation with six teams, little money (players averaged approximately $800 in salary per month) and even less know-how. For a man who had spent 14 years as a major leaguer, who hit .320 for those '86 Mets and learned at the altars of Davey Johnson, Jim Leyland and Lou Piniella, it was Robert Redford doing the Alhambra Dinner Theatre.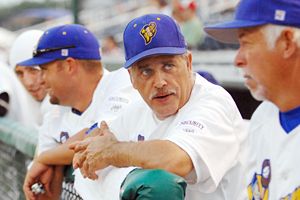 AP Photo/Walter Petruska
Backman spent 2007 managing the South Georgia Peanuts of the independent South Coast League -- a long ways from the majors.
"Was it humbling going to Albany, Georgia?" asks Backman. A lengthy pause.
"Yeah, it was humbling. Was I above the league? Sort of. But if this is what I need to get another shot in organized baseball, I'll do it."
The goals seemed simple enough: Win (the Peanuts took the league title with a 59-28 record and victory in the SCL championship series), nurture (a league-high five Peanuts were signed by major league franchises) and lay low until something better inevitably comes along.
Just lay low.
---
To walk from the visiting dugout to the press box at Anderson Memorial Stadium in Anderson, S.C., takes a bit of work. First, one must leave the field through a gate and enter the stands. Then there's the climb -- approximately 30 rickety wooden steps, navigating over a cornucopia of discarded hot dog wrappers and empty soda cups and crumpled-up programs. Upon reaching the concession deck, there's another, oh, 15 steps to go before coming to the press box, a pebble-sized room with just enough space for four seats and a six-pack of Pepsi.
The point is, Wally Backman had time to calm down. To take a deep breath. To rethink what he was about to do. To turn around and go on with his life.
He had time not to hurt himself.
It was only 25 minutes earlier when Backman charged the field to defend a player who had been ejected for arguing balls and strikes during the Anderson Joes' 6-5 triumph over the Peanuts. Upon being kicked out of the game himself, Backman dropped a rainbow of curses on home-plate umpire Tom Height, then returned to his dugout to grab 22 bats, all of which he tossed onto the field. To cap things off, Backman emptied a bucket of baseballs down the third-base line. "It was a little silly," says Scott Adamson, who covered the game for the Anderson Independent-Mail. "But to be honest, he put on a pretty darn good show. It was 130 degrees and the baseball was bad. Wally's outburst was the only entertainment we had."
Had that been the end of it -- an amusing-yet-forgettable tantrum -- life would have lazily moved on. Yet as soon as the game concluded, Backman did what, well, Backman does. He stormed into the press box to confront Mike Janela, the Joes' radio announcer, who, during the outburst, questioned Backman's professionalism and lambasted him as "an embarrassment."
"Mike," Backman said, according to witnesses, "if you ever call me an embarrassment again, I will kick your f------ ass!"
"But Wally," Janela said, "22 bats …"
"I don't care if it was 100 f------ bats!" Backman said. "If you do that one more time I will shove your mike up your ass!"
Within hours, word of the incident spread across the Internet and, consequently, the baseball universe. That Backman had tossed some bats and balls was not the issue. Heck, it was vintage Piniella. No, what caught the attention of many was the inanity of it all -- Janela is a 22-year-old recent college graduate who lives at home with his parents. There were, at most, 500 people listening to the Joes-Peanuts clash.
So why, oh why, did Backman care what the kid said? And, more to the point, how does a manager who longs to resurface in the major leagues expect to survive when he can't shrug off the commentary of the voice of the … Anderson Joes?
"I loved working with Wally, and there's no doubt he was the best manager in the league," says Keith Michlig, the Peanuts' general manager. "But that one is still a head-scratcher to me."
Backman is asked this exact question -- "Why?" -- and struggles for an answer.
"Pride," he shrugs. "I have lots of pride."
In many ways, it simply is who he is; who he has always been. Growing up in Beaverton, Ore., Backman learned the game from his father, Sam, a former first baseman in the Pirates' organization who went on to a career as a railroad switchman. The third of Sam and Ida Backman's six children, Wally spent nearly all of his boyhood in the vacant lot next to the family home on Riggs Road.
"We took that empty spot and made a regulation baseball field for the kids," Ida says. "From 4 years old all Wally wanted was to be a ballplayer. He was never the biggest or the strongest, but he always was determined to make that dream happen. More determined than anyone I've ever seen."
As a shortstop at Aloha High School, if Wally went 3-for-4 with a homer and five RBIs, Sam pinpointed that one groundout. If he bobbled a grounder, Sam would ream him out. "I was raised to win," Wally says. "I credit my parents for that. They helped mold me into the player I became."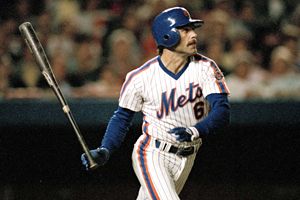 AP Photo/Ray Stubblebine
Backman had his best season in 1986, hitting .320 to help the Mets win the World Series.
Yet that same refuse-to-lose manifesto that drove the 5-foot-9, 160-pound Backman to 893 lifetime hits and 117 stolen bases also resulted in an ongoing emotional overload. Put simply, Backman does not know what it is to back down; to quietly step away and let a questionable play or call or statement go unchallenged. He is the prototypical Marty McFly, unable to hear the adjective "chicken" without charging in for the fight.
"I cared because of what he said, so I wanted to confront him, just to say, 'Don't ever say that again. Don't ever question my professionalism,'" Backman says of the Janela affair. "I just didn't think it was right and I had to let him know. Should I have just moved on? Probably. Is that who I am? No."
Though Backman claims that he had the fewest ejections of any league manager (the South Coast League failed to confirm this), he seemed to seal his fate as the cartoonish face of a cartoonish league on Aug. 7, when he resigned from the Peanuts in protest of the SCL's suspending two of his regulars, outfielder Doc Brooks and second baseman Joey Hooft, for testing positive for masking agents. "We have a manager," said Jamie Toole, the SCL's chief executive officer, "who cannot control his players."
That Backman was actually, ahem, righteous in cause (the league's printed drug policy specifically calls for a suspension after a second failed test, not a first) mattered little to an operation fed up with his antics and a national media quick to browbeat fallen heroes. When Backman returned to the Peanuts a mere three days later, he was mocked even more.
"You know what's sad about that?" Peanuts pitching coach Buddy York asks. "Wally is only about baseball. He loves the game, loves teaching young players, loves being on the field, outsmarting other managers. That gets lost here, and it shouldn't. I can't tell you how much I learned from Wally Backman. If he's not a major league manager, I don't know who is."
---
Wally Backman knows what it is to be stung.
Fifteen years ago, he was walking through the woods when a rattlesnake snuck into his boot and attacked. Six years after that he woke up to a hot, throbbing forehead. "It was a brown recluse spider," he says, rubbing the scar above his eyebrows. "Thing bit me hard. I looked like I had a damn horn between my eyes." Why, just last week a neighbor's poodle took a hard snip at Backman's right hand.
Still, nothing -- absolutely nothing -- stings like unfulfilled hope; like the idea that an opportunity passed without fruition. During lunch at Meadow Lakes, Backman's cell phone rings and he jumps from the table.
"It's the Reds," he says. "Maybe they're interested …"
Maybe.
At this point, Backman no longer needs to be hired as a big league manager. He would gladly take a job on Dusty Baker's staff in Cincinnati. On Piniella's staff in Chicago. On Leyland's staff in Detroit. ("He certainly deserves another chance," Leyland says. "Wally is a very intelligent baseball guy.") He'd gladly head a Triple-A team; maybe even a club in the Atlantic or Northern leagues, a higher class of independent ball than the South Coast League.
One thing is certain: His Peanuts days are over.
"Just can't handle that again," he says. "It's a good idea, but there are a lot of issues that need resolving. Things have to be worked out."
Three years after his dream job came and went; after he gripped the golden ring and had it slip away, the same goes for Wally Backman's chances of returning to prime time.
There are a lot of issues that need resolving.
Things have to be worked out.
Jeff Pearlman is a former Sports Illustrated senior writer and the author of "Love Me, Hate Me: Barry Bonds and the Making of an Antihero," now available in paperback. You can reach him at anngold22@gmail.com.