He does not belong here.
Here, in this joyless arena (Madison Square Garden). Here, with this clueless, combative coach (Isiah Thomas). Here, with this snide, vindictive owner (MC Smooth-J Dolan). Here, with one point guard who doesn't pass (Nate Robinson) and another who doesn't play (Stephon Marbury).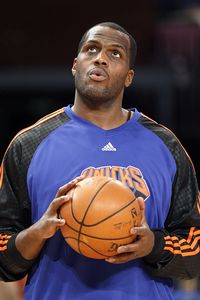 AP Photo/Kathy Willens
Malik Rose is stuck on the bench of the NBA's most embarrassing franchise.
Here, with this heartless forward who visits strip clubs on bereavement leave (Zach Randolph), with this heartless starting center who can't rebound (Eddy Curry), with this heartless backup center who can't, well, do much of anything (Jerome James). Here, on this roster of the New York Knickerbockers.
Malik Rose would never admit this. He does what good and righteous players have done for decades: talks about the Knicks turning the corner and being a part of something special, and standing behind Dolan and Thomas and Marbury as they struggle to right a battered and hole-pocked ship.
Yet this is not where he belongs. No way.
To be blunt, Malik Rose is too good for these Knicks -- too good of a teammate, too good of a person. In the immediate aftermath of player introductions, Rose routinely embraces each New York starter in a firm hug while whispering, "Go get 'em" or "Make it your night." During timeouts, as the eyes of the starters stray from Thomas' clipboard to watch the gyrating (and scantily clad) Knicks City Dancers, Rose -- a reserve forward and one of the last men off New York's bench -- leans in as if he were studying details of the Malta Summit.
"You never know," says the 12th-year Drexel product, "when you might be needed."
Rose is the guy who shows up early for practice, who leaves late, who roots for the men playing ahead of him, who refuses to move on until he makes 80 percent of his shots during shooting drills. "Why?" he asks rhetorically. "Because I know I need to shoot a very high percentage to stay on the court. So I always hold myself to that standard."
Again, Malik Rose does not belong here.
In a locker room full of doorknobs, he is a Tiffany bracelet. To a media corps harassed, stymied and intimidated by Dolan's manipulative and oppressive tactics, he is, officially and unofficially, the go-to guy. Rose answers all the questions, tackles all concerns and speaks up for teammates when they are too ashamed to speak for themselves.
Following most of New York's 28 defeats this season, the same pattern has developed: Thomas takes a handful of queries, then vanishes. Three or four Knicks take a handful of queries while their teammates hide in the showers. Dolan, being the wimpiest of wimps, doesn't even appear. Rose, meanwhile, answers all.
Again, he does not belong here.
Were there a God monitoring the daily NBA agate, Rose never would have been involved in that putrid trade three years ago, when the San Antonio Spurs shipped him (along with a pair of first-round draft picks) to New York for two rusted, half-empty tin cans (aka Jamison Brewer and Nazr Mohammed). No, Rose would still be in San Antonio, the city he adopted while enjoying seven and a half blissful years as a Spur. Though he was never a regular starter, Rose served as San Antonio's off-the-bench igniter; a fist-pumping, body-slamming, 6-foot-7, 255-pound cannonball who thrived at sledgehammering Shaquille O'Neal during some of those epic Lakers-Spurs battles.
More important, he became the Spur in the community. Rose opened a restaurant in the city's Quarry Market, "Malik's Philly Phamous," where he could often be found slinging cheesesteaks and cracking jokes. Though he never averaged more than 10.4 points or 6.4 rebounds, the San Antonio Business Journal named Rose one of the city's "40 under 40." Whenever there was an appearance to be made or a charity to endorse, Rose always materialized.
Rose was so beloved that, the night of the trade, Don Harris of WOAI-TV drove out to his house to give the new ex-Spur a chance to bid everyone farewell. In a remarkable bit of hometown journalism that can be seen here, Harris handed Rose the microphone and allotted him all the time he wanted. "Thank you for everything you've given me and allowed me to do," Rose said. "Thank you for allowing me to make Texas my home … San Antonio my home. First and foremost, I wanna say thanks to [coach Gregg Popovich]. Pop has been great. And we've had our ups and downs, sometimes we've hated each other, but I know he knows that through it all I've respected him and loved him as a person and a lot of his views and a lot of his positions on things on life, not just basketball. I think he's a brilliant person with a beautiful heart and I wish nothing but the best for him …"
The interview extends beyond five minutes, a hurting Rose addressing a hurting city. It is as "un-Knicks" as one can get, chock full o' pain and compassion and feeling.
It speaks of a good man. A kind man. A decent man.
Malik Rose does not belong here.
Jeff Pearlman is a former Sports Illustrated senior writer and the author of "Love Me, Hate Me: Barry Bonds and the Making of an Antihero," now available in paperback. You can reach him at anngold22@gmail.com.