VERO BEACH, Fla. -- Soon they will stop bothering you.
That's what I wanted to say to the 34-year-old ballplayer; to the rapidly fading has-been whose perspective seems about as sound as his power output. (He hit seven home runs in 2007.)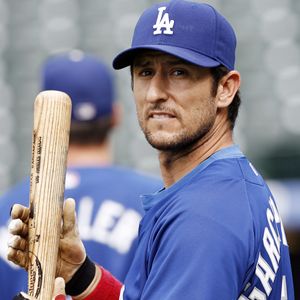 AP Photo/David Zalubowski
Nomar wasn't exactly fan-friendly at Autograph Day in Dodgertown.
I wanted to tell him about George Bell and Ben Oglivie and Kevin McReynolds and Richie Zisk -- long-since-retired men with similar career numbers who nowadays can walk through most any spring training facility and go unnoticed. I wanted to tell him that fame is fleeting, and the ability to make someone's day -- to make a memory -- is a gift few of us possess. I wanted to tell him to wake up, take off his damn sunglasses and look these people in the eye. I wanted to tell him to treat fans like human beings; to remember that, when one gets right down to it, a major league baseball uniform is -- from a fashion standpoint -- a half-step removed from my 4-year-old daughter's Hello Kitty pajamas.
I wanted to tell him all of this and then some. But I was quite certain Nomar Garciaparra wouldn't listen. So I just stood there. And watched.
It was Autograph Day at Dodgertown -- the last-ever such event at a facility bidding adieu to the team after a remarkable 60-year relationship. For more than half a century, men like Jackie Robinson and Pee Wee Reese, Sandy Koufax and Don Drysdale, Fernando Valenzuela and Mike Piazza have stood along the first- and third-base lines of Holman Stadium and signed autographs for an endless stream of well-wishers. It comes with being a Dodger at Vero Beach -- the team's way of telling its Floridian fans that, hey, we're all in this together.
Now, with Frank McCourt, the franchise's owner, deciding that an Arizona address will better suit his team's financial needs, Dodgertown is bathed in depression. Fans who have been coming here for 20 … 30 … 40 years hold back tears (but not their anger toward McCourt, a man they liken to Genghis Khan). They eat their $3.75 Dodger Dogs with hangdog glumness, wondering what will become of their Marches once Vero Beach empties for good. "I'm sick," says Pam Lybarger, a Floridian and spring training season ticket holder for two decades. "Words can't describe how heartbroken I feel right now."
Nearby, Brenda Anderson nodded. An Aiken, S.C., resident, she's been coming here since 1978. "I've been supporting the Dodgers since they were in Ebbets Field. And now they're deserting me."
If there is one way to slightly numb the pain, it is via player kindness. More so than their peers in Los Angeles, the fans here view the Dodgers as family members. They present the young men with cookies and pies and, in the case of a 67-year-old uberfanatic known as "Dodger Bob" (aka Bob Scholl), homemade figurines. In return, all they ask for is a smile here, a "hello" there. Really, all they ask for is Autograph Day.
Most players seem to understand this. With the sun shining and a soft breeze coming in from the north, reliever Mike Koplove gladly took a 5-year-old girl's baseball and signed it with a smile. Catcher Russell Martin stood and affixed his name to seemingly hundreds of objects.
Derek Lowe, Scott Proctor, Matt Kemp, Juan Pierre -- they all got the drill.
But not Nomar.
In one of the least fan-friendly displays I've ever witnessed as a baseball writer, Garciaparra spent the absolute minimum amount of time signing. He never looked up. He never said a word. When fans offered a hearty "Good luck!" or said "You've always been my favorite!" he either grunted or pretended the sentiment was never expressed. If someone made the "mistake" of requesting that he sign a ball on the sweet spot, Garciaparra actually went out of his way not to. Though the rope between Garciaparra and the fans was no more than half-an-inch thick, it felt like the Great Wall of China. All attempts at small talk began with a Dodger loyalist's enthusiasm and ended with the Dodger third baseman's body language, which screamed "I'm Nomar, you're not -- please don't touch me."
An hour or so later, another autograph session took place. This one involved Steve Garvey, the legendary Dodgers first baseman who now works as a VIP greeter for the club. Even though he was signing in the middle of an exhibition game versus the Mets, and even though he last played two decades ago, Garvey drew about 300 fans.
The reason? No matter what opposing players (or, for that matter, teammates) thought of the too-good-to-be-true Garvey, he never took the paying customers for granted. They remember that more than the .294 lifetime average or the 272 career home runs.
"If you look back to when I was playing, we embraced the fans," Garvey says. "I still remember when a 70-year-old nurse was having a birthday, and Tommy [Lasorda] got 24 of us to do arches with our bats and sing 'Happy Birthday.'"
Garvey paused, before continuing.
"Do you think that type of thing happens anymore?"
The question was rhetorical.
Sadly rhetorical.
Jeff Pearlman is a former Sports Illustrated senior writer and the author of "Love Me, Hate Me: Barry Bonds and the Making of an Antihero," now available in paperback. You can reach him at anngold22@gmail.com.