AUSTIN, Texas -- It is 2:45 p.m., and the homeless are anxious to bathe.
They linger in the lobby of the Parque Zaragoza Recreation Center, a dispirited collection of men and women in tattered pants and worn T-shirts and sneakers with holes the size of nickels. Three or four times per week, many of Austin's less fortunate file their way through Parque Zaragoza's front doors, assured that the bathrooms will be clean and the shower water hot.
Yet on this day, a Wednesday in early April, there is a snag.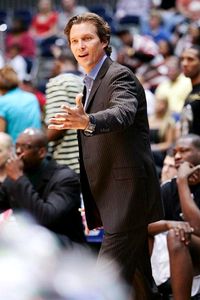 Austin Toros
Quin Snyder is now coaching in the shadow of the University of Texas, but he's a world away from the seven-figure salaries of the Big 12.
Because of a conflict at the nearby convention center, the Austin Toros of the NBA Development League are holding their practice here at Parque Zaragoza. Hence, the bathroom -- located inside the gymnasium -- is temporarily off limits so that DerMarr Johnson, former NBA lottery pick, can hoist a string of errant jump shots and Andre Barrett, a one-time Seton Hall phenom, can flash one wicked pass after another; so that Carldell Johnson, last seen leading UAB to the second round of the 2005 NCAA tournament, can practice free throws and Kenton Paulino, the former Texas guard who … "Excuse me."
The woman's voice is soft. It goes unheard.
"Excuse me!" she says again, this time tapping the left shoulder of Perri Travillion, the Toros' manager of media and community relations.
"Yes?" Travillion says.
"The homeless are here to take their showers."
"Uh, what?" Travillion asks.
"The homeless -- they shower here," says the woman, a Parque Zaragoza employee. "They need the bathrooms. Is your group going to be a lot longer?"
Travillion shrugs, waits for a break in the action and tiptoes toward her team's coach, a skinny white man with long, combed-back brown hair, broad shoulders and a boyish face. He is wearing baggy black shorts and a black Toros T-shirt and has legs the width of pretzel sticks.
"The homeless people need the gym soon," Travillion tells the man, a look of disbelief creasing her face. "To shower."
Quin Snyder nods knowingly, as if he has spent a lifetime having his basketball practices cut short by the bathing needs of Austin's homeless. He runs a couple of more plays, gives a five-minute pep talk, then waves a concessionary hand toward Travillion. "We're done," he says softly. "Let 'em in …"
With that, Snyder retreats to the nearby bleachers, leans back on his elbows and watches the people shuffle through. There is a noticeable comfort in the mutual anonymity -- Snyder has no idea what twists of fate led to their homelessness; the homeless have no idea what twists of fate led Snyder to Parque Zaragoza. Neither side seems overly concerned.
"I don't need to be recognized," Snyder says. "Don't need to be on TV or have a radio show, either. I'm happy with this sort of status. Genuinely happy."
COACH K'S TREE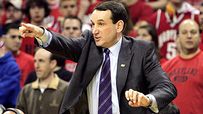 Notable former assistant coaches and players of Duke coach Mike Krzyzewski in the basketball world:
•
Tommy Amaker
,
Head coach, Harvard
•
Bob Bender
,
Former head coach, Washington
•
Mike Brey
,
Head coach, Notre Dame
•
Jeff Capel
,
Head coach, Oklahoma
•
Mike Dement
,
Head coach, UNC-Greensboro
•
Neil Dougherty
,
Former head coach, TCU
•
Danny Ferry
,
GM, Cavaliers
•
Billy King
,
Former president/GM, 76ers
•
Quin Snyder
,
Former head coach, Missouri
Snyder grins, as if to drive home his point. It is one the 41-year-old stresses repeatedly, all but begging people to believe what -- in the paint-by-numbers world of collegiate and professional sports coverage -- seems literally unbelievable: that a man who, from 1999 to 2006, was the men's basketball coach at the University of Missouri is content here, making approximately $75,000 to guide a haphazard collection of players in front of (at best) 2,000 fans per night.
At Missouri, Snyder peaked at $1.015 million annually, held practices in a spectacular gymnasium, reached an Elite Eight, could be recognized throughout the state, was hired at age 32 and was considered one of America's hot young basketball coaches.
In Austin, Snyder is, uh, the guy in the weathered Seattle Mariners baseball cap, living in a modest home and coaching a team most of the city's denizens probably don't know exist. His players, although relatively tolerant of their leader (there's a general consensus that he overcoaches), have little patience for a league that pays its elite participants $20,000 per season.
"Being here sucks," says one. "I mean, sucks -- s-u-c-k-s. They treat us like s---, pay us like s---, the fans don't come, the referees are terrible and half the guys don't even care about winning. It's very hard to stay motivated."
So why in the world does Snyder -- lost amid the basketball wilderness -- appear to be so damn happy?
Because, ahem, he is.
"People come up to me and say, 'Hey, it'll be all right, just keep working hard, hang in there and you'll be OK,'" Snyder says. "It's wonderful because it's kindness and support, and that's really good. But it's just off, for how I feel what I want for my life right now.
"There's an assumption that I want to be an NBA assistant or that I want to go back to college, and when I hear that, I know I'm right on where I am right now because it reminds me that I think I'm in tune with what is giving me fulfillment. And, believe it or not, I'm as fulfilled as I've ever been."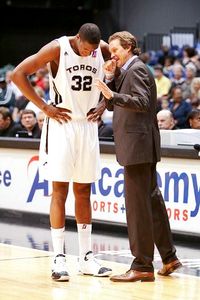 Austin Toros
Some might think Snyder, shown with Toros forward Ian Mahinmi,
is lost in the hoops wilderness. But he says he's "genuinely happy."
Before this goes any further, let it be noted that in several corners of the basketball universe, the words of Quin Snyder are deemed slightly less believable than a Keanu Reeves monologue. Many consider Snyder, a former Duke standout who helped the Blue Devils to three Final Fours between 1986 and 1989, to be a fast-talking, slick-moving huckster who is more used car salesman than basketball coach. They say he wants back in the big time and is using this job to angle in on a Spurs assistant coaching position (The Toros are affiliated with San Antonio). They say he's stuck in Austin and merely making the best of a heinous situation. They say -- quite frankly -- that he's full of it.
Indeed, in his seven seasons at Missouri, Snyder was a conduit for seemingly every good and bad characteristic associated with big-time collegiate athletics. When Mike Alden, the school's athletic director, selected the young Duke assistant over his two other leading candidates -- a couple of guys named John Calipari and Bill Self -- he raved that his new coach would bring energy and excitement to a sound-yet-uninspiring Division I program. He was right. Snyder led the Tigers to NCAA tournament appearances in his first two seasons and, in 2002, became the first coach to guide a No. 12 seed to the Elite Eight.
Yet even as Snyder soared, something wasn't quite kosher. He came across as increasingly smug and arrogant, a too-cool-for-school sort of guy whose head seemed to expand with each glowing headline. Part of it may well have been perception -- the Duke pedigree, the dual MBA and law degrees, the pretty-boy looks. But there were also the mounting scandals. In January 2003, Snyder's point guard, Ricky Clemons, was arrested on charges of assault and battery against a former girlfriend. Shortly thereafter, Clemons accused teammates of receiving payments from Missouri assistants. A year later, the NCAA placed Missouri on probation for a handful of violations. By this time, the Tigers had plummeted toward mediocrity, finishing with 16 wins in 2003-04 and 2004-05 and just 12 wins in Snyder's final season. "Did I run a clean program?" he asks rhetorically. "That's a good question. What was found was that there was a failure to monitor on my part. Well, did I have a player over for an occasional meal at my house? Yes, I did. Did I give Ricky Clemons a sweatshirt and a pair of flip-flops? Yes, I did. So if that's the definition of a clean program, then I guess we didn't run one."
When Snyder gets angry or frustrated, his forehead crinkles and his cheeks seem to puff. He also begins to babble waywardly. As he speaks now, his forehead is crinkled. His cheeks are puffed. He's beginning to babble waywardly. "This is purely hypothetical, but if one of my players misses his flight to get home for Christmas, and it'll cost $75 to catch the next plane and I see him at the airport, what do I do?" Snyder says. "You're in an impossible situation, ethically and morally. So did I make the wrong choices in some of those? Yes. Did I make the right choice in some of those? Yes."
By the time Snyder resigned midway through the 2005-06 season, his name -- and reputation -- was in the trough. A Missouri sports fan site posted a photograph of an apparently intoxicated Snyder at Mardi Gras.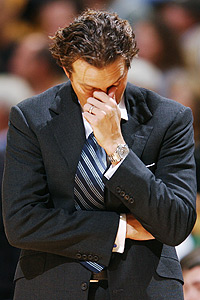 AP Photo/L.G. Patterson
Rumors swirled around Snyder's departure from Missouri, but the underlying culprit was probably
just too many losses.
Rumors spread throughout the college basketball world (via the Internet) that Snyder had lost control, that he was partying too hard and coaching too little. (When ESPN.com contacted Snyder for a comment on the accusations, he wrote back: "I appreciate your candor here … I will call you later in the day … thanks -- Quin." Snyder, however, failed to contact ESPN.com and didn't respond to further e-mails and voice messages.)
"The rumors and allegations [about partying] certainly didn't help his cause at Missouri," said Nick Witthaus, editor of www.tigerboard.com. "But the biggest problem was probably on the court. People can overlook personal issues when a team is winning. But Quin's teams were underachieving. That put the spotlight on all the off-the-court stuff."
Said Snyder: "Most of us, if we're put on a pedestal, we're going to fall. Because it's not real. I was called 'the smartest guy in the gym,' and I never thought that way about myself. I was called one of the hottest young coaches in America, and I was called a terrible coach. The truth probably lies somewhere in the middle, but nobody looks for the truth."
When Snyder left Missouri for good, he returned to his North Carolina home and decided his coaching career was over. What would be the point of returning? The pressure, the criticisms, the negativity. So he spent a year re-examining himself. He studied yoga, spent more time with his son, Owen (Snyder is divorced), worked out feverishly and even popped in for an occasional Duke basketball game. Upon receiving a call from the Toros in April 2007, Snyder was uninspired. The D-League? No thank you. But then he thought about it:
Small crowds. No recruiting. No overbearing spotlight. Just a gymnasium, a whistle and some players. Plus, Austin is actually a cool city. It wasn't as if he was being asked to move to Boise to coach the Idaho Stampede. "Basketball at its most basic is my love," he says. "I don't need fancy to feed my love of the game."
Here, in a stale gymnasium in a grim part of Austin, there is no fancy -- just intensity. Though a fair number of players come to the D-League to shoot, shoot, shoot and shoot, Snyder runs practices as if he were guiding a college team. He shouts and barks, scoots and scurries, pats behinds and slaps heads. When Barrett drives past Paulino for a slick layup, Snyder screams, "That's what I'm talking about! That's exactly what I'm talking about!" He is part P.J. Carlesimo (the intensity), part Jeff Van Gundy (the attention to detail).
"He's different than any of the other coaches you see here," says Kevin Pittsnogle, the former West Virginia star who played for Austin earlier this year. "Most coaches here are all about my-way-or-the-highway. But Coach Snyder was very detailed, very into his players, very into seeking our input."
In the team's 110-104 home loss to Albuquerque on April 2, Snyder roamed the sideline as if 500 D batteries were plugged into his spine. Each offensive possession was life-and-death, each timeout a detailed strategy session. On the opposing bench, Thunderbirds coach Jeff Ruland sat quietly, arms crossed, mouth shut, missing only his iPod, a Coca Cola and a hot dog. "Say this for Coach Snyder," Barrett says, "he takes this very seriously."
That, more than anything, is why the Toros -- whose roster seems to change every 12 minutes -- are 30-20 and will host a playoff game Saturday against Sioux Falls.
"I wouldn't say we're necessarily the most talented team here," says Mo McHone, the Toros' director of basketball development. "But if you pay attention, Quin has these guys playing the right way. He has an authority, and in this league -- with so many guys going in so many directions -- that's not always easy.
"I haven't talked to Quin about Missouri, and I don't plan on it. You can tell he wants to be here. That's what counts."
Jeff Pearlman is a former Sports Illustrated senior writer and the author of "Love Me, Hate Me: Barry Bonds and the Making of an Antihero," now available in paperback. You can reach him at anngold22@gmail.com.