If there is a singular element of this sportswriting gig that causes most of us to cover our eyes and turn away, it is the dreaded aftermath.
Athletes are, for the most part, excellent to cover. They're tall, they're fast, they're cocky, they're popular, they wear colorful uniforms and they hover, Jesus-like, across water without causing so much as a wrinkle in their $10,000 Armani suits.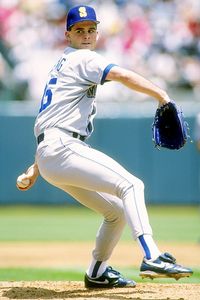 Otto Greule/Getty Images
Dave Fleming, in his early days with the Mariners.
Really, what's not to like?
But the aftermaths, well, they're entirely different scenes. From an illiterate Dexter Manley to an incarcerated Ralph Sampson; from Eric Dickerson bumbling his way through "Monday Night Football" sideline reports to Dorothy Hamill punching in 25 minutes at a Newark, Del., ice show; from Boog Powell hawking barbecue sandwiches to Deion Sanders doing reality TV on the Oxygen Network … it is hard -- no, depressing -- to watch our heroes grasp and grasp and grasp to hang on to whatever it is they once had, then -- plop! -- surrender and morph into wrinkly, fat, ornery mortals.
Into us.
For this reason alone, I can proudly say that, 18 years removed from Mahopac High School in Putnam County, N.Y., my childhood hero remains my adulthood hero.
Former Seattle Mariners pitcher Dave Fleming doesn't own a sports bar. He doesn't have a trophy room. He didn't name his two daughters Davida and Davidondra (they're Taylor, 13, and Peyton, 9), he doesn't have an e-mail address like greatlefty35@yahoo.com or 17gamewinner@gmail.com, and he doesn't wear a diamond-crusted ring the size of Gheorghe Muresan's head. He is a plain, simple, snazzy-as-tube-socks fifth-grade math teacher.
"I love my job -- I really do," he says. "It's truly rewarding."
Fleming works at Paul E. Chatfield School in Seymour, Conn., a small, 275-student operation, with a mission statement that includes such optimistic ditties as "All students can learn" and "All learners have interests, needs and talents." Each weekday morning, the 38-year-old Fleming puts on a collared shirt, packs a lunch, kisses his two daughters good-bye and heads off to teach. At school, Fleming is as conspicuous as a piece of cardboard. He quietly goes about his day, teaching equations, breaking out the chalk, grading papers -- a content man doing a content man's work. "Every so often someone will say, 'You played baseball?'" he says. "I'll say, 'Yup, I did for a few years.'"
And that's that.
Because he is soft-spoken and uncommonly (for an athlete) self-aware, Fleming rarely tells people of his Superman days. Of being named Mahopac High School's first baseball All-American; of standing on the mound for the last out of the University of Georgia's 1990 College World Series title; of winning 17 games as a rookie with the Mariners in 1992; of teaming up with guys named Ken Griffey Jr. and Randy Johnson and Edgar Martinez; of hearing 50,000 fans cheer (or boo) his every pitch. Fleming still breaks into goose bumps thinking back to May 5, 1992, the day he made his first start at Yankee Stadium. With WE LOVE DAVE banners and signs scattered throughout the ballpark, the light-throwing lefty went 7 2/3 innings, allowing three runs in a 7-4 Seattle win. "A highlight," he says, "that I'll never forget."
That season, Fleming enjoyed nine straight decisions without a loss. I can still vividly recall sitting in my kitchen, opening up the New York Times and getting chills as I read the headline: WHO IS DAVE FLEMING? AND WHEN WILL HE LOSE?
Who is Dave Fleming? Who is Dave Fleming?! Why, he was the kid who grew up on Prince Lane, a mere stone's throw away from my house down the block. As freshmen, Gary Miller, Dennis Gargano and I would ride our bikes past Dave's driveway, hoping to catch a glimpse of our school's best athlete -- a kid who had just signed a letter of intent to pitch for Georgia. Growing up in the laziest of small towns, where the local celebrity had been Henry Winkler's mother ("Do you know who The Fonz is?" she once asked me) and excitement came in the form of Carvel double scoops, weekend games of night tag and tubing on Lake Mahopac, Dave Fleming was it. Our hero. Our celebrity. Our chance to extend beyond the tentacles of a place few people seemed to escape.
When Fleming came on to save Georgia's 2-1 triumph over Oklahoma State in the College World Series finale, I called out to my baseball-oblivious mother, "Come see this! Come see what a Mahopac guy has done!"
That joy only increased as Fleming was drafted in the third round by Seattle, then soared through the organization's minor league circuit.
On the night of Aug. 6, 1991, a friend called my house and announced, with I Have a Dream! gusto, that Fleming had made his big league debut, pitching a third of an inning in a loss to Oakland. As his successes mounted and he went a combined 29-15 in his first two full big league seasons, I started thinking up Hall of Fame acceptance speeches.
Looking back, I think we all did.
"The problem with dreams is what happens after they come true," says Fleming. "I had always wanted to pitch at the highest level -- that was my dream. Well, I made it. I accomplished something big. But then I wanted more. I wanted a long career and the playoffs and World Series.
You don't really settle for less -- you crave bigger."
Yet bigger never happened. Fleming's left arm began to ache, and by the end of 1995 he was done, having wrapped up his final big league season pitching nine games with Kansas City. He was diagnosed with a 30-percent tear in his rotator cuff, requiring reconstructive surgery by Dr. James Andrews. Through myriad tryouts and minor league appearances over the ensuing three years, Fleming came to a harsh reality: He was throwing 75 miles per hour, and it friggin' hurt.
It was over.
"I wanted to keep going as long as I could," he says. "I certainly tried. But there comes a point where there's nothing left. I reached that point."
Having completed three years of school at Georgia, Fleming enrolled at Western Connecticut State and wrapped up his bachelor's degree. He then earned a master's degree from the University of New Haven.
Now in his sixth year as a teacher, Fleming is comfortable with the life that was versus the life that is. No, he'll never feel that same jolt of electricity passing through his body. No, he'll never walk off the field and tip his cap to an adoring crowd. No, he'll never be the Dave Fleming again.
But in Mahopac, N.Y., where time seems to stand still, his uniform number still hangs in the gymnasium and his records still wait to be broken.
He's still our Dave Fleming.
Jeff Pearlman is a former Sports Illustrated senior writer and the author of "Love Me, Hate Me: Barry Bonds and the Making of an Antihero," now available in paperback. You can reach him at anngold22@gmail.com.