He was supposed to be a new kind of thinker.
Smarter.
Deeper.
More focused on development, with the skills and insight to match.
At least that's what I was told repeatedly five months ago, when members of the Pittsburgh Pirates organization were downright giddy over the hiring of the team's new general manager, a 38-year-old from the Cleveland Indians organization named Neal Huntington. After the bleakness and doom that signified the Cam Bonifay and Dave Littlefield eras, when one bad transaction followed another followed another followed another, Huntington was a wonderful breath of fresh air. With his boyish good looks and perfectly placed hair, he would revitalize scouting; place more money and emphasis on character and minor league development; make decisions based on the long-term benefit of the franchise. This is, after all, an organization that has used its first-round draft choices in recent years to select, among others, J.J. Davis, Clint Johnston, Bobby Bradley, John Van Benschoten, Sean Burnett, Bryan Bullington, Paul Maholm and Brad Lincoln. This is an organization that hasn't drafted a legitimate star since Barry Bonds, egad, 23 years ago. "We want to construct something special here," Huntington told me. "Something meaningful that can last."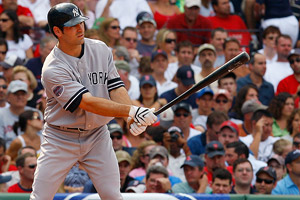 Jim Rogash/Getty Images
Did the Pirates sell low in trading Xavier Nady to the Yankees?
Well, uh, yeah, uh, hmmm …
It has been three days since the Pirates traded Xavier Nady and Damaso Marte to the New York Yankees, and I have yet to stop scratching my head (admittedly, it's probably lice).
Please, someone, tell me what I'm missing here:
• Step 1: In the midst of yet another gloomy season, Pittsburgh is itching to unload its veterans in exchange for young, top-level talent.
• Step 2: The two most covered Pirates players, outfielder/first baseman Nady and left-handed reliever Marte, are irresistible additions for myriad contending teams. Neither man has an outlandishly unmanageable contract (Nady is making $3.35 million this year and isn't a free agent until after the 2009 season, Marte is making $2.15 million). Both are enjoying the best seasons of their careers. Both are good character guys in their primes. Both would be thrilled to leave Pittsburgh to join a pennant race.
• Step 3: After six years of Littlefield's incompetence (he will never live down rejecting the Phillies' offer of Ryan Howard for Kip Wells in 2005), Pittsburgh desperately needs to replenish its farm system. Having lived through the flameouts of the J.R. Houses and Chad Hermansens, the Pirates crave young, high-ceiling studs.
• Step 4: The Yankees, Red Sox, Angels and Dodgers all have young, high-ceiling studs in their minor league systems.
• Step 5: The Pirates relinquish Nady and Marte to the Yankees in exchange for two Cosi Signature Salads, a book of matches, Brian Cashman's eyeglasses and the rights to negotiate with Kevin Maas and Hensley Meulens.
• Step 6: The Evil Empire reaches the postseason … again. The Laughingstocks at Three Rivers lose 90-plus games … again.
In Huntington's defense, the jury is still out on the four players obtained from New York: pitchers Ross Ohlendorf, Jeff Karstens and Daniel McCutchen and outfielder Jose Tabata. But here's the immediate issue: When you're the Pittsburgh Pirates, and your farm system is as barren as Phil Gramm's public speaking calendar, you don't simply require good, solid prospects who could -- just maybe -- turn into something. You need Grade-A beef: an Ian Kennedy (Yankees), a Michael Almanzar (Red Sox), an Ivan DeJesus Jr. (Dodgers). You need at least one guy to make up for past misdeeds; one guy who shoots you up the Baseball America rankings.
Instead, what the Yankees surrendered were four young men who had iffy futures in New York. Ohlendorf, already 25 years old, was 1-1 with a 6.53 ERA in the majors this season; Karstens, 25 and an immediate addition to the Pittsburgh rotation, was 6-4 with a 3.80 ERA at Triple-A. McCutchen, also 25, serves up a mediocre 92 mph fastball and is a marginal prospect. And Tabata, compared by Pirates first baseman Doug Mientkiewicz to a young Manny Ramirez, offers as much risk as reward. Yes, he's 19 years old with oodles of talent. But he's been terrible at Double-A (.248, three home runs in 79 games), turning off Yankees brass with his attitude as much as his inability. Put simply, Tabata is as likely to be the next Mark Quinn as he is the next Manny.
Judging the Pirates' luck, he'll be Quinn.
Over the past decade, we have seen our share of dreadful trades -- the Mets shipping Scott Kazmir to Tampa Bay for Victor Zambrano and Bartolomé Fortunato; the Giants sending Joe Nathan, Francisco Liriano and Boof Bonser to the Twins for A.J. Pierzynski; the Cardinals trading Danny Haren, Kiko Calero, and Daric Barton to Oakland for Mark Mulder.
Yet franchises like New York, San Francisco and St. Louis can afford to make mistakes. They can blow a trade, admit the error, then dip into the free agency pool and afford some Band-Aids. Pittsburgh, on the other hand, cannot.
The Pirates needed to turn Nady and Marte into an evening at Per Se, with the cappuccino of forest mushrooms, oysters and pearls, chaud-froid and boeuf grillee.
Instead, they got a lunch at a fast-food joint -- lots of calories, no cows.
Jeff Pearlman is a former Sports Illustrated senior writer and the author of "Love Me, Hate Me: Barry Bonds and the Making of an Antihero," now available in paperback. You can reach him at anngold22@gmail.com.
TRADE DEADLINE: JULY 31, 2008
Baseball's July 31 trade deadline passed with a blockbuster: Manny Ramirez from the Red Sox to the Dodgers and Jason Bay from the Pirates to the Red Sox in a three-team deal.

Primary links:
• Updated trade deadline blog | Fantasy spins blog
• Rumor Central


• 2008 Trade Scorecard

July 31:
• Manny traded to LA; Bay to Red Sox
• Law: Griffey helps White Sox's offense


• Griffey OKs deal from Reds to White Sox
• Law: M's get good deal for Rhodes


• Marlins acquire M's lefty Rhodes

July 30:
• Ramirez reportedly on block
• Yankees acquire Pudge from Tigers
• Stark Market: Five who could be dealt
• Starting 9: Deals perceived differently now
• Baseball Today: Buster Olney on Teixeira, Bay



July 29:
• Keith Law: Teixeira perfect for Angels


• Buster Olney on Teixeira trade


• Fantasy: Trade spin on Teixeira deal
• Vote: A good trade for Angels?
• Angels acquire Teixeira from Braves
• Stark Market: Rockies in flux over Fuentes
• Baseball Today: Steve Phillips on trade talk



July 28:
• Stark Market: Braves looking to deal Teixeira
• Steve Phillips: MLB Trade Rumors


• Peter Gammons: Ramirez trade unlikely



July 26:
• Indians trade Blake to Dodgers

July 25:
• Yanks get Nady, Marte from Pirates

• Brewers get Durham from Giants

July 17:
• Phillies get Blanton from A's

July 8:
• Stark: Harden a risk, potential reward
• Cubs deal for Harden from A's

July 7:
• Indians trade Sabathia to Brewers


Also See
ESPN Top Headlines