In this land of milk and honey, where hard work and ingenuity can pay off in myriad -- and blissful -- ways, musical dreams come true.
In 1972, four New York City rockers joined forces, slathered on some makeup and set out to become rock 'n' roll's biggest band. The result: Kiss.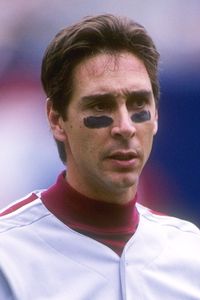 Stephen Dunn /Getty Images
Who would've ever thought a career .267 hitter would become the muse for an indie rock band?
In 1977, a struggling student with the last name of Ciccone dropped out of the University of Michigan to pursue a dance career in New York City. The result: Madonna.
In 1985, a little-known Queens MC named James Smith was paid pennies by Def Jam to release his first record, something called Radio. The result: LL Cool J.
In 2006, two sports-loving musicians decided to form a band and name it after a baseball player. But not just any baseball player.
"We should be 'Randy Ready,'" one said.
"No," said the other. "We can do better."
"We should be 'Lou Whitaker,'" one said.
"No," said the other. "We can do better."
"We should be 'Steve Balboni,'" one said.
"No," said the other. "We can do better."
And then, as if emerging directly from the lips of God, words of inspiration struck.
"We should be … Von Hayes," one said.
"Yes," said the other. "We should."
The result: Von Hayes -- the rock band.
Alas, maybe dreams don't always come true. Whereas Gene Simmons and Paul Stanley craved fame and Madonna craved attention and LL Cool J craved hip-hop dominance, Pete Bothum and Andrew Zitelli, founders of Von Hayes, the only New Jersey/Delaware-based indie rock band to be named after a .267-hitting former Phillies outfielder, crave none of the above. Their first studio album, "Evident Eyelid," was released by State Capital Records last month.
"We know we're not going to be the next huge thing in music," says Zitelli, Von Hayes' 28-year-old lead singer and a cost analysis operator for a construction company. "We record music and play some shows and we're happy. But what we really want -- what would actually be a dream of ours -- is to meet the real Von Hayes and have him know that we exist. To the two of us, he's iconic."
"Von Hayes," adds Bothum, a writer for the Wilmington News-Journal, "is our inspiration."
Jock jams
Von Hayes isn't the only band whose name was inspired by an athlete. A sampling:
• Gnarls Barkley
• Koufax
• Luscious Jackson
• The Mendoza Line
• Mookie Blaylock
(later Pearl Jam)
• Vida Blue
Yes, they are telling the truth. No, they are not being sarcastic. For the same inexplicable reason I idolized Garry Templeton (the Padres years, oddly) and my best friend idolized Jeff Manto and my cousin idolized Pat Kelly and my neighbor idolized Bump Wills, Bothum and Zitelli worship at the altar of Hayes, an unquestionably mediocre player. (Baseballreference.com says his career most resembles the careers of Matt Lawton, Al Smith and Dan Driessen.) Hayes' claim to fame is probably the 1982 trade that sent him from Cleveland to Philadelphia in exchange for five players, one of whom was named (yikes) Julio Franco. "Franco was good," Zitelli jokes, "but he was no Von."
Bothum and Zitelli met over MySpace a little more than two years ago -- a pair of struggling musicians who shared a passion for over-the-top '80s hooks ("We both really admire the music of Bryan Adams, but not in a sarcastic way," says Bothum), so-so '80s ballplayers (Bothum is a Phillies fan, Zitelli a Mets diehard) and timeless quirkiness.
Though Bothum insists the majority of their material is not related to sports, as soon as they started writing together, the hardball-related tunes came fast and furious. There's "Schu Schu Baby," an ode to former Phillies third baseman Rick Schu. There's "The Hawk," in honor of Andre Dawson, the 1987 NL MVP. There's "Jerry Mumphrey," a 13-second song that concerns Mumphrey's fabulous 1987 pinch hitting for the Cubs. ("Really," says Zitelli, "thirteen seconds is enough to tell the whole story."). There's even the Beatles-esque "Randy Ready" -- "No disrespect to Randy," says Zitelli of the .259 lifetime hitter, "but I wrote the song because his name fit in with one of the chords I was using. The guy was a pretty terrible player."
With their CD on shelves and hundreds more songs in the can, the men of Von Hayes have one primary mission: To meet the man, Von Hayes.
Strangely, this is proving to be quite difficult. Now the manager of the Lancaster Barnstormers of the independent Atlantic League, Hayes -- who is aware of the group's existence -- has made little effort to acknowledge his namesakes. The Barnstormers briefly talked about having Von Hayes (the band) play the national anthem, but the plan was ditched without fanfare. When ESPN.com placed a call to the team, a publicist said the Barnstormers were still "possibly" interested in bringing in the group to perform, and that Hayes would call back within a couple of days. He never did, and further phone calls to the minor league operation went unreturned.
Somewhere, Bill Veeck is rolling over in his grave.
"Well, that's OK," says Bothum. "But if you talk to Von, tell him that we respect him and that we're inspired by him."
Bothum thinks about this.
"People ripped Von for never living up to what they expected him to be. Maybe that's why we picked Von Hayes as our name. Maybe we're the musical equivalents of him. Maybe Von Hayes and Von Hayes are one and the same."
Jeff Pearlman is a former Sports Illustrated senior writer and the author of "Boys Will Be Boys: The Glory Days and Party Nights of the Dallas Cowboys Dynasty," which will be released on Sept. 16. You can reach him at anngold22@gmail.com.