The 10 years have passed uncomfortably quickly for Scott David Brosius -- yet another damned reminder that time, like Herb Washington, outruns us all.
Was it really a full decade ago that Brosius, an obscure New York Yankees third baseman who had batted .203 just one season earlier with the Oakland A's, placed himself among the ranks of October legends by belting two home runs in Game 3 of New York's World Series sweep over San Diego (and thus sealing the MVP trophy)? Has it really been that long?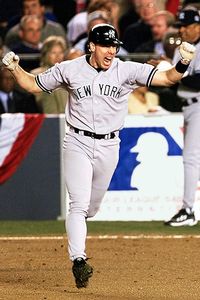 Tom Kurtz/AFP/Getty Images
Brosius became a Yankee hero when he homered off San Diego's Trevor Hoffman in Game of the 1998 World Series.
"It has," sighs Brosius. "It actually has."
If you read any remorse into that last quotation, blame the writer, not the athlete. At 42 years old, Brosius looks and sounds like the same person who manned the hot corner for four straight pennant winners in New York -- with one notable change. He's significantly happier.
Now about to begin his second season as coach of the baseball team at Linfield College, his alma mater, in his hometown of McMinnville, Ore., Brosius lives the calm, laid-back life that his DNA seems to require. Competing in the Division III Northwest Conference, Brosius' Wildcats play under a 60-watt spotlight. They may draw, oh, 100 fans to a game, and the go-hard-or-die approach that Brosius grew accustomed to with the Yankees doesn't quite exist at Roy Helser Field. "It was a hard adjustment at first, because I sort of grew used to a very, very high level, and these kids obviously aren't there," says Brosius, who led the Wildcats to a 35-13 mark and a spot in the Division III championship tournament in 2008. "You're a teacher before anything else, which I love. But it was a big change."
Though Brosius certainly enjoyed his 11-year major league career, he was always -- in the best possible sense -- a man who shunned the spotlight; he politely ducked excessive praise and was quick to point out the merits of teammates. In a city that had five different newspapers covering the Yankees, Brosius read about his team exactly zero times. "That's probably how I survived," he says, laughing. "When I arrived [in a trade for Kenny Rogers], I made a commitment to myself that I would never check out the Yankees' coverage in the newspapers -- and I didn't. In four years there, I never read a Yankee article. That was liberating. I held no grudges against writers, and I never obsessed over how I was perceived. I wanted to be anonymous."
World Series: Phillies vs. Rays


Complete coverage of the Phillies-Rays matchup.
•
Series page
•
Scouting
:
Phillies

|
Rays

That anonymity disappeared in 1998, when he became an immediate Yankee Stadium favorite by batting .300 with 19 home runs and 98 RBIs and making his first -- and only -- All-Star Game appearance. Brosius went about his business with a much-appreciated workmanlike diligence. He refused to hotdog; followed up home runs with a quick, compact trot around the bases; never complained about a day off. "Scott is the ultimate professional," Joe Torre once said -- the perfect praise. "You don't have to worry about him."
In that magnificent postseason run, Brosius batted .400 in the divisional series sweep of Texas, then .300 in the ALCS triumph over Cleveland. He left the best for the World Series, during which he dominated the Padres with a .471 average, two home runs and six RBIs. He drove in 15 runs in 13 postseason games that October. Though the sweep of overwhelmed San Diego was anticlimactic, the memories stick with Brosius like the smell of freshly cut grass.
"I never wear the ring, but I don't need to," he says. "I was there for the moments."
Jeff Pearlman is a former Sports Illustrated senior writer and the author of "Boys Will Be Boys: The Glory Days and Party Nights of the Dallas Cowboys Dynasty," which is on sale now. You can reach him at anngold22@gmail.com.