Perhaps I've been doing this for too long.
After all, it has been almost 15 years since I graduated college, and the wide-eyed, eager-to-believe-anybody sports-writing pup of yesteryear has -- in many respects -- been replaced by a cynical old codger.
So yeah, maybe that's it. Maybe I'm the problem. Maybe when the University of Delaware, my beloved alma mater, ponders aloud about cutting its men's track and cross country programs in the name of Title IX, I should just accept the reasoning as fact and move on with my sputtering little life.
But damn, I just can't.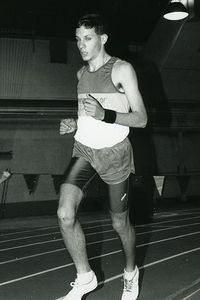 University of Delaware photography
Our humble correspondent ran track and cross country at Delaware in 1990-91 and doesn't want the programs disbanded.
First, to be completely up front: This is personal to me. Very, very, very personal. Back in 1990, I arrived in Newark, Del., as an aspiring Division I cross country and track runner who had no business aspiring to be a Division I cross country and track runner. Coming out of Mahopac (N.Y.) High School, I was recruited by exactly, oh, zero colleges. I was a 4:59 miler, a 2:12 half-miler and a 59-second 400 runner. In other words, a fairly decent local prep harrier with significantly bigger dreams than ability. During my senior year, I had written letters to 25 college running programs about the possibility of competing for their schools. Twenty-four failed to respond.
Jim Fischer, Delaware's cross country and track coach, responded. He told me I was welcome to come out for the team; that while no promises would be made, he valued hard work, potential and a love for the sport as much as he did any other attributes. I still remember that first cross country team meeting, sitting in the Carpenter Sports Building in the fall of 1990, surrounded by guys like Eric Albright and Travis Adams and Bryan Denbrock and Marc Washington and Bret Mower -- big-time Division I talents whom I could now call teammates. We had 25 or so runners on that squad, all but three or four of whom were completely out of my class. But it didn't matter. While the football coach preached physicality and the men's basketball coach preached crisp passing, Fischer preached self-improvement. He rarely spoke of our team winning or losing meets so much as he spoke about individuals winning or losing the battle with their inner selves.
We had our stars, but Fischer made the 23rd man feel just as important as the first. When, during a cross country event at Princeton, I sprinted the final 200 yards to avoid placing last, Fischer pulled me aside and, in a surprisingly stern voice, said, "If you had all that energy, why didn't you use it earlier?" How many other coaches would have stuck around? Would have cared?
A couple of months later, while running the 5,000 in an indoor meet against Lehigh, I placed third, guaranteeing me the points needed to be officially considered varsity. That there were three runners in the race mattered not to Fischer, who, come season's end, handed me my official blue knit varsity hat and told me, "You're here every day, you work hard, you've hung with some incredible runners. You deserve this." The moment easily ranks among the 10 greatest of my lifetime. I still cherish the hat. I still really cherish the words.
But that's Fischer, now in his 27th year at the school, and that's the Delaware running program. It will never be a big moneymaker because, quite frankly, who watches running? It'll never be high-profile because, quite frankly, who writes about running? Fischer is granted five scholarships per year, which he splits among 20-plus competitors. But when I think back to the people I competed alongside, when I see the professors and engineers and coaches and doctors and lawyers they've become, I know how impactful the Blue Hen experience truly was. As Albright, one of Delaware's best all-time cross country harriers, wrote in a recent letter to Patrick Harker, the school's president: "What shapes individuals is participation. Plain and simple. Sure, tailgating for a UD football game or joining friends for a trip to watch the basketball team play is fun. Watching a sporting event is a diversion, entertainment, and can even lead to camaraderie. Watching sporting events, however, does not shape the individual and develop character. Hundreds of miles through the White Clay Creek Valley does."
Fischer at a glance

Jim Fischer is in his 27th season as head coach of the University of Delaware men's cross country and track and field teams. He also coached UD's women's cross country team this fall.
Fischer has won five America East Conference titles and has been named America East Coach of the Year five times. His programs have produced 50 indoor and 64 outdoor conference champions.
And now … this. On Nov. 12, Kevin Tresolini of The (Wilmington, Del.) News Journal wrote a piece titled "UD teams running out of time?" that confirmed Delaware is considering axing the men's running programs. In an interview with ESPN.com, Edgar Johnson, the school's longtime athletic director as well as its former cross country coach, confirmed that, indeed, the sport is at some risk of being dropped. "Believe me, I don't like taking opportunities away from any student and any athlete," Johnson said. "In an ideal world, I would love to keep adding women's sports all the time, but it's not realistic, because you have to keep adding infrastructure."
In our 20 years of knowing one another, I have taken myriad shots at Johnson -- most fair, others that probably crossed the line. But I have always acknowledged that his job is not an easy one, and here, in the wacky world of Title IX, is a classic example.
Because Delaware's enrollment is 58 percent female, but its athletes are only 47 percent female, the case will inevitably be made by the NCAA (which will conduct its 10-year review of the Blue Hens athletics program in 2011) that Delaware is violating Title IX.
Under the law, a college or university is required to meet one of three "prongs" to be compliant:
• Provide athletic opportunities that are proportionate to the student male/female enrollment.
• Demonstrate a continual expansion of athletic opportunities for the underrepresented gender.
• Accommodate the interests of the underrepresented gender.
If nothing else, Delaware has demonstrated an impressive expansion of its women's sports programs, adding women's soccer in 1990 and women's rowing in 1999. "But it's been almost 10 years," Johnson says. "Our female enrollment has gone up since then."
So why kill cross country and track and field? Why expunge programs that mean so much to so many? Answer: A flawed law.
Those involved with the NCAA invoke "the spirit of Title IX" with mind-numbing regularity. But in this season of the Spirit of St. Nick, what is the Spirit of St. Myles Brand and the NCAA? If Delaware rids itself of men's cross country and track and field, it does not help women achieve athletic excellence. It does not show that 8-year-old girl from a small town without youth softball and volleyball and soccer that, one day, there will be places for her to play. It does not place female athletes in the spotlight and promote them as examples of what one can accomplish with hard work.
I don't blame Delaware. I don't blame Johnson. I don't blame the women who want fair athletic representation. I don't even blame Delaware's enormous I-AA football program, with its 100 players and 17 coaches and Joe Flacco pep rallies. (Reality: Most football programs generate the funds to keep other programs running.)
No, I blame good intentions gone bad. I blame an operation (the NCAA) that has lost its way. I blame the big business of college sports.
One day, when they're a little older, I will tell my children about my sprint against Princeton and my historic showing against Lehigh. I'll show them the blue cap that rests atop my closet and say, "I was a member of the University of Delaware men's track and cross country teams."
And they'll say, "What's that?"
Jeff Pearlman is a former Sports Illustrated senior writer and the author of "Boys Will Be Boys: The Glory Days and Party Nights of the Dallas Cowboys Dynasty," which is on sale now. You can reach him at anngold22@gmail.com.