Your team should just say no to A-Rod
Alex Rodriguez is going to the Hall of Fame on the first ballot. He's going to make everyone forget Barry Bonds' home run record. He's going to win his third MVP award in a few days. That's great, Alex. Now do me one more favor ... don't come anywhere near my team.
Apparently, I'm not alone in my thinking. Last time I checked the Page 2 poll results, 61 percent of you agreed with me. And here's why: While he may put up ri-friggin'-diculous numbers, he's much easier to boo than to cheer and will deliver countless awards that keep your team relevant but won't deliver what you want -- a World Series.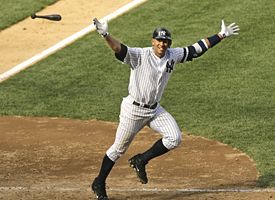 Kathy Willens/AP Photo
Here's A-Rod hitting another big home run -- in April, of course. Congrats, Alex.
A-Rod defenders will recite career numbers and averages to you. Yes, they're great. We never said they weren't. But when are they great?
In 2007, A-Rod carried the Yankees in the early months with a record-setting offensive explosion ... but in the ALDS he could manage only four hits in four games. A-Rod did manage to hit one homer ... a solo shot in the bottom of the seventh inning while down 6-2 in an elimination game.
In 2006, A-Rod put up a 35-HR, 121-RBI, .290 performance ... but in the ALDS against the Tigers, his .071 average so crippled the Yankees that manager Joe Torre dropped him to eighth in the lineup in Game 4 (he went hitless and the Yanks were eliminated).
In 2005, A-Rod won his second MVP award ... but in the ALDS against the Angels he hit .133 with two hits and no RBIs. The Angels eliminated the Yankees in five games.
In the 2004 ALCS, A-Rod did hit .258 with five RBIs ... but in Games 4 to 7 had only two RBIs and two hits. One of the defining moments of that series was when he slapped the ball out of Red Sox pitcher Bronson Arroyo's hand in Game 6, helping to kill a potential Yankee rally in a game they would lose 4-2.
You will get All-Star appearances (he already has 11 of them), Silver Slugger awards (nine of them) and home run titles (five so far). But you won't get to the World Series. And in the end, isn't that late October parade what you really want?
No debate over A-Rod would be complete without discussing his contract. If you're going to argue the reality of his gaudy numbers, you need to discuss the reality of how much it will cost your team. Conservative estimates have A-Rod getting a $300 million deal (10 years at $30 million per).
Let's not all become forensic accountants and attempt to break down how ticket sales, marketing, etc., will help pay A-Rod's salary. The reality is that only two or three teams operate without a budget. So unless you're from Boston or New York there are plenty of things you won't get if you sign A-Rod. You're not getting that free-agent pitcher you need in two years. You're not re-signing the home-grown right fielder who is eligible for arbitration. Need a couple of relievers? Sorry, too much payroll locked up with A-Rod. If none of this convinces you about the cost of A-Rod, consider that the Yankees -- the billion-dollar Yankees -- let this guy walk over money.
It's not just the long-term financial implications -- the reality is that his contract will forever be a story. Three years in? It will still be discussed with every spring training opening and every early October exit. You'll get the writer who fires up the calculator on his laptop and tells you how much money A-Rod got for each one of those many homers he hit. And if he hits 50 home runs, there will be cries that he should have hit 60. Ask Alex about his treatment in New York: Two MVP awards in four seasons and he still couldn't win over the fans.
Then there's the issue of chemistry. Many people will tell you it's all bull and that it doesn't matter. If you have talent, chemistry will come. Really? How did talent work out for the Yankees this season? Or the Dodgers? The Mets seemed pretty talented, too. Sure, everyone seems to get along when you're winning. But if you're a clubhouse divided, winning can be more difficult -- and don't look to A-Rod to eliminate that issue.
THE A-ROD FILES
A look at how A-Rod's teams have fared each since season his first full year in 1996, with overall team payroll ranking in parentheses:

1996 Mariners: 86-76, 2nd (8th)
1997 Mariners: 90-72, 1st (15th)
1998 Mariners: 76-85, 3rd (7th)
1999 Mariners: 79-83, 3rd (18th)
2000 Mariners: 91-71, 2nd, WC (15th)
2001 Rangers: 73-89, 4th (7th)
2002 Rangers: 72-90, 4th (3rd)
2003 Rangers: 71-91, 4th (5th)
2004 Yankees: 101-61, 1st (1st)
2005 Yankees: 95-67, 1st (1st)
2006 Yankees: 97-65, 1st (1st)
2007 Yankees: 94-68, 2nd, WC (1st)

Payroll figures from USA Today
We've all seen the interviews and the postgame comments delivered with the sincerity of a robot. We've also experienced the times when A-Rod needed a teammate to back him up and the silence was deafening. He comes across as an awkward CEO trapped in the body of a Hall of Famer. And while other teams may win with guys who are flaky or arrogant, there's still something there that allows them to connect with their teammates. Is A-Rod capable of that? No. And for $30 million of your team's payroll, you need a clubhouse leader.
Finally, there's the issue of being a fan. It sounds crazy, but people want their team to win a certain way. They don't want to win with cheaters. They don't want to win if the opposing team was without its staff ace or team MVP. That just wouldn't feel as good. And you certainly don't want to be accused of buying a title. If your team brings A-Rod on board, let the unfriendly dollar sign e-mails begin. You don't want any part of a situation in which your friends can toss in the dreaded conversational asterisk while you bask in your championship glory.
I asked Phillies fans Justin Isabell and Brian Waldron if they would want A-Rod for the chance to put their team over the hump. Remember, these guys are from Philadelphia, which is Iroquois for "city where the sports teams shred your soul."
"I wouldn't want A-Rod on my team, because it's just that -- a team," said Isabell. "As nice as his glove and offensive production would be at the hot corner in Philadelphia, the most fun teams to watch and cheer for are true teams, not one player."
Waldron added, "If they signed A-Rod I would be totally pissed. That means there's no way they're getting any pitching. Besides, there's no way I can root for that guy."
Since Alex reached the majors in 1994, the Braves, Yankees, Marlins, Diamondbacks, Angels, Red Sox, White Sox and Cardinals have managed to win the World Series without him. The Indians, Padres, Mets, Giants, Astros, Tigers and Rockies have reached the World Series without him.
The Mariners, Rangers and Yankees -- the three teams he's played for -- have never reached the World Series with him on their roster.
Which list do you want your team on?
Mike Philbrick is an editor for Page 2. You can reach him at michael.w.philbrick@espn3.com
Also See
ESPN Top Headlines