1984: Bridging the gap between the young and the old
ESPN.com illustration
For generations, sports has given fans young and old common ground to debate the past against the present. But once in a great while, a year comes along and all the arguments cease, and everyone celebrates the here and now -- a year like 1984.
1984 HIGHLIGHTS
No. 5 Miami shocks No. 1 Nebraska 31-30 in Orange Bowl to win national title. … Patrick Ewing and Georgetown beat Hakeem Olajuwon and Houston 84-75 for NCAA title … Kareem Abdul-Jabbar breaks Wilt Chamberlain's all-time scoring record. … Detroit Tigers start season 35-5, go on to win World Series … Roger Clemens and Dwight Gooden make their major league debuts, with the 19-year-old Gooden leading NL in strikeouts. … Wayne Gretzky scores 205 points as Oilers end Islanders' four-year title run. … Larry Bird wins the first of three consecutive NBA MVP awards. … In first Lakers-Celtics Finals of the '80s, Boston wins epic seven-game clash. … Sam Bowie picked No. 2 in NBA draft, Michael Jordan goes No. 3; Olajuwon, Charles Barkley and John Stockton also drafted. … Richard "The King" Petty wins the 200th and final race of his career on July 4. … Carl Lewis matches Jesse Owens' Olympic record of four gold medals, while gold-medal favorite Mary Decker Slaney trips in the 3,000-meter final. … Mary Lou Retton wins Olympic all-around gold. … Cubs make first playoff appearance since 1945, lose NLCS to Padres 3-2. … Mario Lemieux debuts with Penguins. … Doug Flutie's Hail Mary pass defeats Miami 47-45; later wins Heisman. … Dan Marino throws a then-record 48 touchdown passes and still-record 5,084 yards. … Eric Dickerson rushes for record 2,105 yards. … Walter Payton breaks Jim Brown's career rushing total. … Martina Navratilova goes 74-1, finally losing in semifinals of Australian Open in December.
In '84, the entire calendar shined. Wayne Gretzky brought back memories of Gordie Howe by winning his first Stanley Cup in Edmonton -- dethroning the New York Islanders, winners of the previous four Cups.
The Summer Olympic Games in Los Angeles featured an icon-making performance by Carl Lewis in track and field, with Lewis monopolizing medals like no one since Jesse Owens.
College basketball had young fans buying Georgetown gear and older fans recalling the budding dynasty of UCLA, as the Patrick Ewing-led Hoyas took down Houston's Phi Slama Jama for the NCAA title.
Heck, even tennis mattered in '84, when John McEnroe beat Jimmy Connors to win Wimbledon, then beat him again in an epic five-set match at the U.S. Open en route to his finals win against Ivan Lendl.
Despite all those front-page stories, MLB and the NBA stood out the most in 1984, bringing fans of all ages together more than any other sports.
As late as 1984, the NBA still was trying to shake itself free of a period plagued by drugs, tape-delayed broadcasts and a general apathy toward the game. More than ever, the league needed something (or someone) to transcend the game and put pro hoops back on the map. The league got it (and them) in the '84 NBA Finals, when Larry Bird's Celtics and Magic Johnson's Lakers faced off for the eighth time in Finals history.
This time, it would be the ultimate polarization for the ages: the Showtime Lakers versus Celtic Pride. It would be a new chapter in a storied rivalry that the older crowd hadn't seen since 1969 and a sequel to the younger set, who had learned to love college basketball five years earlier, when Bird and Magic met in the NCAA championship game. And the two teams didn't disappoint in a series filled with comebacks, blowouts, Bird calling his team a bunch of sissies, Kevin McHale's famous clothesline of Kurt Rambis, and Kareem Abdul-Jabbar and other Lakers sucking on oxygen masks in the non-air-conditioned Boston Garden. And finally, we got that Game 7 in Boston, where the ghosts of the Celtics' past and the stars of the Celtics' present took home the title, again.
In baseball, Dwight Gooden would have owned the spotlight, if it weren't for the Chicago Cubs. Gooden took the National League by storm after making his debut with the Mets on April 4. Only 19 years old, Gooden went 17-9 with a 2.60 ERA and seven complete games, winning NL Rookie of the Year honors. Gooden also broke the rookie strikeout record by 31, amassing 276 K's, a mark that also led the entire NL. Each one of Gooden's starts was an event, as he electrified young fans with his 98 mph heat while evoking memories of hard-throwing legends like Bob Gibson for the older set.
The Cubs, on the other hand, helped indoctrinate a new generation of fans into the notorious "wait till next year" club. After winning the NL East -- the team's first crown of any kind since 1945 -- the Cubs won the first two games of the NLCS in dominating fashion, outscoring the Padres 17-2. The Cubbies were one win away from a trip to the World Series … and then it happened. A loss in Game 3, followed by a crippling walk-off homer by Steve Garvey in Game 4 against ubercloser Lee Smith, set up a decisive Game 5, on the road, against a surging Padres squad. You don't need to hear the rest of the details. The Curse of the Billy Goat struck again.
So congratulations, 1984. While you lifted up some fans and crushed some others, you managed to bridge the gap between the old and the young, launching a new golden era of being a sports fan.
Page 2's Most Memorable Sports Years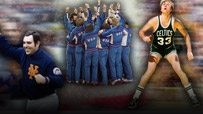 With 2008 already full of amazing moments, Page 2 is looking back at the greatest years in sports history.
THE YEARS
•
Jonah Keri on 1961: The year of the dynasty
•
Jim Caple on 1968: A year of unrest
•
Jim Baker on 1969: New York, New York
•
David Schoenfield on 1972: AL in trouble
•
Eric Neel on 1978: Greatest duel ever
•
Mary Buckheit on 1980: A miracle
•
Mike Philbrick on 1984: Bridging the gap
•
Paul Lukas on 1986: Three great weeks
•
DJ Gallo on 1994: The good old days
•
Scoop Jackson on 1998: Still resonates
•
Kieran Darcy on 2001: Darkness, and light
•
Patrick Hruby on 2004: End of exuberance
VOTE
•
PollCenter: Best year ever -- '80, '86, '98, '01 or '08?
ESPN Top Headlines