Page 2 staff
We don't shy away from things here at Page 2. Anyone can predict the World Series winner, but not everyone will predict who will choke. Page 2 writers Jim Caple and Eric Neel, along with editors Michael Knisley and David Schoenfield, predict everything that will happen this October ...
THE PREDICTIONS

Manager most likely to make a bonehead move:
JC: Terry Francona will leave Pedro Martinez in too long. Or yank him too soon. Red Sox "Nation'' will decide afterward.
EN: How about general manager? Because Bill Stoneman's already made one: the Jose Guillen suspension shouldn't have included the playoffs.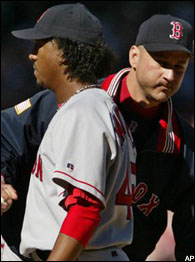 The big decision: Leave Pedro in or take him out?
MK: Terry Francona, who, of course, is bound by baseball's code of honor to uphold the tradition.
DS: Ron Gardenhire. He'll pull Johan Santana and bring in Juan Rincon to face Gary Sheffield to get a righty/righty matchup. It won't work.
The Mark Lemke out-of-nowhere All-Star:
JC: Lew Ford
EN: Alex Cora
MK: Mark Bellhorn. In all his Bellhornitude.
DS: Brandon Backe
Stadium most likely to witness an onfield incident:
JC: Fenway Park. Between fans and opposing players.
EN: I see a streaker in Fenway with "Vote Kerry" written across his bum, and it isn't pretty.
MK: In Anaheim, after a particularly egregious call goes against the Angels, irate fans kidnap Red Sox mascot Johnny Pesky, who is no longer allowed to sit on Boston's bench by order of Major League Baseball's enlightened officialdom, and force him to go through a paddle wheel made up of thunder sticks on an upper concourse.
DS: Dodger Stadium. Something involving batteries, water bottles, Milton Bradley and Tommy Lasorda.
Player's whose hair is most likely to affect the outcome of a play:
JC: Jeff Bagwell
EN: Odalis Perez doffs his cap and snags a comebacker in his 'do the way a spider catches a fly in his web.
MK: John Smoltz. He is caught loadin' up his splitter with sweat beads from his bald pate. When he is ejected, Braves' manager Bobby Cox calls in Charlie Leibrandt from the bullpen and ... well, you know how this story ends.
DS: Manny Ramirez becomes the first player to lose a flyball in his hair.
4th annual Luis Gonzalez deny-the-Yankees winner: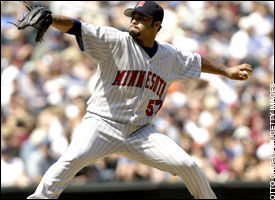 Santana went 5-0 with a 0.45 ERA in September.
JC: Johan Santana
EN: Johan Santanadanna
MK: Twins left fielder Lew Ford, who, with two outs and the tying run on base in the bottom of the ninth of Game 5 of the ALDS, successfully performs the hidden-ball trick to catch Kenny Lofton leading off first while the Twins are in their exaggerated shift as Jason Giambi pinch-hits for Enrique Wilson.
DS: Roger Clemens. It was meant to be.
The Horse (the Beckett/Big Unit/Hershiser of 2004):
JC: Johan Santana
EN: Johan The Bench Santana
MK: Roy Oswalt
DS: Brad Lidge. Yeah, he's a reliever, but he'll be the most dominant postseason pitcher.
Hitter most likely to be The Man this postseason:
JC: Larry Walker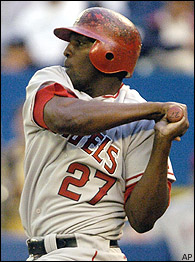 Angels outfielder Vladimir Guerrero is the big-money, All-Star performer that the A's lack.
EN: Vladi Dadi
MK: Lance Berkman
DS: Lance Berkman
To put it bluntly: Which hitter will choke?
JC: Alex Rodriguez
EN: J.D. Drew
MK: Larry Walker
DS: Jeff Bagwell (.174, 0 HRs in 46 ABs) and Craig Biggio (.130, 1 RBI in 54 ABs) have horrid postseason records, so they're due. But Adrian Beltre, after carrying the Dodgers all season, will have a tough first round.
To put it bluntly: Which closer will choke?
JC: Keith Foulke
EN: Jason Isringhausen
MK: John Smoltz
DS: I love Keith Foulke, but I ain't feelin' Keith Foulke right now.
How will Boston's curse rear its head ...
JC: Manny loses flyball in the Metrodome.
EN: Curt Schilling will dislocate his collarbone reaching out to sign a fan's Sox cap, and be forced to miss the ALDS.
MK: A snow-out after four innings of a crucial Curt Schilling start. He isn't able to come back the next day.
DS: Red Sox blow 2-1 series lead against Angels after Johnny Damon cuts his hair.
Derek Jeter will ...
JC: Marry Lois Lane.
EN: Break up a Bartolo Colon no-hitter in the eighth.
MK: Be beaned by Brad Radke and refuse to fight.
DS: What, is this a trick question? You want me to say something mean about Jeter, don't you?
The Tommie Agee Award (best defensive play of the playoffs):
JC: Torii Hunter makes Spider-Man catch against the fence in the Metrodome and MLB immediately makes him wear Spider-Man costume rest of postseason to promote "Spider-Man 3."
EN: Jim Edmonds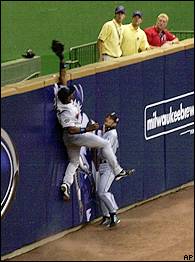 We love Torii Hunter at Page 2.
MK: Andruw Jones, who does his Tobey Maguire imitation to rob Jeff Bagwell over the center-field fence and is later seen in public macking with Kirsten Dunst.
DS: Carlos Beltran will throw out Chipper Jones at home to preserve Houston's 5-4 win over Atlanta in Game 5 of the NLDS.
The Fred Merkle/Jeremy Giambi/Lonnie Smith Award for Baserunning Excellence:
JC: Manny
EN: Manny
MK: Kenny Lofton (see above).
DS: Manny
Biggest surprise of the postseason:
JC: Bud interrupts Game 7 to present Youppi! with lifetime achievement award.
EN: A-Rod comes up big.
MK: Steve Kline wears a new hat.
DS: Jason Giambi will ask out of a game after cutting himself shaving.
Lead-Pipe Cinch:
JC: Whoever wins will be hailed as definitive "proof'' that this is the best way to build a champion.
EN: Vlad Guerrero will hit a home run.
MK: Steinbrenner breaks out his one-trick bald eagle to fly from right field to the pitcher's mound. Again.
DS: After the Dodgers lose in the first round, certain L.A. sportswriters will still blame The Trade for the defeat.
Over/Under:
EN: Times announcers call Derek Jeter a "winner": 37 ... In Game 1 of the ALDS, that is.
MK: 5. Average number of Tony La Russa pitching changes per game.
DS: 52. Total replays during the Red Sox-Angels series of Aaron Boone's HR.
THE PICKS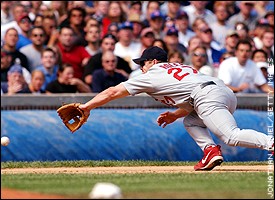 Rolen's do-it-all play will lead the Cards to the title.
Caple:
ALDS: Twins over Yankees in 4; Red Sox over Angels in 4
NLDS: Cardinals over Dodgers in 4; Astros over Braves in 4
ALCS: Twins over Red Sox in 6
NLCS: Cardinals over Astros in 7
World Series: Cardinals over Twins in 6
World Series MVP: Scott Rolen after a series that is part Nettles, part Brosius.
Neel:
ALDS: Yankees over Twins in 5; Angels over Red Sox in 5
NLDS: Cardinals over Dodgers in 5; Astros over Braves in 5
ALCS: Angels over Yankees in 6
NLCS: Astros over Cardinals in 7
World Series: Angels over Astros in 6
World Series MVP: Bartolo Colon
Win one for the Gipper: Angels win it for Donnie Moore
Knisley:
ALDS: Twins over Yankees in 5; Red Sox over Angels in 4
NLDS: Cardinals over Dodgers in 4; Astros over Braves in 4
ALCS: Twins over Red Sox in 6
NLCS: Astros over Cardinals in 6
World Series: Twins over Astros in 6
World Series MVP: Torii Hunter, who hits .385 in the Series with an on-base percentage of .567 and has three outfield assists.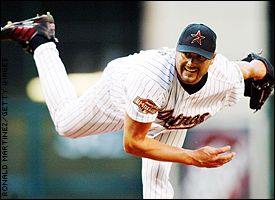 Yankee-killer: Will Rocket retire George's boss in the World Series?
Win one for the Gipper: Twins' manager Ron Gardenhire dedicates Minnesota's World Series win to the man he calls "the most generous and good-hearted owner a ballclub could ever hope to play for -- Carl Pohlad."
Schoenfield:
ALDS: Yankees over Twins in 4; Angels over Red Sox in 5
NLDS: Cardinals over Dodgers in 4; Astros over Braves in 5
ALCS: Yankees over Angels in 6
NLCS: Astros over Cardinals in 6
World Series: Hey, I picked the Astros at the start of the season, so ... Astros over Yankees in 7. Roger Clemens wins Game 7.
World Series MVP: Brad Lidge. One win and 3 saves, including two shutout innings in Game 7.
Win one for the Gipper: Jeff Bagwell and Craig Biggio co-hoist the trophy and say, "This is for J.R. Richard, Terry Puhl, Jose Cruz and every other Astro who has suffered through rainbow uniforms and postseason defeats, for the fans who had to sit in the Astrodome, for Mike Scott, who would have blown the Mets away in Game 7, and for all those pundits who said we should've traded away Carlos Beltran because we were out of it."