By David Puner
Special to Page 2
The weekend before the recent Boston Massacre, my friend Steve and I were watching a Yankees game, and we noticed something a bit askew about Jason Giambi's appearance. It wasn't the gallons of sweat pouring down his perpetually dripping-wet mullet (he might want to get a mono test). Nor had we paused the DVR to check out his scary bulging vein -- always on the edge of bursting, it seems.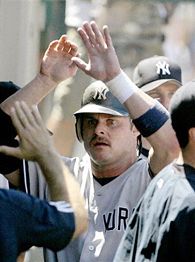 Jae C. Hong/AP Photo
Jason Giambi's mustache is the secret to the Yanks' success.
Is that? …
Sure looks like it …
Think he could have spiked his Gatorade with Miracle-Gro?
To celebrate would have been premature but, four days later, our hunch that Giambi was growing a legitimate, all-out mustache was confirmed by the New York Times:
"Jason Giambi's new mustache is here to stay. Giambi said he wanted to look like Don Mattingly, who wore a mustache as a player in the 1980s when Giambi idolized him. 'Back in the 'Hit Man' days,' Giambi said, laughing."
Giambi wins the pennant! Giambi wins the pennant! Not to take anything away from the Yankees' excellent Bobby Abreu/Corey Lidle pre-deadline move, but Giambi's mustache is the best, most exciting in-season pickup the Yankees have made in years. At the same time ground was being broken for the new Yankee Stadium, new life was sprouting in the old Bronx ballyard. The emergence of the Giambi mustache is the cherry atop his career rejuvenation, and all but secures the Yanks' 27th world championship.
It takes a brave man to wake up one morning and decide it's a good day to shave his entire face -- save the upper lip. This mustache hair cultivation is, without a doubt, a heroic effort by Giambi and his biggest contribution to the Yanks in his five seasons with the team. His Comeback Player of the Year award in 2005 was a good start -- but he was coming back from the ugly embarrassment of testifying before a grand jury in which he reportedly detailed his steroid usage, and from treatment of a pituitary tumor that one couldn't help but think was somehow related to those steroids. As the mustachioed Teddy Roosevelt once said, "I have never in my life envied a human being who led an easy life; I have envied a great many people who led difficult lives and led them well."
Growing the 'stache confirms, once and for all, that Giambi has overcome the difficulties in his life and become a selfless team player who, in this one grooming tweak, has put himself in the running for team MVP -- maybe even league MVP. (Derek Jeter's recent unveiling of his own fragrance line automatically takes him out of contention and should call into question his captainship.) No longer is Giambi hoping to blend into the Yankee clubhouse and avoid the New York limelight -- he's taken his public lumps and now he's leading by prominent example. The mustache, unlike the masking action of a beard, calls attention to its wearer by stating confidently: I am furry and riding shotgun -- you got a problem with that?
Numbers aren't everything in baseball; intangibles contribute to championships and can bump a player up from valuable to most valuable. Despite carrying a batting average that is decidedly un-MVP (.261), Giambi is among league leaders in RBIs (105), on-base percentage (.419), home runs (36), slugging percentage (.594), walks (98), and runs (82). In the least, if Giambi keeps his 'stache, he's got the Most Valuable Mustache (MVM) award clinched.
All-Time Yankee 'Stache Roster
The Giambi mustache may turn out to be the most valuable Yankee mustache since Don Mattingly's and, undoubtedly, it will soon join a roster of historic Yankee mustaches. Here then are arguably the most important pinstriped mustaches, culled from Yankee rosters since 1976, the year Yankee Stadium reopened after renovation and the Yanks made their first postseason appearance since The Boss bought the team:
First and foremost, Giambi's tribute to El Donno Beisbol is of great significance. Mattingly ceremonially raised the 1996 championship flag, even though during that first Yanks' World Series win since 1978 (a series that, incidentally, was captained by another mustachioed Yankee great, Thurman Munson), he was home in Indiana playing Jenga with his family. Mattingly was the Yankees from 1983 to 1995 (and team captain starting in 1991). But only in his final season did he make the playoffs with the first AL Wild Card team ever. He batted .417 in the ALDS, but the Yanks lost to Seattle 3-2. The captain was done and he went home.
Not once has Mattingly uttered a negative word publicly about all those years, pre-Wild Card, when the Yanks fell short of winning the AL East by inches (or miles, as was the case in quite a few seasons). Not once has he complained about the Yankee pitching staffs in his era, anchored by the likes of octogenarian Phil Niekro and Ray Fontenot. Pitching wasn't a priority back in The Don's day.
In 2004, Mattingly's first year back full-time with the Yankees in uniform since 1995, the Red Sox beat the Yankees in the ALCS after being down 3-0. Oh yeah, and the Sox won the World Series for the first time since 1642. Doh! Hell freezing over in your first season as hitting coach has got to be tough.
Last season, just before the Yanks lost to the Angels in the ALDS, mysteriously and without warning or fanfare, Donnie cut off his mustache. Hell had frozen over twice in less than a calendar year! Bad omen, I thought at the time. (Actually, I thought: What the f---!? But that's really neither here nor there.) And the Mattingly mustache has not reappeared since its axing last fall.
I believe shaving his mustache off last season was Mattingly's way of letting go of the past. The flecks of gray just under the 44-year-old Don of Baseball's nose ended any ongoing possibility -- albeit remote -- that he would ever pick up where he left off in 1995 and reclaim his roster spot.
Mattingly's sudden mustache removal finally makes sense -- while the gestation period took a while, the 'stache has reincarnated above the lip of Giambi. Granted, the Giambi 'stache looks like it could wind up more William Forsythe 'stache than Tom Selleck 'stache, but with lots of watering it could thrive to "Deadwood" Donnie magnitude. To this end, The G-Man is in luck, as he could swamp Vegas -- ironically, his water resource-deficient offseason home -- with perspiration.
This upcoming 2006 World Series will finally be Donnie's championship. Absent for the entire recent "dynasty," The Don still hungers for a ring. So does his doting tutee and restoration project, and (occasional) keeper of eternal Yankee first base flame, Jason Giambi. Giambi's mustache will symbolically, if not physically, win it for Donnie.
Besides the Mattingly homage, the Giambi mustache is important to the legacy and mission of the 2006 Yankees. Giambi's mustache has promoted a camaraderie which seems to have eluded Yankee teams of the past few years. Some of these multi-million dollar players actually appear to be friends.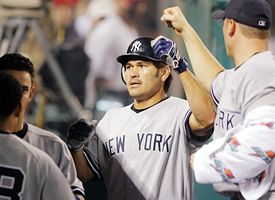 Jae C. Hong/AP Photo
The Caveman must love sporting a little fuzz again.
Recent mustache cultivators Ron Villone (the best Yankee Ron to pitch since Guidry) and Jaret Wright are trying. Johnny Damon, the former Caveman who has been surprisingly likeable as a Yankee, needed little encouragement from Giambi -- it was like asking a fat kid if he wants a piece of cake and Damon had already helped himself. As soon as the de-thawing Caveman started growing his cookie duster, he destroyed his former team in a five-game series and won Player of the Week honors. As the Bombers fattened their lead in the AL East, 'staches filled in.
The last time the Yankees were friends, Chuck Knoblauch and Shane Spencer were getting their hair frosted together. It goes without saying that Giambi and crew growing the mustaches is much cooler than that.
Backup catcher Sal Fasano deserves a smidgen of credit for the renewal of Yankee upper-lip hair. Fasano in lieu of Kelly Stinnett is, from a follicular standpoint, a huge upgrade. It's kind of a no-brainer to sign Clue Haywood and let Stinnett, who looked like a swollen version of the kid from "Powder" waddle away. Besides the 'stache, there's really no other reason to release Stinnett and sign a guy who's been released more often than, as he put it, an animal going from zoo to zoo. Fasano is a mustache enabler which cannot be misconstrued for an initiator.
As Yankees radio color commentator Suzyn Waldman aptly reported on her Aug. 19 "Leadoff Spot" pregame segment, the current Yankee mustache fad is similar to when the New York Knicks shaved their heads during a playoff run. Although, as Waldman astutely pointed out, "This looks a lot neater -- a lot better." And by "neater" and "better" she, of course, meant hairier and a lot better.
Waldman is right -- the mustache is a good look. Who wouldn't look good with a uni-brow above his upper lip? It makes perfect sense. Olympic gold medal-winning swimmer Mark Spitz knew it. Self-appointed gold medal-winning TV journalist Geraldo Rivera has never forgotten it. Tom Selleck knew it and then forgot it, then remembered, then forgot again before remembering again, but at that point he needed so much Grecian Formula to make it look remotely like its old self that the No. 1 Hollywood 'stache of the past 30 years had become a caricature of its former self. Former Yankee ace and current pitching coach Ron Guidry has never ever forgotten.
Sal Fasano gets it. The Gator is IT.
Giambi's mustache is a win-win for everyone with an interest in the New York Yankees: Mattingly, other Yankees, fans, and Giambi himself. The G-Man is leading by example. Giambi has finally figured out what the other former Oakland-stars-turned-Yankees had that he didn't -- a power 'stache. Catfish Hunter and Reggie Jackson hit the ground running in the Bronx -- both with 'staches -- and they both won rings. The mustache equals power, and with it Giambi should exceed any extra octane he could ever achieve through steroids and/or other banned substances. With the juice out of the picture, the only kind of dramatic growth fans will see on the G-Man will be on his upper lip. No more muscle -- it's all about the mustache now (and Giambi ensures this because he runs the risk of MLB testing the 'stache hairs in future HGH tests, which are under development). It's like he came to his senses and traded in that idiotic museum-quality '66 Chevelle that was always breaking down for a new FJ Cruiser -- the FJ Cruiser is distinctive, isn't a headache, and gets the job done. This is some old-school, smart, heads-up baseball, and Giambi can hold his mustachioed face high.
When Giambi first came to New York, it felt forced when he cheerfully compromised the grungy, rebellious image that he seemingly held so dear when he was with Oakland for the bland conformity of Steinbrenner's code of grooming. Then again, maybe that's what a $120 million pay day will do to a guy -- he'll compromise image to please suits (or, in the case of Steinbrenner, turtlenecks). Giambi conformed by covering up the sweet tattoos, cutting the hair and losing the goatee. But the beast was trapped in his cage.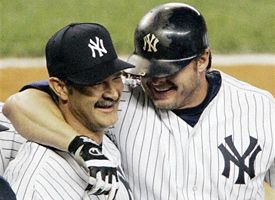 Kathy Willens/AP Photo
Donnie Baseball may no longer be sporting a mustache, but Giambi's tribute to him has made all the difference.
Now Giambi has reinvented himself by defying convention through conformity. Thanks to a loophole in the Steinbrenner grooming rule book, the G-Man can rock the boat with his big 'ol mustache. Like the Hit Man before him, Giambi is conforming according to Yankee appearance standards of the '70s and '80s which, like Steinbrenner himself, are outdated and toothless. The mustache is basically now a facial hair loophole in Yankeeland. Wearing a regular mustache is something that most players selfishly won't do because they don't want to look terrible (see: David Wells as a Yankee, although he's not the world's handsomest man, any way you slice the facial hair). Or, maybe they don't want to look like Raffy Palmeiro, who brought shame to his own legitimate mustache. By growing a mustache, Giambi has knowingly made his own face a billboard and defaced himself as an act of contrition. It will be totally unsurprising if Giambi blacks out his teeth with a Sharpie next.
The Yankees face off against the Detroit Tigers this week, a team that is slumping yet still holds the best record in baseball. When matching up the two teams, the power of the Giambi 'stache will prove insurmountable as the Yankees will beat the Tigers at their own facial game. Last time the Tigers were in the World Series in 1984, they were propelled by some big-time 'staches: Kirk Gibson's, Chet Lemon's, Jack Morris' and Dan Petry's, among others. The Tigers also had a mustachioed TV private detective on their side. Giambi's 2006 'stache takes any steam out of Motown's newly inflated, downsized power plant. There's only so much weight Todd Jones' 'stache can carry. The Jones 'stache is also laden with just a bit too much irony. Unless you're a cowpoke, a Hell's Angel, a member of the Village People or Rod Beck, you're making a mockery of the mustache by cultivating irony. If you're going that route, you might as well play pro ball in a looks-old-but-it's-new Bob Seger Silver Bullet Band T-shirt, $200 jeans, big sunglasses and a pair of loud Pumas.
The Yankees shot their official 2006 team photo on Aug. 14. In that photo, the Giambi mustache will be faint, at best. But come October, the Giambi 'stache will make its mark in the annals of baseball folklore. And after the Series victory, the follicles will, no doubt, be Lectric Shaved away to Cooperstown for their proper display -- drizzled atop Schilling's ketchup sock.
Sound off to Page 2 here.

David
Puner
MOST VALUABLE MUSTACHE