By Miki Turner
Special to Page 2
TORONTO -- The last time I was in the vicinity of Snoop Dogg (a.k.a. Calvin Broadus), shots were being fired. I didn't know it at the time, but the rap star's motorcade was being targeted by unknown gunmen as it was making its way down Fairfax Avenue en route to the 10 Freeway in Los Angeles one weeknight last spring.
I was about two blocks behind Snoop's car.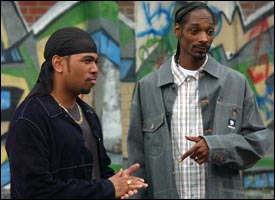 Snoop Dogg and Omar Gooding, in a scene from Tuesday night's episode of "Playmakers".
My most recent encounter, however, was much more pleasant.
The affable and playful Snoop was on the set of ESPN's "Playmakers," taping a scene with his "Baby Boy" co-star Omar Gooding (D.H.) and having the time of his life. After wrapping the two-day gig, Snoop, who coaches his sons' football teams in Diamond Bar, Calif., confessed that he talked his way onto the show.
"They didn't call me," he said. "I asked them to be on this show because I recognize the realness. I have to be associated with realness. I felt this show ... I saw this and said, 'That's fly. That's tight.'
"I like all the characters -- Leon, D.H. the white boy. I'm down with it. It really makes you want to learn more about the game as far as the behind-the-scenes thing."
Ironically, someone else takes a shot at Snoop in the episode that airs Tuesday night (9 p.m., EST). And as you have probably already deduced, D.H. is involved. D.H., who has been less-than-honest with the police about a friend's involvement in a murder, accuses his half-brother (Snoop) of ratting him out.
"Yeah, I got shot," Snoop says with mock indignation. "D.H. is the one doing all the s---, and he ain't got shot yet! I think I took his bullet. That's what it boils down to."
Some brothers just can't catch a break.
In between signing autographs and posing for pictures with the cast and crew, plugging his new CD "The 213" (Dec. 9) and scoring a "Playmakers" cap from an assistant director, the 33-year-old Long Beach native who will next appear on screen as Huggy Bear in "Starsky and Hutch," answered 10 Burning Questions.
1. After all the years you've been in the business and all the success you've had, is it hard to be Snoop?
(Rapping) With so much drama in the L.B.C., it's kinda hard being Snoop D-O-double G. But I somehow, some way, keep coming up with funky-ass s--- like every single day. I said it because I meant it and I meant it cuz what I said is the truth.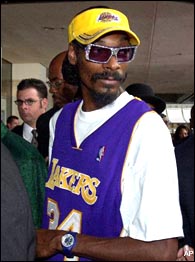 Snoop sporting the jersey of his favorite new-school baller, Shaq.
2. But when you're rolling down the street and people are taking shots at you, that must make life a little hard.
I mean, the devil works all the time, you know? You got to understand when you're a child of God you're going to always be tested; and it's going to be negative and it's going to be things that are designed to bring you down and make you backslide. But you've got to be strong enough to fight through it. You know, I've fought through it and people done forgot about it. I done forgot about it, you know?
Everybody who don't know and understand the type of life that I live and the type of life that I come from needs to know that what I'm trying to do is make a better way for myself and the people who believe in me and the people I support. I'm going to have to go through those types of obstacles. But I'm strong and I'll be able to handle them and I'll deal with them accordingly.
3. Kobe Bryant is facing some adversity right now. What advice would you give to him at this point?
The only advice I'd give Kobe is to keep your mind focused on basketball and spend time with your wife and daughter and put it in God's hands. The truth will set you free, you know.
4. What's the best advice anyone has ever given you, professionally or personally?
Probably when Charlie Wilson (rapper/producer) told me to lay off the weed and focus on making music and spending time with my family.
5. Who is your favorite old-school baller and your favorite new-school baller?
In basketball, my favorite old-school baller would definitely be Magic Johnson. The reason why is because he was a floor general. He conducted the floor, he passed the ball, he shot, he scored, played defense and he brought Showtime to L.A.
My favorite new-school baller is Shaq. He brings it every night, plays hard and leads his team.
6. Would you rather win a Grammy or an NBA title?
I'd rather win an NBA title. I probably don't have that much game, but I can blend into a team and do a little something off the bench. You know what I'm saying? I wouldn't be able to start, but I'd be able to back up a few people.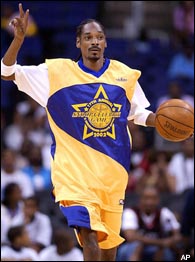 If your team needs a point guard, maybe you could sign Snoop to run the show?
7. If you had an opportunity to sell a million records or write one song that maybe didn't sell but had a positive message, which would you do?
I'd rather write a song that's more effective. It's not really about the money; it's about the meaning. It's about the music traveling even after you're gone. That's the type of music I try to make. I try to make music that's going to outlive me ... that when I'm gone, my music will still be around to get people moving and make people feel the way they need to feel.
8. When you're planning a romantic evening with your wife, whose music are you putting on the box?
Definitely some Isley Brothers, Tyrone Davis, the Dramatics -- you know I know how to break it all the way down. The Manhattans -- see what I mean?
9. How has fatherhood changed you as a person and as an artist?
It actually speeded me up as an artist -- helped me work harder. And it also helps me be more of a father to my kids and want to be there for them. It's a double sword. It's a give and it's a take; but at the same time, it's showing me how to be a better man and how to be a great father to my kids and give them something to live for and something to reach for.
10. If you could keep only one thing and everything else had to go, what would you keep?
My life.