By Page 2
staff
Tim Russert is the managing editor and moderator for NBC's "Meet the Press," the most-watched Sunday morning interview program in America. He also anchors "The Tim Russert Show" on CNBC and has interviewed every major political figure since taking over the helm of "Meet the Press" in 1991.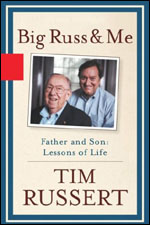 A native of Buffalo, Russert is the author of "Big Russ and Me -- Father and Son: Lessons of Life." He recently sat down with ESPN's Bob Ley to talk about his new book, growing up in Buffalo and his beloved Bills.
1. Bob Ley: How has Big Russ helped you as an interviewer?
Keep things simple. Keep it basic. When I took over "Meet the Press," he said, "Pretend you're talking to me. Don't get caught up in all that Washington vocabulary and high-falutin' language, as he would call it. He also used to keep a little pad on his dresser, where he'd pull out a piece of paper and keep track of his mortgage, utility, tuition bills. On the election night of 2000, when our projections were wrong and the computers blew up, I pulled out a pad and started writing down the electoral college. Dad's always on my mind, saying "Make it simple. Connect with people. Just don't get caught up in all the nuances."
2. Ley: The world knows it as War Memorial. But those in Buffalo know it as the Rock Pile. What are your favorite memories of that place?
The (AFL) championship games of '64 and '65. Jack Kemp leading the Buffalo Bills. It was a dollar to get into the place and sometimes we didn't even pay the dollar. You could bring anything you wanted into the Rock Pile -- kegs of beer, picnic baskets, it was a free-for-all. People had a great time. My favorite Buffalo Bill growing up: Cookie Gilchrist, who drove around Buffalo in a pink convertible Cadillac, and painted on the hood backwards was, "Lookie, lookie, here comes Cookie."
3. Ley: Four sports commissioners. Which one would you want to interview right now and why?
Bud Selig, because baseball in Washington is a big concern to me. Obviously, if I had a second choice, Paul Tagliabue, because I'd like to talk about the future of the Buffalo Bills. Ralph Wilson . . . God bless him, the greatest owner in the league -- but I'm worried about the team after that.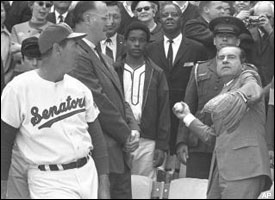 Opening Day, 1969: President Nixon throws out the first pitch as Ted Williams and Bowie Kuhn look on.
Baseball in Washington, D.C.: How important is it to people who live there?
Very important. People who've been there a long time remember the Senators with great fondness. The Orioles are terrific to go watch at Camden Yards, but it's an hour ride. If a ballgame ends at 11, 11:30, you're getting home at the wee hours of the morning. I think the capitol, the nation's capitol, would embrace baseball. If we're talking about America's national pastime, it seems so logical to have it in the nation's capitol. And now they're going ahead with a new stadium location, hoping that will appeal to or attract major league baseball. I think President Bush, as a baseball fan and former owner, is someone who could drive it.
4. Ley: What has been your most challenging interview for "Meet the Press" of all those many people you've spoken to?
Vice-president Cheney, five days after September 11th -- September 16th, 2001, at Camp David, where he talked for the first time about what actually happened in the White House the day of September 11th and that he recommended to the President of the United States that the United States government shoot down any American civilian aircraft if they thought it was heading to the Capitol or the White House.
Your favorite interview?
RUSSERT IN MOTION
There's more to Tim Russert than meets the eye in our 10 Burning Questions. Like, what happened when he went public -- on the national airwaves, no less -- about his passion for the Buffalo Bills.

For more, watch Russert in Motion: Russert on being a Bills fan
ESPN Motion.
Ross Perot, 1992, running for President. He was ahead of George Bush and Bill Clinton in the polls. He said he could balance the budget without breaking a sweat. I was persistent trying to find out specifics and he got a little agitated, but he stayed in there and later withdrew from the race and then came back. I got on a flight the next day for New York from Washington, and the flight attendant said that Ross Perot interview was amazing. I said, "Ma'am, I don't comment about my guests, but I'm curious as a voter: What did you think?" And the flight attendant said, "He just strikes as the kind of guy who would never return his tray table to the upright position." I prefer to capture that moment.
5. Ley: You've had the chance to do a number of sports interviews over the years. Which is your favorite?
Yogi Berra, by far. I kidded him, "Yogi, is it true you walked into a pizzeria and the waiter said, 'Do you want your pizza cut into six or eight slices?' And you said, 'Six, I can't eat eight.'" He said, "I'm too nervous to talk." I go, "Yogi, here's the interview: Whatever I say, whatever comes to your mind, just say it, OK?" He says, "OK." I said, "Mickey Mantle." He says, "What about him?"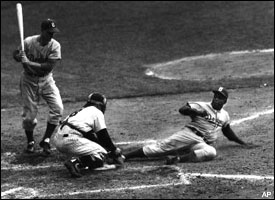 Don't tell Yogi that Robinson was safe in the '55 World Series.
I had Yogi, Whitey Ford and Phil Rizzuto, and they all said Jackie Robinson was safe coming into home plate (stealing home in the 1955 World Series). Yogi went crazy on the air, swearing in Italian, swearing in English. Rizzuto says, "I saw the tag, you gotta put the glove down!" One of the viewers saw it, sent me a photograph; and Rizzuto wasn't even on the field. He was in the dugout. They just do it to get Yogi's goat.
6. Ley: You have a chance to ask Joe Gibbs one question right now: What would it be?
Are you going to make the Super Bowl?
Ley: It's that important in D.C.?
I'm a Bills fan living in D.C.; it's tough. There's only one other Bills fan there who rooted for the Bills against the Redskins in the Super Bowl. I was in the Safeway getting chips and sodas, and this platinum-jeweled lady comes up to me and says, "I'm for the Bills, too." I said, "You are? In D.C.? Who are you?" She says, "I'm Jack Kent Cooke's former mother-in-law." So there were two of us rooting for the Bills.
7. Ley: There have been a number of athletes who have moved into politics. Who has been the most astute politician?
Bill Bradley and Jack Kemp. You know, Woodrow Wilson, President of the United States in 1918, wrote a book, where he said the demands on the presidency are so great, we'll soon be forced to choose our chief executives from athletes, "a wide and prudent class." It hasn't happened quite yet -- I guess Gerald Ford is the best athlete we've had as President -- but I think the day will come when a big-time professional sports athlete will be President of the United States.
8. Ley: You write at great length in sections of your book about sports. What's been the best reaction to the sports content in your book?
People want to talk about what it's like growing up as a real fan. About collecting baseball cards -- I was not Mickey Mantle or Willie Mays, I was a Yogi Berra fan, an Italian kid from St. Louis. About capturing Offerman Stadium, where the Buffalo Bisons played, Luke Easter. About driving to Cleveland once a summer in my dad's station wagon with my dad and three uncles to see the Yankees play the Indians. It was just this love, this passion; and anyone who grew up in the '50s and '60s remembers it with such fondness -- that the players were approachable, that the game was so extraordinary you shared it with your dad. I've been stunned the way it's resonated around the country.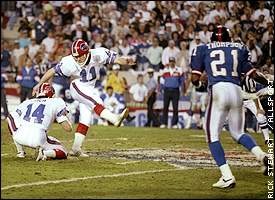 "Nightmare." Norwood missed the 47-yard field goal to win Super Bowl XXV.
9. Ley: Let's play a little word association. If I say two words to you, what do they mean: Wide right.
Nightmare. Scott Norwood came up to me in Washington National Reagan Airport and said, "Mr. Russert, I want to introduce myself. I'm Scott Norwood." I said, "Scott, I know who you are. I think about you every night." I was at the game and then I went to Buffalo the next morning, where 25,000 Buffalonians greeted the Bills and all chanted, "We want Scott! We want Scott!" Scott got to the podium and cried, and Buffalo still embraced him. Which is a lot different than what happened with Booth Lusteg, another field-goal kicker with the Buffalo Bills who missed a field goal at the Rock Pile, walked home from the stadium and two guys got out of a car and beat the hell out of him.
10. Ley: Perhaps the greatest Bill to ever wear that uniform was O.J. Simpson. How do Bills fans reconcile his legacy, his life now?
It's very hard. I remember cheering O.J. Simpson, the Electric Company, Reggie McKenzie, turning on the Juice. I took my son to the Pro Football Hall of Fame when I was emcee at the induction ceremony. This was after the trial. Luke saw the bust of O.J. and said, "He's still here," surprised he was still part of the Hall of Fame. That's pretty much a metaphor for the way people in Buffalo think. They remember him with deep fondness and appreciation for his athletic endeavors, but are obviously deeply distressed about what has happened since then.