Commentary
Remember the '80s: The iconic moments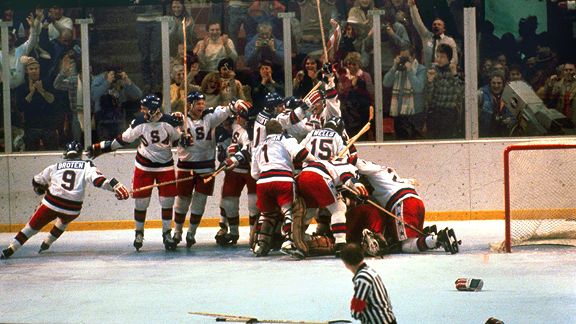 AP PhotoThe top moment of the '80s? Hard to argue against the Miracle on Ice.
The 1980s began with a raging debate: Who was the best team in college football? Ohio State entered New Year's Day undefeated and ranked No. 1. But Alabama, Florida State and USC were also unbeaten (USC had a tie). The Buckeyes and Trojans would be playing each other in the Rose Bowl but Alabama was playing No. 6 Arkansas in the Sugar Bowl and Florida State was playing No. 5 Oklahoma in the Orange Bowl.
The decade only got crazier from there. With ESPN Radio's Mike and Mike celebrating the '80s on Tuesday, we thought it would be fun to look back at the classic moments of the decade. If you're of a certain age, you'll remember these moments for their joy, their surprise and shock value and maybe the heartache they brought you. If you're too young to remember, check out the highlights we've linked to for many of them.
And, just to stir up even more memories of the decade, we thought we needed an '80s soundtrack, so we've listed a song to go with each moment.
Enjoy.
(Oh ... Alabama won the national title. USC beat Ohio State, 17-16. Alabama beat Arkansas 24-9 and Oklahoma beat Florida State 24-7. Who needs a playoff anyway?)
Song title: Never Surrender / Corey Hart
If we picked an iconic team for each year of the decade, how would it go? Something like this:
1980; U.S. hockey team. Easy choice.
1981: San Francisco 49ers. The first of four Super Bowl-winning seasons in the decade.
1982: Los Angeles Lakers. Showtime.
1983: Houston Cougars. Phi Slamma Jamma. Hakeem Olajuwon. Clyde Drexler. Michael Young. Benny Anders and his freakish 40-inch vertical leap and Louis Vitton bag. The 1983 semifinal dunkfest against Louisville may have been the most exciting college basketball game of the decade.

1984: Georgetown Hoyas. The scowls. The T-shirts under the jerseys. The incomprehensible postgame interviews.
1985: Chicago Bears. Still regarded as the best team ever. Except by Mercury Morris.
1986: New York Mets. Their excesses -- the drinking, the partying, the drugs, the celebrations, the brawls -- and their rapid downfall seem a perfect summation for the decade of greed.
1987: Miami Hurricanes. The official passing of the torch -- Miami beat No. 1 Oklahoma in the Orange Bowl. Barry Switzer resigned a year later amidst a multitude of off-the-field problems with his program, and Miami was the new top dog.
1988: Oakland A's. Sure, the Dodgers upset them in the World Series, but the Bash Brothers, Mark McGwire and Jose Canseco, ruled baseball.
1989: Detroit Pistons. The Bad Boy Pistons ushered in a new era of basketball, and eventually, John Salley's broadcasting career.
2. Ball goes through Bill Buckner's legs
Song title: Fairytale of New York / The Pogues
Fun factoid from this game: From the point Calvin Schiraldi retired the first two Mets in the bottom of the 10th inning, the Red Sox had 16 pitches that could have ended the game.
Gary Carter: (1) foul, (2) ball, (3) ball, (4) single to left field
Kevin Mitchell: (5) foul, (6) single to center field
Ray Knight: (7) called strike, (8) foul, (9) single to right-center, Carter scores, Mitchell to third
Mookie Wilson: (10) foul, (11) ball, (12) ball, (13) foul, (14) foul, (15) foul, (16) wild pitch, Mitchell scores, (17) foul, (18) groundball to first base ...
3. Stanford vs. Cal: The Play
Song title: Don't Stop Believin' / Journey
4. Kirk Gibson's home run off Dennis Eckersley
Song title: Paradise City / Guns N' Roses
If you weren't around when this happened, it's hard to describe the improbable nature of the home run. Gibson hobbled to the plate like a 52-year-old former NFL lineman who had undergone 22 knee surgeries. Eckersley seemed invincible that year (although in retrospect, he was more "very excellent" than "unhittable"). Some of that expectation of invulnerability came from the on-paper mismatch: The A's had won 104 games, were built like NFL linebackers and bashed forearms after home runs. The Dodgers' lineup that game? Franklin Stubbs, who hit .223, batted second. Mickey Hatcher, who hit one home run, hit third. John Shelby hit fifth with a .263 batting average with 10 home runs. Jeff Hamilton (.236 average, .268 on-base percentage) and Alfredo Griffin (.199 average, .259 OBP) rounded out the lineup.
Song title: I'll be There for You / Bon Jovi
The 10 highest-rated college basketball games, from the "ESPN Sports Almanac 2009" (all were NCAA Championship games):
(1) Michigan State-Indiana State, 1979.
(2) Villanova-Georgetown, 1985.
(3) Duke-Michigan, 1992.
(4) North Carolina State-Houston, 1983.
(5) North Carolina-Michigan, 1993.
(6) Arkansas-Duke, 1994.
(7) North Carolina-Georgetown, 1982.
(8) UCLA-Kentucky, 1975.
(9) Michigan-Seton Hall, 1989.
(10) Louisville-Duke, 1986.
Song title: Livin' on a Prayer / Bon Jovi
Flutie's desperation heave to Gerard Phelan gave Boston College a 47-45 victory over Miami and -- since it was televised nationally on the day after Thanksgiving -- seemed to solidify Flutie's Heisman campaign. Or did it? According to the official Heisman site, the votes had been collected prior to the game. (Flutie easily outpolled runner-up Keith Byars of Ohio State, 678 to 87. Flutie, by the way, became the first quarterback to win the Heisman since Auburn's Pat Sullivan in 1971.)
7. Joe Montana's pass to John Taylor wins Super Bowl XXIII with 34 seconds left
Song title: Faith / George Michael
The 1988 Niners tie (with the 2007 Giants) for the worst record ever for a Super Bowl champ at 10-6. They were pretty good, though: second in the NFL in yards, third in fewest yards allowed and fourth in point differential. In their three playoff games, they outgained their opponents 1,230 yards to 758. The '07 Giants, by comparison, ranked 16th in offense and seventh in defense, and won their four playoff games by a combined 20 points.
Song title: Jump / Van Halen
The 49ers' dynasty in the '80s is rightfully remembered for high-powered West Coast offense. Not to put a dent in memories of Bill Walsh and Joe Montana, but from 1981 through 1989 (not including the 1982 strike season), the 49ers' average NFL ranking in points was 3.8, but 2.9 in points allowed. In the Niners' first Super Bowl season, the defense ranked second in fewest points allowed and first in fewest yards allowed. The offense was a more pedestrian seventh in points and 13th in yards. What made the defensive turnaround even more remarkable was that in 1980, the team ranked 26th and 27th, respectively, in points and yards. What happened?
(a) The team's 1981 NFL Draft featured defensive backs Ronnie Lott (1st round), Eric Wright (2nd round) and Carlton Williamson (3rd round). Lott was an immediate Pro Bowler (seven interceptions, including three for touchdowns), Wright and Williamson would become Pro Bowlers and all three started every game. How many teams would have the guts to start three rookie defensive backs?
(b) In his second year as a starter, safety Dwight Hicks (a refugee from the Canadian Football League) intercepted nine passes, and made the Pro Bowl.
(c) Veteran linebacker Jack Reynolds, deemed too expensive by the Rams, was signed as a free agent, and solidified the team's run defense.
(d) Second-year linebacker Keena Turner, a second-round pick in 1980, became a full-time starter.
(e) Defensive end Dwaine Board, drafted in 1979 by the Steelers but waived, returned from an injury, and became a full-time starter for the first time.
By the way, the team's defensive backs coach in 1981 was George Seifert, who also served as the defensive coordinator from 1983 through 1988. In eight seasons as head coach of the Niners, he went 98-30, a higher winning percentage than Walsh had from 1981 through '88 (84-35-1).
Song title: Rock of Ages / Def Leppard
Nicklaus had been the best golfer in the world for nearly two decades, but by 1986 he was almost an afterthought. In 1985, he missed the cut at the U.S. and British Opens, and finished 32nd at the PGA Championship. In 1984, his best finish at a major was 18th at the Masters. He hadn't won a major since 1980. Sure, he usually played well at Augusta, but he hadn't won there since 1975. He was a long shot in a yellow shirt and plaid pants that, like his game, had seen better times in the '70s.
And then came the most remarkable final round in Masters history. Nicklaus' 18-foot putt on hole 17 capped an eagle-birdie-birdie flourish that gave him a 65 for the round and a 6-under mark on the back nine. After a par on 18th, he held on a for a one-stroke victory.
A comparison between Nicklaus in his 1962-1980 prime and Tiger Woods, 1997-present:
Nicklaus
Majors entered: 76
Majors won: 17 (22.4 percent)
Finished second or third: 22 (28.9 percent)
Out of the top 10: 18 (23.7 percent)
Amazing stretch: Finished in the top six 27 out of 33 majors from the 1970 British Open through the 1978 British Open.
Woods
Majors entered: 48
Majors won : 14 (29.2 percent)
Finished second or third: 8 (16.7 percent)
Out of the top 10: 17 (35.4 percent)
Amazing stretch: Finished in the top four in 12 of 14 from 2005 through his 2008 U.S. Open victory.
[+] Enlarge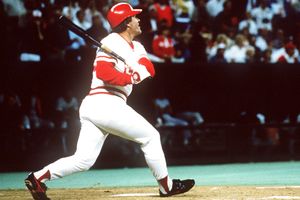 Getty ImagesRose may have hung too long to set the record, but he led the NL seven times in hits.
10. Pete Rose sets all-time hits record
Song title: Glory Days / Bruce Springsteen
In 1982, Pete Rose was 41 years old and still nearly 500 hits away from breaking Ty Cobb's record. He started every game that year at first base for the Phillies and hit .271 with three home runs. The Phillies finished three games out of first place. In 1983, Rose played 155 games, hit .245 and slugged .286. He slugged .286 because he didn't hit a single ball out of the park. Remember, this was a first baseman. The Phillies somehow reached the World Series in spite of Rose's poor production. In 1984, at 43 years old, Rose signed with the Expos, who had won 82 games in 1983 and had an OK first baseman in Al Oliver, who had hit .300 and led the NL in doubles, but the Expos made the decision to sign Rose and trade Oliver. It didn't make a lot of sense, but that's kind of how the Expos operated back then. Rose hit .259 with no home runs in 95 games, and the Expos were undoubtedly happy to trade him to the Reds in August. The Reds were going nowhere, 20 games under .500 and hadn't made the playoffs since 1979. So why not, they brought in the hometown hero and made him a player-manager. In 1985, Rose made himself the team's regular first baseman. The fact that he'd hit four home runs over the previous five seasons didn't seem to be an issue. After all, he was Pete Rose, and he had a record to chase down. He came to bat 500 times that season, and hit .264 with two home runs. To his credit, he did post a .395 on-base percentage, but the Reds finished 5.5 games behind the Dodgers, and who knows, maybe they would have won the division if they had played a real first baseman. In 1986, now 45 years old and Cobb's record in hand, Rose still gave himself 272 plate appearances even though he hit .219, slugged .270 and reached base .316 percent of the time. They finished 10 games behind the Astros, so maybe it wouldn't have mattered, but giving 272 plate appearances to someone besides Pete Rose would have helped.
Ladies and gentlemen, the Hit King!
11. Pete Rose banned for life for gambling on baseball
Song title: Throwing It All Away / Genesis
Jim Gray: Pete, let me ask you now. It seems as though there is an opening, the American public is very forgiving. Are you willing to show contrition, admit that you bet on baseball and make some sort of apology to that effect? Pete Rose: Not at all, Jim. I'm not going to admit to something that didn't happen. I know you're getting tired of hearing me say that.
Song title: Why Can't I Be You? / The Cure
And don't forget Fred Brown's pass.
Song title: Don't Know What You Got (Til It's Gone) / Cinderella
The day Canada cried. Think about it. The Oilers had won four Stanley Cups in five seasons, and Gretzky had won eight of the previous nine MVP trophies. This would have been like the Bulls trading Jordan to the Clippers in 1997 for Lorenzen Wright, Eric Piatkowski and Bo Outlaw. The Kings? Postscript: the Oilers won the Cup in 1990.
14. Bob Knight throws a chair
Song title: Don't Worry, Be Happy / Bobby McFerrin
Song title: I Love L.A. / Randy Newman
You could do a whole list of Lakers-Celtics moments from the '80s, but Johnson's "junior, junior, junior skyhook" beats them all. A dramatic finish to one of the greatest NBA Finals games ever (topped, perhaps, only by the Celtics-Suns triple-OT thriller from 1976). Playing at home, Boston led by 16 at halftime and by eight with 3.30 seconds remaining. The Lakers surged and took a 104-103 lead on a Johnson to Kareem Abdul-Jabbar pick-and-roll, but Larry Bird's 3-pointer put Boston back up. After one Abdul-Jabbar free throw, the Lakers rebounded his miss, setting up Johnson's final basket. Bird actually got a got a good luck at the buzzer, but hit the back of the rim on a 3-pointer.
[+] Enlarge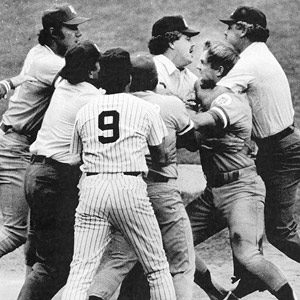 Bruce Bennett Studios/Getty ImagesGeorge was just a bit upset.
16. George Brett goes nuts after being called out for too much pine tar
Song title: Shout / Tears for Fears
Brett hit his pine-tar home run off Goose Gossage, whom he always hit pretty well, 10-for-35 (.286), two home runs, five walks, only two strikeouts, and that doesn't include a huge upper-deck blast off him in the 1980 ALCS.
17. Ben Johnson flunks drug test, loses Olympic gold
Song title: Bad Medicine / Bon Jovi
Song title: I Still Haven't Found What I'm Looking For / U2
A bit overrated, actually (it was just a first-round series, the Bulls didn't reach the NBA Finals that season). Just don't tell that to Cleveland fans.
Song title: Blue Monday / New Order
Pain.
Song title: You Make My Dreams / Hall and Oates
Hoosiers are 21-18 in the NCAA Tournament since, and have advanced past the second round just once since 1994.
[+] Enlarge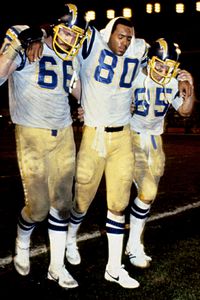 Al Messerschmidt/Getty ImagesA classic NFL moment: Winslow, too tired to walk off the field on his own.
21. Kellen Winslow carried off the field after classic playoff game between Chargers and Dolphins
Song title: Don't Dream It's Over / Crowded House
In a decade of Super Bowl duds and championship game blowouts (the NFC alone had four shutouts, the AFC saw six games decided by 14 or more points), the "Epic in Miami" stands out as the NFL's game of the decade. Played Jan. 2, 1982, in scorching heat at the Orange Bowl, the Chargers' 41-38 OT win is best symbolized by Winslow, after 13 catches, a blocked field, a pinched nerve, cramps and dehydration, being carried off the field by his teammates.
Song title: Grass / XTC
Before last year's Nadal-Federer final, considered by many the greatest tennis match ever. Borg takes it 1-6, 7-5, 6-3, 6-7 (16), 8-6.
Song title: Learning to Fly / Pink Floyd
24. Dave Henderson's homer off Donnie Moore in '86 ALCS
Song title: Heartbreaker / Pat Benatar
Baseball in the '80s saw a great postseason series (or two) nearly every year. We had only two rounds of playoffs, yet still saw:
(a) 1980 NLCS: Phillies over Astros in five games. The final four games all went extra innings. Maybe the best postseason series ever, yet largely forgotten.
(b) 1981 NLCS: Dodgers over Expos in five. Dodgers win last two in Montreal, Game 5 on a Rick Monday ninth-inning home run.
(c) 1984 NLCS: Padres over Cubs in five. Steve Garvey's homer in Game 4. Cubs blow 2-0 series lead.
(d) 1985 NLCS: Cards over Dodgers in six. St. Louis wins final two games with ninth-inning homers off Tom Niedenfuer.
(e) 1985 ALCS: Royals over Jays in seven. Kansas City wins the final three. Six close games. Underrated.
(f) 1986 ALCS and NLCS: Two classics that everyone remembers since they involved Boston and New York.
(g) 1988 NLCS. Dodgers over Mets in seven. Stunning upset.
That's eight good series, and that's not counting the '82 ALCS or '87 NLCS, both of which went the distance. And then you have the World Series ... 1980 doesn't get much credit but had six tight games, the Phillies winning for the first time. The series is best known for the man-to-man battle for best player in baseball between Mike Schmidt and Brett and the unintentional comedy of Brett needing hemorrhoid surgery in the midde of the series. ... In 1981, the Dodgers finally beat the Yankees, in six games. ... 1982 went seven games. ... Royals-Cardinals in '85 went seven games. ... You know about '86. ... '87 went seven games, with Minnesota winning. ... '88 had Gibson's homer. ... Lots of good series, lots of different teams.
Compare that to this decade. OK, the 2001 World Series was one of the best ever. The '03 and '04 ALCS were unquestionably dramatic (although Game 7 in '04 was a stinker). Cardinals-Astros NLCS in '04 was great, and Cubs-Marlins in '03 featured two extra-inning games and the "Steve Bartman incident." Game 7 of the Cardinals-Mets' NLCS in '06 was good, but can you remember anything else from that series? That's about it. We haven't had a six-game World Series since 2003. None of the last 12 divisions series have gone to a deciding game. Lots of clunkers.
25. Bird's steal and pass to Dennis Johnson beats Pistons in Game 5 of the 1987 Eastern Conference Finals
Song title: Believe It Or Not (from Greatest American Hero) / Joey Scarbury
The great Johnny Most on the call.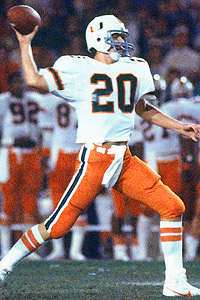 Ronald C. Modra/Sports Imagery/Getty ImagesBernie Kosar was a redshirt freshman when he directed Miami's upset of the '83 Cornhuskers.
Song title: Can Only Get Better / Howard Jones
The Huskers were hailed as one of college football's greatest teams after going 12-0 and averaging 52 points per game. Heisman winner Mike Rozier rushed for 2,148 yards and 29 TDs. Coach Tom Osborne was seeking his first national championship and the Huskers were heavy favorites over No. 5 Miami -- which was appearing in only its second bowl game since 1967. Freshman quarterback Bernie Kosar staked Miami to a 17-0 lead. Nebraska rallied to tie, but Miami surged back ahead 31-17 in the third quarter. With Rozier injured, reserve running back Jeff Smith scored twice in the fourth quarter, including a 24-yard run with 48 seconds left (on fourth-and-8). All Osborne had to do was kick the extra point and the national championship would be his (No. 2 Texas had lost earlier in the day). In the gutsiest decision in sports history, Osborne went for two. Miami defensive back Ken Calhoun knocked down Turner Gill's pass and Miami vaulted all the way to No. 1 to win its first national title.
Song title: Do You Really Want to Hurt Me / Culture Club
Duran defeated Leonard in June 1980 in Montreal (by unanimous decision) to win the World Boxing Council's welterweight title. The rematch came just five months later at the Superdome. What really happened when Duran quit with 18 seconds left in the eighth round? He's always claimed stomach cramps. Some say he just grew frustrated with Leonard's dancing style and distanced attacks. You decide.
Song title: I Will Follow / U2
Fourth-and-1 ... fourth quarter ... Redskins down 17-13 ... give it to the "The Diesel" (yes, before Shaq, there was Riggins).
29. Earnest Byner's fumble loses '87 AFC championship for Browns
Song title: Bringin' on the Heartbreak / Def Leppard
Sorry, Cleveland.
Song title: Knock Me Down / Red Hot Chili Peppers
31. Bill Laimbeer clotheslines Bird in '87 East finals, leading to Robert Parish sucker-punching Laimbeer
Song title: We're Not Gonna Take It / Twisted Swister
Here's Laimbeer. And here's Parish.
Imagine if these things happened today! ESPN would need a network just to discuss, argue and debate.
32. William "The Fridge" Perry scores in the Super Bowl
Song title: Sledgehammer / Peter Gabriel
Remember when 300 pounds earned you a nickname for being fat?
33. Lee Elia goes off on Cubs fans in infamous rant
Song title: Crazy Train / Ozzy Osbourne
Four hundred eighty words of pure awesome.
[+] Enlarge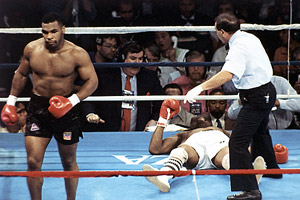 AP Photo/Richard DrewTyson's destruction of Spinks was perhaps his greatest moment as a boxer.
Song title: Bad to the Bone / George Thorogood
Spinks was undefeated but, at 31, perhaps past prime. He would never fight again.
35. Miami players step off plane wearing army fatigues before their much-hyped national title game against Penn State in 1987 Fiesta Bowl ...
Song title: Bad Boys / Inner Circle
36. Pete Giftopoulos' interception near the goal line with 18 seconds left secures Penn State's 14-10 upset.
Song title: Beat It / Michael Jackson
Read Michael Weinreb's excellent piece about the game, "The Night College Football Went to Hell."
Song title: Double Trouble / The Cars
It was one of the few times Gretzky and Lemieux played together, and the two combined for one of the great moments in Canadian sports history. The Soviets won the opener of the best-of-three series, 6-5, in overtime. Canada took Game 2, 6-5, in double overtime. In the deciding game, the Soviets shot to a quick 3-0 lead, but Canada rallied, and took a 5-4 lead, only to let the Soviets tie toward the end of regulation play. With a third overtime game looming, the two great ones connected with 1:26 left. Go to the 2:20 mark of the video.
38. Tom Watson chips in for birdie at Pebble Beach, wins U.S. Open
Song title: I'm Alright / Kenny Loggins
Maybe the greatest shot in golf history.
39. Wayne Gretzky scores 50th goal in 39th game of '81-82 season
Song title: Superman / R.E.M.
And he did it with five goals in his 39th game.
40. Mary Lou Retton wins all-around gold at '84 Olympics
Song title: Every Little Thing She Does is Magic / The Police
CLICK HERE for moments 41 to 80.
ESPN Senior Writer
Covers MLB for ESPN.com
Former deputy editor of Page 2
Been with ESPN.com since 1995