We'll remember the sports year of 2008 for many reasons -- from the Giants' toppling of the Patriots in Super Bowl XLII, to the Phillies' win over the Rays in the World Series.
We'll also remember 2008 because of the many people who said goodbye. Here are some of our favorites.
LARRY ALLEN
Most football fans notice offensive linemen only when they're being called for holding or being flattened by an oncoming pass-rusher.
But of the three-time Super Bowl champion Dallas Cowboys of the 1990s, who was the best player?
Troy Aikman? No.
Emmitt Smith? No.
Michael Irvin? No.
Deion Sanders? No.
Charles Haley? No.
Darren Woodson? No.
Jay Novacek? No.
Larry Allen? Yes.
Uh … who?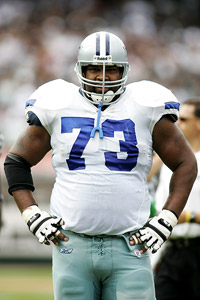 Tom Hauck/Getty Images
Great offensive tackles are often overshadowed, including Larry Allen.
That's right, the best player on the Dallas Cowboys of the 1990s was -- without question -- Allen, an 11-time Pro Bowler and arguably the greatest offensive lineman in NFL history. Unlike many of his more famous teammates, who lived their lives in the fast lane and had brilliant yet inconsistent careers, Allen was merely brilliant. At 6-foot-3, 325 pounds, he was a castle of a man, who once completed a 920-pound squat and dead-lifted more than 700 pounds. "He had the most pure talent of any lineman I played with," said Ray Donaldson, a former Pro Bowl center and Cowboys teammate. "Larry had the perfect combination of strength, size and speed. Man, he was a horse."
A mean horse. Though notably taciturn off the field, once Allen hit the turf he turned into the Incredible Hulk, pulverizing opposing defenders with unmatched ferocity. He could play guard and tackle with equal aplomb, and he never complained about his lack of Q rating.
When he retired before the current season after playing his last two years in San Francisco, the media mostly missed the story. There was no enormous news conference, no Dallas Morning News commemorative issue, no key to the city.
No, Allen simply walked away, unnoticed.
It seemed fitting.
-- Jeff Pearlman
MORTEN ANDERSEN
Even in the eccentric world of place-kickers, Morten Andersen stood out: He kicked left-footed, he always wore that old-school top-bolted facemask (which changed colors again and again as he changed teams throughout his career), and his first and last names were both spelled oddly (at least from an American perspective) because he was a native of Denmark.
But the most unusual thing about Andersen is how long he played: 25 seasons, during which he scored 2,544 points, the most in NFL history. In 2007, kicking for the Falcons at age 47, he made 25 of 28 field goal attempts for a success rate of 89.3 percent -- the highest percentage of his career.
Despite last season's performance, nobody offered Andersen a contract this year, which effectively put an end to his career, although he waited until December to make it official. Although nobody keeps records on this kind of thing, it seems a safe bet that he's the first NFL player to announce his retirement while in Copenhagen. The Great Dane was quirky to the very end.
-- Paul Lukas
TROY BROWN
How do you measure the value of one NFL player to his fans? Rings? Troy Brown has three. Versatility? In 2004 (a year the Patriots won the Super Bowl), Brown, a receiver, filled in on a depleted secondary and ended the season tied for the team lead in interceptions with three. Records? Brown's total of 557 receptions is currently No. 1 in team history.
Sure, those are great for your application to Canton, but the real measure to fans is your jersey. Yes, your jersey. And this is where Brown gave you more bang for your buck than almost anyone else in Patriots history. Think about it: Right now, if you want to buy an authentic Patriots jersey, that's going to set you back at least $259.99. That's great -- wear it with pride, and wear it often, because according to the NFLPA, the average NFL career lasts only 3½ years. That's just 56 regular-season game days you would get out of it, and then -- let's be honest -- you have to get a new one. (You don't wear your Terry Glenn jersey anymore, do you?)
Now, if you bought Brown's jersey back when he made his Patriots debut in 1993, you would have 192 game days to look back on. And as a card-carrying citizen of the Commonwealth of Massachusetts, I can tell you we are a cheap thrifty people, so we don't take this lightly.
So before you praise Randy Moss (and his 32 regular-season games with the Pats) and Wes Welker (another 32 games), remember the answer to this question: What did Brown do for you? He was money … literally.
-- Mike Philbrick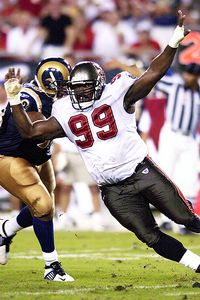 Al Messerschmidt/Getty Images
Yes, we'd much rather remember Warren Sapp the football player.
WARREN SAPP
I'm going to ignore "Dancing with the Stars," folks, because the Warren Sapp I want to remember is Warren Sapp the football player. And he's an easy pick for the Hall of Fame after playing 13 seasons in the NFL and recording 96½ career sacks, the second-highest total for a defensive tackle in NFL history.
The spotlight doesn't shine on defensive tackles very often, but Sapp got a ton of attention. And rightly so -- he went to seven consecutive Pro Bowls, starting in his second season in Tampa Bay. Occasionally, his passion for the game spilled over -- I'll never forget his skipping through the Pittsburgh Steelers during warm-ups before a game. But if you're going to laud Brett Favre for looking like a little kid out there, how could you not appreciate Sapp's enthusiasm and intensity, too?
People will also remember Sapp's hit on Chad Clifton and his ensuing confrontation with Packers coach Mike Sherman -- but you cannot demand a warrior-like, hard-hitting, take-no-prisoners attitude in players and always expect it to be pretty. If you do, then you probably expect a curtsy before a quarterback gets crushed.
Despite his Super Bowl XXXVII ring, his 1999 Defensive Player of the Year Award, and many other accolades, there is one area in which Sapp fell short in his career. When he signed with the Oakland Raiders in 2004, he had an incentive in his contract that if he recorded 10 sacks in his first season in Oakland, he would earn free McDonald's. But he recorded only 2½ sacks that year, the lowest total of his career.
Let this be a lesson to all aspiring defensive tackles out there: Play for the thrill of the game, not for Big Macs.
-- Kurt Snibbe