BOCA RATON, Fla. -- Andy Roddick is pretty handy with a frying pan.
Let us explain.
You might recall that Page 2 ran a contest back in July pegged to an excerpt of Todd Gallagher's recent book, "Andy Roddick Beat Me With a Frying Pan." We asked readers to re-enact a memorable sports moment using a frying pan. The creator of the winning video, as selected by ESPN.com users, would win a trip to the Andy Roddick Foundation charity weekend to play tennis against a frying pan-wielding Roddick.
Click here to see the four video finalists.
The winner was Chris Wetzel, who, with the help of his brother, Nick, recreated the scene when Randy Johnson hit a dove with a pitch during spring training in 2001, literally exploding the unsuspecting bird into a sea of feathers.
Roddick, of course, is the top-rated American men's tennis player, and he's currently ranked No. 8 in the world. Wetzel, on the other hand, is a 22-year-old accounting major at Ohio Northern University. He has played tennis recreationally since junior high school, but never competitively. He's a decent athlete, albeit a bit rusty.
"The last time I actually kept a scoring game was probably in October," Wetzel said. "This last week, I went outside and tried to serve twice. One time, it was snowing sideways, and the balls got soaked. They weren't dry when I tried to use them again. …
"I would say Roddick has the advantage going in. But if it snows sideways, that gives me a little bit of an edge."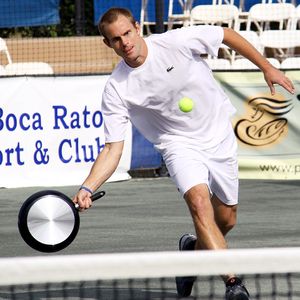 Bill Kallenberg photo
Will Andy Roddick consider replacing his racket with a frying pan for next month's Australian Open?
Format: Tiebreaker.
Surface: Clay.
Weather: Partly cloudy, low 70s, slight breeze.
Roddick's utensil: Generic (we declined to splurge for Sonoma's $185 All-Clad Brushed Stainless Steel Professional Fry Pan).
Roddick won the opening point and initially appeared unaffected by the angled handle on the pan. Then Wetzel tipped a shot off the top of the net to tie the score.
"Oh, no!" Roddick howled in mock anguish. "That's not fair."
Perhaps rattled, Roddick lost the next two points and trailed 3-1. He then chucked the pan in disgust, although no penalty was assessed for racket abuse.
"Oooh, handle's loose," Roddick said. "I need another. Got a spare? Maybe Emeril's brand or something?"
Sorry, in this economy, we're sticking with generic. Armed with pan No. 2, Roddick flipped the switch, losing just one more point the rest of the way and winning 7-4.
"After [falling behind 3-1], maybe he realized he's got a game on his hands," Wetzel said. "Then he switched pans and really got going."
Said Roddick: "I was feeling a little bit of the pressure. [If] you get down 4-1, it might be tough to come back from, so that was a pivotal point. But I was able to tighten it up there at the end."
It's a testament to Roddick's skill level that he was able to measure up the angles on his shots in mere minutes using a kitchen utensil -- one with an angled handle at that. Nevertheless, Wetzel acquitted himself well. One day, he'll be able to look his grandchildren in the eye and tell them he scored four points off the 2003 U.S. Open champion in a tiebreaker. Just maybe not with a straight face.
"[Roddick] was very personable, so I got comfortable," Wetzel said. "I thought it was gonna be really difficult, but once I met him and got out there, it was better than I expected."
Although Roddick had to play a limited game of lobbing and running, he settled into a rhythm after a few shots. By match point, the frying pan had practically become an extension of his arm.
"I might use this in Australia," Roddick suggested. "This would intimidate Federer, huh?"
For information on the Andy Roddick Foundation, which has raised more than $10 million to benefit at-risk youth, please click here.
Thomas Neumann is an editor for Page 2. You can contact him here.