By Jim Caple, Eric Neel & David Schoenfield
Page 2
Welcome to the first annual Page 2 Baseball-Season-Is-Winding-Down, October-Is-Near, Let's-Talk-Baseball-Just-Because-We-Want-To Roundtable.
David Schoenfield: Barry Bonds now has the ridiculous total of 208 walks, including 106 intentional walks. Considering the Giants -- get this -- have scored just five fewer runs than the Cardinals, are teams putting Bonds on base too often?
Eric Neel: My guess is teams should actually be walking him more than they do. The guy just doesn't miss pitches to hit.
But the rest of the lineup is warming up, and it's been pretty costly to walk him since the All-Star Game. Alfonzo, Pierzynski, Grissom, even Feliz, all have 70+ RBI now.
Jim Caple: Personally, I would never throw him a strike.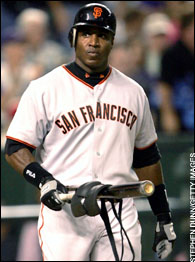 Bonds has 106 intentional walks this year. No team has more than 63 (through Sept. 20).
If the fans complain, so what? I'm trying to win. What, do they not want me to stop throwing strikes to Michael Tucker, too, just so he won't strike out so much?
Eric: Right. And I'd hit him more often, too. Test that armor a bit.
Jim: I still don't understand why he gets to use it. If Bonds is allowed to use body armor to protect his aches and pains, Kevin Brown should be able to pitch with a helmet to protect what little brain matter he has left
Eric: And Terry Mulholland should be allowed to sit in a Lazy Boy between pitches, just to catch his breath.
David: Listen guys, the Cardinals have Pujols, Edmonds, Rolen, Renteria, Sanders, and now Walker the past two months ... and the Giants, considering they play in a pitcher's park, have the best offense in the National League?
This has got to be the most amazing stat of the year. The Giants' No. 5 hitters (mostly Edgardo Alfonzo and Pedro Feliz) have combined for a lousy .252 average, 18 home runs and .692 OPS.
That's how great Bonds is -- and how stupid teams are for walking Bonds so much. Even with such lousy hitters coming up after Barry, those No. 5 hitters have 99 RBI, in large part because Bonds is always on base. San Francisco's opponents, for example, are hitting .282 with 26 home runs and an .870 OPS from the five-hole ... and have 96 RBIs.
Walks are good -- but only if you're on offense. If you want to beat the Giants, you have to get Bonds out; you can't put him on base four times a game.
Jim: Based on that stat -- as many runs scored as St. Louis -- it probably means they are walking Bonds too often.
But I've been wondering about this all summer. Do all those walks make Bonds incredibly valuable or have they neutralized him? Do they make him the MVP in a landslide or do they make him the best player who isn't allowed to be valuable?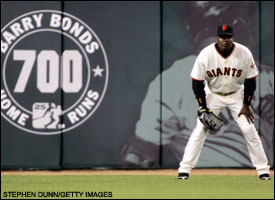 Opposing managers can give you 700 reasons not to pitch to Bonds.
Eric: It doesn't matter what you do with Bonds, what counts is what you do with the Giants pitching staff. I know Brett Tomko and Noah Lowry have been good lately, but I have my doubts. After Schmidt, I still think the Giants are ripe for picking, and if you put a hurting on them like you should, you can give the people what they want with Bonds, you can pitch to him all night.
But let's make no mistake, by any measure he is the most valuable player in the league. Sure the walks make him valuable, they put him on base, and they lead to runs.
David: OK, I've been holding back. I had ESPN.com engineer Dave Fishel run a query: how many runs do the Giants score when Bonds is walked and how many runs do the Giants score when Bonds doesn't walk?
The Giants have scored 600 of their 787 runs in innings when Bonds steps to the plate.
When he walks, the Giants average 1.09 runs per inning. When he doesn't walk, the Giants average 0.95 runs per inning.
And when he's intentionally walked, the Giants average 1.25 runs per inning.
Based on that, it's clear to me that teams should pitch to Bonds more often.
Eric: There's the psychological element (the feeling opposing teams have that they are somehow controlling their destiny) coming head-on with the hard truth. Great stuff.
Jim: The key to Bonds and his walks has always been the guy behind him. If you get someone who can knock in a lot of runs, like Jeff Kent, that will slow down the walks considerably. You don't need to change the rules, you just have to protect him in the lineup better.
| | | |
| --- | --- | --- |
| | " | Right, we've been ruined by his greatness in a way. We don't have any new way to get a handle on it, and the walks, and the sense that he'll have the bat taken away at the most dramatic moments, has made it hard to find one. " |
| | | — Eric Neel |
Eric: I think the amazing thing about this year is that even when he hasn't been protected, as he was by Kent, Bonds has put together one of the handful of best offensive years ever. No matter who hits behind him, his eye and his control and his ability to crush the few pitches he does see have meant he's the best offensive player in the league, even with only 350 official at-bats.
That said, I hate watching the walks, and really, the only little enjoyment I think we get out of it as fans is that we know we're watching some extreme strategic approach, and we know we're watching it because the guy is historically great.
I don't think the opposing teams should take the fans into consideration, but I think part of the reason (in addition to his coming up a bit short in the congeniality department) the reaction to his season, and to all his accomplishments, has been so muted, is that it's hard to get excited about them when there is so much walking and so much frustration going on.
It's an amazing year he's putting together, but it's precious short on thrills, really.
Jim: Well, that's only because the media is so focused on the Red Sox and Yankees. It's like no other teams are playing.
Eric: Yeah, but even for those of us on the West Coast, there is some element of drama sapped from what he's doing.
Two reasons for it: 1) He's so good every great thing he does is routine. 2) So many ABs end in walks (or worse, intentional walks), it's hard for fans to stay focused and energized.
Jim: He's still hit more home runs than almost anyone else, but you might have something about how automatic his seasons have become. This one is staggering, but is it any different than last year's staggering season? Or 2002? Or 2001? The guy has just been unreal.
Eric: Right, we've been ruined by his greatness in a way. We don't have any new way to get a handle on it, and the walks, and the sense that he'll have the bat taken away at the most dramatic moments, has made it hard to find one.
Jim: The walks must have some cumulative effect. But that's hard to track and if an opponent doesn't get immediate feedback that an intentional walk was a mistake -- like a home run or a double from the next batter, he'll probably think it's a good idea.
David: Well, I think the cumulative effect is this: When Bonds walks, he doesn't make outs; you've given the Giants 208 free bases to work with. That leads to a lot of runs scored, even with a mediocre lineup around Bonds -- and explains why the Giants, without another star offensive player, can match the production of the Cardinals' star-studded lineup.
Eric: Dave makes a good point, but I don't know whether we can reduce this to OBP, because Bonds tends to slug just a bit, too, and a lot of those, say, 48 percent results would likely be extra bases and even over the wall.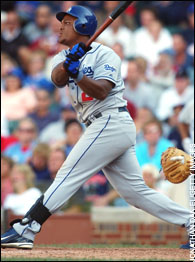 With 45 home runs and a .339 average, Adrian Beltre has keyed L.A.'s pennant hopes.
Jim: Personally, I'm just going to sit back and enjoy the Dodgers-Giants series this weekend. It's the best rivalry in sports. They've been rivals for more than 100 years and they've extended a rivalry once based in New York to the West Coast.
Unlike the Red Sox and Yankees, their rivalry isn't grossly one-sided. They're as evenly matched as Betty and Veronica. Almost the same number of pennants and one or the other is always screwing the other guy over in the end.
David: Are the Dodgers going to hold on? The lead is down to 2½ games.
Jim: The Giants will whip the Dodgers and take the West crown the final weekend.
Eric: You can never say with these two. Even if you have, like I do right now, a sick, creeping feeling that the Dodgers are going to tank, you just can't say. These teams will be in each other's business right up until the last.
I think it's possible the Dodgers will hold on, and I'm not just thinking with my heart. I mean, of course I'm just thinking with my heart, but my heart says if Brad Penny returns, and they get some quality innings out of Edwin Jackson, and the Yhancy Brazoban-Giovanni Carrara-Eric Gagne trio keeps getting the ball with a lead, which I think is a good bet in head-to-head matchups with Giants' pitching (after Schmidt), then they could hold on.
And you're right about the rivalry: The great thing about the coming two weeks is that one of them, as you say, is going to screw the other, which is going to add a layer of pathos and bliss to the race, a mix of anguish and joy, you know? If Houston knocks out Chicago, what's the big deal? if the Dodgers hold off the Giants and Bonds misses the playoffs, it echoes across the country and across generations.
Jim: You look at the Yanks-Red Sox, and yeah, it's passionate. But it always ends the same. With the Dodgers-Giants, you never know what you're going to get, other than one team lying in a pool of blood at the end and the other team holding the gun or, in the case of Juan Marichal, the bat.
David: Maybe I've been duped by living in Connecticut the past five years, but Red Sox-Yankees inspires a whole new level of intensity, hate and contempt. Giants-Dodgers is like seeing your wife get a peck on the cheek from your boss at the company Christmas party; Yankees-Red Sox is coming home early from work and seeing the mailman's truck in your driveway.
Jim: You've been watching too much YES network, Dave.
David: Well, I'll give you that one. Anyway, here's why the Dodgers will hold off the Giants: The future of baseball is at stake. Since everyone ripped Dodgers GM Paul DePodesta's trade of "chemistry" guy Paul LoDuca and setup ace Guillermo Mota, we need the Dodgers to win, just so we don't have to endure four months of offseason yakking about what a stupid trade that was.
If the Dodgers fold, then DePodesta gets fired for screwing with the chemistry, all the young, "Moneyball"-type GMs will no longer get jobs and we'll see nothing but a future of Bill Bavasi-type GMs who keep guys like Willie Bloomquist around because they're scrappy. (Yes, I'm a bitter Mariners fan.)
Eric: I think Dave's right, but I think if they fold, it won't be because the trade didn't work out (it did work out, just fine), it'll be because the starting pitching (Nomo and Ishii, especially) couldn't bring them to the finish line.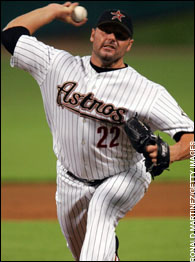 Aiming for No. 7: Clemens is 18-4 with a 3.00 ERA and 198 K's.
David: Which team do you want to see win the NL wild card? I want the Giants. The Cubs had their chance last year. They blew it. I'd rather see Barry on the October stage than those wannabe-aces Prior and Wood.
Eric: I want the Astros, actually, because I want to see good pitching AND I want to see Bagwell and Biggio get another shot.
David: I'd love to see Bagwell and Biggio make it as well -- two Hall of Fame players who've been burned through the years for their awful postseason play, so it would be nice to see them come through. But my heart keeps beating, "Bonds, Bonds, Bonds." I want Bonds, I want the debate of whether or not to pitch to him, and then I want him coming up in the bottom of the ninth inning and blasting a Gagne fastball into McCovey Cove to win the NLCS.
Jim: I want the Giants in, and the Cubs and the Astros, too. Can we knock Atlanta out and replace them with Houston? I'd much rather see Clemens -- and won't it be something when he wins a Cy Young after retiring? -- than Bobby Cox. ESPN is a rightsholder -- we should make that happen.
Eric: Atlanta's deal is with a higher (er, I mean, lower) authority, if you know what I'm saying.
David: All right, let's leave that there and look higher. Is Ichiro overrated?
On first glance, I would say overrated -- fans love batting average, but his singles attack just doesn't produce the number of runs that power hitters like Ramirez or Sheffield produce. But, he has had a remarkable year: according to Baseball Prospectus, he ranks 15th in the majors in VORP -- runs produced above a replacement-level player (positionally adjusted). That places him in fifth in the AL, behind Vlad Guerrero, Travis Hafner, Melvin Mora and Carlos Guillen.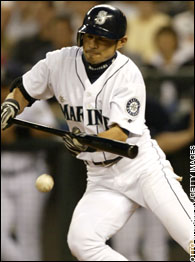 The king of the little game: but is Ichiro MVP-worthy?
He's second in the league (just behind Guerrero and just ahead of Ramirez, A-Rod and Sheffield) in equivalent runs produced. In other words, the idea of Ichiro as an MVP candidate is actually defensible.
And I'm shocked to realize that.
Except, well, he plays for the Mariners.
Eric: It's defensible, but it ain't right.
Jim: In some ways. Don't get me wrong -- there are some players who are just incredibly entertaining and dramatic and Ichiro is one of them. I love watching him get an infield single as much as I do watching someone go deep. But he's a singles hitter and most of those singles don't add up to much. As fast as he is, he doesn't have good instincts on the bases, so he doesn't steal nearly as many bases as he ought to. So he doesn't distract pitchers the way Rickey did. And then the Mariners rarely drive him in -- he may not score 100 runs despite his 250-ish hit total -- which is mostly their fault, sure, but it does show that you still need someone around him to do the damage.
Eric: Right. He's appealing, he's lovable, but he's not (and I feel bad for saying this) the player he should be, the player he could be.
And I'm only saying this because I think a little correction is in order, because I think people are so fond of him they tend not to see the weaknesses, and it blinds them from seeing some of what else makes a complete player complete, and it blinds them from seeing some other guys who deserve some attention; guys like Hafner, for example.
David: Do you guys want to see the Red Sox-Yankees in the ALCS?
Eric: I really don't. I want to see the A's and the Twins. I want to see Johan Santana and Tim Hudson go heads-up. I want to see Lew Ford and Eric Chavez. I want to see the eye of the press wander away from the northeast, just for a little while.
David: For me, it's only if the Red Sox win. I can't sit through another Red Sox loss to the Yankees. Really, as long as the Yankees lose -- preferably at the hands of two Santana shutouts in the ALDS -- I'm OK with any team that comes out of the AL.
Jim: I'm with you, brother.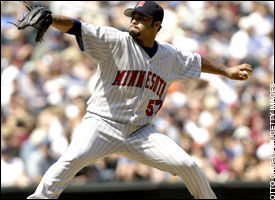 Santana hasn't allowed a run in his last four starts.
Eric: If I have to choose, give me the Sox, for all the obvious reasons, but please don't make me choose.
David: Speaking of Santana, he has had 20 straight starts allowing 3 runs or less, the most since Dwight Gooden had 24 straight in 1985. Is he the one guy you want starting a playoff game right now?
Jim: That's how I see it. And since I actually picked him to win the Cy Young before the season, I'm really rooting for him.
David: Well, that was certainly a better pick than the year you picked Cristian Guzman to win the MVP.
I know Schilling has the postseason pedigree, but I'll take Santana as my No. 1 guy right now. I can see him pulling a Hershiser and leading the Twins all the way.
Eric: I like Hudson, Schilling, and Santana a lot. I'd take Santana as an endorsement for his whole year. He gets my mythical Cy vote, too, and he's dealing something fierce right now. I suspect the Yankees, or whomever it is that faces him, will do their best to mess up his timing ... take pitches, step out a lot, etc., but I suspect he's up for it, after having been through it last year.
Oh, and, Clemens ain't a bad playoff starter choice, either, let's not forget.
Jim: I just want to see something new, you know? And have people acknowledge that baseball is played somewhere else other than the northeast, and that fans in other places are just as passionate about their teams.
David: C'mon, Jim, you should know by know that the center of the baseball universe is exactly halfway between second and third base at Yankee Stadium, the House That Ruth Built, home of 26 World Series champions.
Eric: That was one of the best features of the Angels run a couple years back. There was fervor and madness in an unexpected corner of the map.
Jim: And, yeah, I wouldn't mind seeing Clemens finally lifting the Astros to the World Series. As much as we hear about the Sox and the Cubs suffering, how about the Astros? They haven't been to the World Series in their 42-year history -- and since that covers my exact lifespan, that's as miserable a record as the Cubs or Sox. And the Giants haven't won the Series in my life, so that, too, is just as daunting.
Eric: Right, you never hear about Astros fans and their anguish; who will stand up for them? I say, let it be us, let it be here, let it be now!
Jim: Count me in! Go Astros, go! ... unless you're playing the Giants, that is.