By Darren Rovell
Page 2
AMHERST, Mass. -- I might get fired for saying this, but Page 2's recently-completed World's Ultimate Athlete bracket was a sham. Tiger Woods can swing a golf club, but how many pounds of cow brains can he eat in 15 minutes? Lance Armstrong can pedal up hill after hill, but how much rice can he gobble down in a half an hour? Barry Bonds would definitely get fewer votes for the Hall of Fame if he dared to compete against the professionals who eat butter, mayonnaise and reindeer sausage for a living.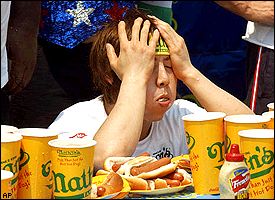 Takeru Kobayashi has the heart -- and the stomach -- of an ultimate athlete.
I didn't object to Kobe being in that 64-athlete bracket, but how is it possible to omit Kobayashi?
For those of you who somehow don't know Takeru Kobayashi, he's the eater from Japan who is ranked No. 1 by the International Federation of Competitive Eating (IFOCE), an organization that conducts about 100 sanctioned events annually.
On July 4, 2002, I witnessed the 140-pound Kobayashi scarf down 50 1/2 hot dogs and buns in 12 minutes at the Nathan's Famous Hot Dog Eating Contest on Coney Island. The runner up, Eric "Badlands" Booker, was a full 18 hot dogs and buns behind.
Trust me, people. If you saw this in person, you'd put the moment up there with Flutie to Phelan, Gibson off Eckersley and Hill to Laettner for that turnaround-jumper buzzer-beater.
I have watched Kobayashi for the past three years. But to truly prove to myself that Kobayashi is, indeed, the World's Ultimate Athlete, I called up Rich Shea, the president of the IFOCE, and told him I wanted to enter a competitive eating contest.
Just call me George Blimpton.
Shea offered to fly me to New Orleans for the Acme Oyster Eating Contest. No dice. I hate oysters. But it might have been worth the trip -- 100-pound Sonya Thomas, ranked No. 3 on the tour, ate 432 mollusks in 10 minutes.
I could have dined at the wing-eating contest in Miami, where Jammin' Joe LaRue put down 124 chicken wings in 12 minutes. I had a chance to step up to the table at the Broadway at the Beach Ultimate Eating Tournament in Myrtle Beach, but I felt a little uncomfortable with the prospect of standing next to Don Lerman, the record-holder in baked beans (six pounds in less than 2 minutes), butter (seven quarter-pound sticks in five minutes) and hamburgers (11 quarter-pounders in 10 minutes). I was psyched when I was offered the chance to javelin asparaguses (or is it asparagi?) into my throat in Stockton, Calif. ... until I heard that the asparagus would be deep-fried and that Ed "Cookie" Jarvis, the 2002 IFOCE Rookie of the Year, would be present. (His one gallon, nine ounces of ice cream record, completed in 12 minutes, still astounds me.)
I decided the best contest for me was the one that Kobayashi dominates, so I accepted a sponsor's exemption to eat hot dogs and buns at the Taste of UMASS on the campus of the University of Massachusetts in Amherst, where I would be competing against nine students for a possible invitation to stand next to Kobayashi himself at the prestigious Nathan's famous hot dog eating contest in Coney Island this coming July 4.
Here's my thinking: If I can down 16 hot dogs and buns in 12 minutes, I have a chance.
But I need some quick advice, as I only have one day to train. My only eating-competition experience came at Camp Monroe in 1986, when I entered a pie-eating contest, hoping for apple or pumpkin filling. It turned out to be blueberry; and halfway through, I spewed a technicolor yawn all over the pie dish.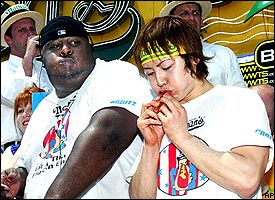 Booker, twice Kobayashi's size, still can't win.
I dial up Booker, a 400-pound New York City subway conductor ranked fourth on the IFOCE circuit. Booker is a specialist in burritos (15 in eight minutes), candy bars (two pounds in six minutes), cheesecake (50 1/2 quarter-pound cheesecakes in six minutes) and, my favorite, Jewish cuisine (50 Hamentaschens in six minutes and 21 baseball-sized matzoh balls in 5 minutes and 25 seconds). But he also knows his hot dogs. Last year, he closed the gap on Kobayashi -- eating 29 hot dogs and buns to Kobayashi's 44 1/2.
Me: What should I do to train?
Badlands: I chug a gallon of water the night before, in a minute and a half.
Me: That's nice, Eric. What should I do to train?
Badlands: Try a liter in 12 minutes. Make sure to eat a little something in the morning, but don't eat much during the day of the event.
Me: Should I dip the bun in water like you professionals do?
Badlands: If you can handle it, go for it. But if you're not used to it, I wouldn't do it.
Me: Any other advice?
Badlands: Don't stuff your mouth. Take small bites. Don't look around at the competition. If you notice, with Kobayashi, it's just him and the dogs. You can win if you can control your mind. You will be full only if you let it happen.
As I get off the phone with Booker, he mentions a very critical point. It could have thrown me off.
"Do you know if they are going to be grilled or boiled?"
I've never had a boiled hot dog.
"How would I know?" I respond.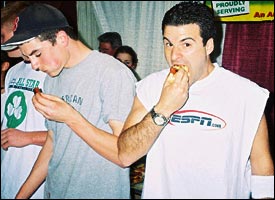 Ummm ... didn't Badlands say small bites?
"If there's a Nathan's nearby, they'll probably be grilled," he says, clearly knowing way too much about this. "If not, they'll be boiled, because they'll need to bring them in."
I call up Rich Shea.
"Rich, It's Darren Rovell. Grilled or boiled on the hot dogs?"
"I'm pretty sure they're grilled," he says.
"Thanks. See you tomorrow." I go home to eat a normal dinner -- a salad and two Boca Burgers -- and easily drink a liter in 12 minutes.
When I wake up in the morning, I have a protein shake; and throughout the day at work, I continue to drink, filling up water bottle after water bottle. At 3:30 p.m., I head to UMASS for the hour and a half drive.
Somehow, I forget to calculate that by ingesting all that water, I have to stop at a gas station every 10 exits. At my first stop, 30 minutes into the trip, I stand at the toilet for a career-record time.
Hunger is also a problem during the drive. I am really hungry. Angry-hungry is more like it. I want to eat. Although I'm not a fast-food kind of guy, I'm salivating over exit signs that never appealed to me -- Cracker Barrel is all of a sudden appetizing. So is ABC Pizza Plus, which I had never heard of before.
I reach the Mullins Center at 5 p.m., an hour before the contest begins. It's confirmed -- the hot dogs are being grilled. They look really good, too; but at this point, I'd enter a grilled caterpillar-eating contest.
There are hundreds of UMASS students in the arena, eating free food from every nearby restaurant. Since I don't want to eat anything before the contest, the first booth I visit is the one where the New England Patriots cheerleaders are signing pictures. Before taking a picture, I ask for some competitive eating advice. Bad move. The number of hot dogs I am about to eat in 12 minutes will roughly equal what these girls eat in a week.
I then head over to the Nathan's table, where Rich Shea is waiting for me with a waiver in his hand.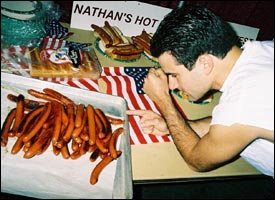 Radioactive elements? No, just pig toe nail.
"Do I have to sign this to eat?" I ask.
He shakes his head.
Most people probably just sign this thing. I feel I need to read it, just in case it says something like, "The hot dogs you are about to be fed contain significant traces of radioactive elements."
Some real excerpts from the waiver:
"I understand the health and associated risks inherent in eating contests and in the consumption of large quantities of food and calories over both short and extended periods of time. I certify that I am in good health and have consulted with qualified persons in the medical profession and obtained clearance for me to participate in this contest and similar eating contests."
"I, on behalf of myself, my successors, heirs and assigns and anyone else claiming under me, hereby completely, irrevocably and unconditionally release and discharge all sponsors and licensees of the contest ... from any and all claims, liabilities, damages, losses, expenses, suits, discrimination or other charges, demands, debts, liens, damages, costs, attorneys' fees ... "
It's only the second time I've signed one of these things. A flashback to the summer of 1992, when I signed a form to go white-water rafting on the River Rouge, located between Montreal and Ottawa. I surprisingly survived, though I fell out of the boat at one point, loosened some of my teeth and lost a contact lens.
I sign the thing, along with nine other competitors -- likely, all freshmen who, unlike me, have eaten copious amounts of food that day. I'm sure some of them are trying to become the first UMASS freshman to put on the "Freshman 15" in 12 minutes.
I scout the competition and find that my toughest match will probably come from Mark Yarmarkovich, an 18-year-old from Swampscott, Mass., who says that Kobayashi is one of his heroes. I call a friend and ask him to do a quick Google search on Mark to see if he is an athlete like Kobayashi.
"One hit," my friend Dave says. "He apparently made the Dean's List in biology this fall."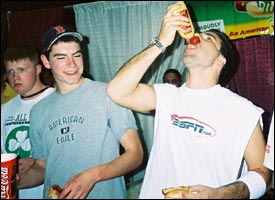 Darren does the mustard, while the Red Sox fan plays ketchup, of course.
Not an advantage, although Yarmarkovich is the only competitor whose good-looking girlfriend is on hand to cheer him (and, later, to tap his back as he throws up by the garbage can).
With 10 minutes to go, the crowd starts forming. People are on the ground level, angling to see the table; others are up a level in the seats, by the Lou Roe and Julius Erving banners.
I start planning my strategy. There is only one Gulden's mustard jar. I immediately secure it. I remind myself to be patient and go slow. My goal, at the least, is to beat William "The Refrigerator" Perry, who received a bye to Coney Island last year but only ate four hot dogs and buns.
Then I go for the last-second plea.
"Rich, I'm on the Atkins diet," I say. "I can't eat bread. The buns are what I call a blatant carbohydrate. Can I just eat the hot dogs."
Rich says I can't do that, referencing a case a couple years ago when a man named Andrew "The Real Meal" Becker ate 22 hot dogs and buns one July, but couldn't come back to Coney Island the next year because he took up the Atkins Diet. Shea says the IFOCE board wrote a letter to Atkins himself to try to get Becker a one-day exemption from the diet, but Atkins never responded.
And now for the play-by-play ...
I go out very slow. I don't want to choke and die -- I have this image of my parents staring at the waiver, screaming, "Why would he sign this?"
With the adrenaline pumping, I eat the first hot dog in a minute and ten seconds. Unlike the pros, I eat the hot dog and bun together, and take sips of water along the way. I eat the second hot dog about three minutes in, and the third is down at around the 5:30 mark.
Up to this point, it's a free dinner. The hot dogs taste good, and I'm really hungry. But I am somehow already full.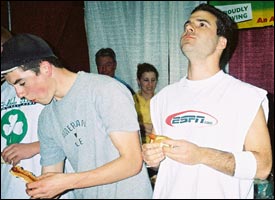 Darren tries to hold the hot dogs down while asking for some help from above.
Two and half minutes later, I've finished two more hot dogs. I'm able to speed things up by mimicking the chomping motion I've seen Kobayashi use. Halfway through my sixth hot dog, I start to get the reflux, and have to tilt my head in the air to make sure it doesn't come out.
According to the IFOCE rules, a competitor is disqualified if he suffers an urge contrary to swallowing. I don't want to bow out, but I am not feeling good. My eyes start burning and I stop tasting the hot dogs as I begin on the fourth one. So I finish my sixth hot dog and bun, and watched a kid named Marcos at the end of the table get disqualified. Yarmarkovich eats nine, but he's bested by another competitor, Damien Yee, who eats 11 hot dogs and buns.
If I'd pushed a little bit harder, I probably could have eaten eight hot dogs and buns. And that still would have been 42 1/2 hot dogs and buns behind Kobayashi. With that in mind, I have three words about this Ultimate Athlete Bracket for my editors at Page 2: Write In Vote.
Darren Rovell, covers sports business and competitive eating for ESPN.com, can be reached at Darren.rovell@espn3.com.