By Darren Rovell
Page 2
At 5:51 p.m. ET on Wednesday, my dream of picking the winning speller in the Scripps Howard National Spelling Bee came to a screeching halt for yet another year.
In the world of spelling, I'd thought Sam Rock was an anomaly.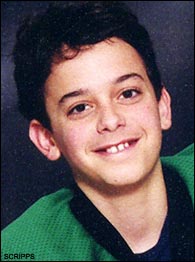 From Mientkiewicz to Szczerbiak, Rovell smells what the Rock is cookin'.
Rock is the 12-year-old sixth-grader I'd picked to win it all (out of the field of 265). But he bowed out in the fourth round, thanks to the word "obtenabrate."
Unlike many other competitors in this week's National Spelling Bee -- namely, Nidharshan Subra Anandasivam, Andrew Lokomaikaikeakua Kaleohano and Cassiopeia Roychowdhury -- he didn't get much practice spelling his own name.
For a few moments, I thought about picking Keshav Pillai, based solely on the fact that he had the darkest mustache among the competitors. But there was a reason I had confidence in Speller No. 120 -- Rock E. Spellboa.
I know exactly what you're thinking: "Darren, you're crazy. It's the 77th Annual Scripps Howard Spelling Bee and no winner in the history of the competition has had a name shorter than eight letters."
But I went with the Rock because he is a sports fan from Minnesota, and Minnesota is a state where most fans can't even spell their favorite players' names.
Rock can.
In its first 74 years, no Minnesotan had won the Bee -- a spell broken three years ago when Sean Conley of Aitkin prevailed. And don't try to tell me that Conley's win had nothing to do with the fact that some of the most famous people living and working in the Land of 10,000 Lakes at the time had names that are impossible to spell.
But before I arrived at the Rock as my pick in this year's Bee, I did my standard background check and bio review. He qualified for the most recognized spelling bee in the world by beating kids in his class, school, district and in the metro-regional competition -- polishing off the final title with the word "aerolithology." (Which, of course, means the science of aerolites.)
THE 411 ON SAM ROCK
From the official Scripps National Spelling Bee bio:
Sam enjoys playing hockey and baseball. His hockey team won second place in district-level playoffs, and he has advanced to the Major Division in Little League baseball. Sam won an essay contest and received an award for his participation in WordMasters Challenge. He likes studying for his bar mitzvah, playing trumpet, listening to music, and reading.
Then I placed the call to his hotel room in the Grand Hyatt in Washington D.C. After getting the Rock on the phone, I could tell within seconds that Sam was my man. He had no trouble spelling the starting lineups for his hometown teams.
Trust me. I quizzed him. He knows how to spell the last name of the Twins first baseman (Mientkiewicz), and the spelling of the center fielder's first name (Torii) was a breeze. He had no problem dealing with the Timberwolves' forward from Miami of Ohio (Szczerbiak) or the last name of the Wild right winger (Gaborik).
"There are some elements of the spelling bee that make it a sport," Rock said. "But the biggest muscle you use is your tongue."
After a couple of minutes of back and forth banter, he even offered to spell the complete name of former Wild defenseman Lubomir Sekeras.
I didn't have the correct spelling at the ready. I told him I trusted he could conquer it.
(Though now that I have the Wild's roster in my hand, I wish I would have been more persistent and asked him to spell Antti Laaksonen and Zbynek Michalek. It could have made the difference.)
I did give him one final test, though.
Before I got off the phone with Rock, I told him I needed him to spell the last name of the Duke head basketball coach -- just to give me a final boost of confidence that he was the guy to pick.
"S-C-H-E-F-S-K-Y," Rock said.
"Not even close, Sam," I replied with some glee in my voice, knowing that I'd stumped one of the best spellers in the world. "It's K-R-Z-Y-Z-E-W-S-K-I."
"Wow," Rock replied. "That's tough."
All of a sudden, shaky about my choice of Rock, I dialed up some more of the top-ranked spellers.
First came Zachary Alan Carlson Kuzel, a self-proclaimed UConn basketball fan from Norwich, Conn., whose favorite word to spell is "glossolalia," a word so obscure that my spell-check program underlines it in red as if it's wrong even when it's right.
"S-H-E-S-H-E-F-S-K-I," he said.
(Kuzel was eliminated in Round 3 on Wednesday when he misspelled "wallaby.")
My next call went to Nicholas Marcucci from New Haven, Conn., whose favorite word to spell is "cwm" (pronounced koom), which means valley.
After hearing me recite "Krzyzewski," he wouldn't even give it a stab.
There's no way I was picking him, believing he lacked the confidence necessary to be a champion. Even though he was eliminated Thursday morning, Marcucci did make it to the final group of 46 spellers who started the fifth round. He spelled "sanguinolent," "sterilant" and "realia" correctly in Rounds 2-4 on Wednesday.
One last call, I convinced myself. If the next speller doesn't get "Krzyzewski" right, I'm going to go with Rock.
Sean Justin B. Sabino's mom Maria answered the phone in the room. She put me on with the 13-year-old eighth-grader from Woodland Hills, Calif.
I told him that everyone that I had spoken to had spelled Krzyzewski wrong.
I told him it didn't start with an "S."
I told him it was of Polish origin.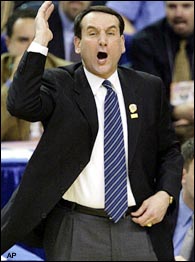 If any of these kids go to Duke, they'll learn Krzyzewski real fast.
He told me he needed a minute, as his mom was looking something up.
"Wait, what Sean?" I said. "No, you have to go now. Standard spelling bee rules. Your mom can't help you out."
"OK," he replied. "C-H-I-C-H-E-F-S-K-E."
And that's with clues.
So I rooted for Sam Rock. But I knew things weren't good when I saw his reaction to his fourth-round word. "Obtenabrate" means "to darken by or as if by shadowing."
Rock spelled, and the bell rang. His dream was over, and so was mine.
Said Katie McCrimmon, the former spelling bee champion who serves as the color announcer for ESPN's coverage of the event: "So he goes off to a place that they call the comfort room, so that he can get a Coke and look in the dictionary and drown his sorrows."
Yeah, but what are the people who bet on him supposed to do?
Darren Rovell, who usually covers sports business for ESPN.com, can be reached at Darren.rovell@espn3.com . At the age of eight, Rovell discovered a spelling error on the back of Del Monte's Yogurt Covered Raisins. He wrote the company. The company changed the packaging on boxes nationwide and sent him pounds of free raisins to boot.