By Darren Rovell
Page 2
I was waiting by my phone all day to hear back from guys like Phil Hellmuth, Chris Moneymaker and Phil Ivey.
But in my heart, I knew the phone would never ring.
After all, the odds of a top poker player returning your call these days is roughly equivalent to the odds that you'll die from a venomous spider bite. (One out of every 738,585 Americans do, according to the National Safety Council.)
That's how untouchable today's poker players are.
We live in an America where approximately 20 million of us play golf, and 50 million of us play poker. Industry insiders say that an estimated 100,000 people are playing poker online at peak time (8 p.m. PST, 11 p.m. ET) every day. And while right now more of us are watching the pros play golf than poker, it won't be long before those numbers will flip and your grandma will know who Johnny Chan and Chris Ferguson are.
Poker, and more specifically the Texas Hold 'Em variety, is taking the world by storm.
There's a World Poker Tour (WPT). Players at the touring events took home nearly $30 million, and the televised two-hour WPT segments on Wednesday nights drew an average of 1.3 million viewers this past season. That's on the Travel Channel, where "John Ratzenberger's Made in America" is no longer the network's cash cow. Things are so good that the channel recently signed a five-year rights extension with the tour.
And it isn't just the Travel Channel. Bravo, when it's not airing "Queer Eye," is featuring "Celebrity Poker Showdown." And the final rounds of the World Series of Poker will be aired on ESPN in 22 episodes, beginning tonight (9 p.m., ET) and running every Tuesday until September 14.
One man took home the $5 million prize in the event, which took place during the last week of May.
Demand is so great that fans of televised poker no longer want to wait to see the action. With that in mind, Fox Sports Net will air the nation's first live broadcast of a pro poker tournament on July 14. (The telecast will be on a five-minute delay to prevent any sort of cheating help from audience members to the players at the table.)
Like any major sport these days (including baseball and horse racing), big-time poker has had its share of corporate logo controversies. Last year's World Series of Poker winner Chris Moneymaker, an accountant from Tennessee, made it into the tournament by paying only a $40 buy-in fee through Internet poker site Pokerstars.com. Although Moneymaker wore a Pokerstars.com hat at the final table (and similar-looking hats are now being peddled on eBay at $10 a pop), this year's players were told by Harrah's -- which now owns the event -- that no corporate logos would be allowed at the final table. Too bad for Pokerstars.com. Four of the nine players, including the champion, at the final table qualified through the Web site.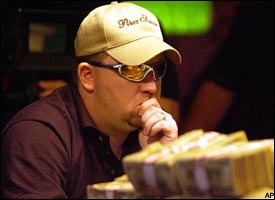 Chris Moneymaker wore a Pokerstars.com cap when he won the World Series of Poker last year.
The WPT also bans corporate logos on the apparel of its players, but tournament-wide sponsorship is welcome. Advertising is so steady now that -- and I'm not kidding here -- Anheuser World Select is the official beer of the WPT.
"Poker is a little harder to sell than your average sport, but there's definitely a lot of interest," says Steve Lipscomb, founder and CEO of the World Poker Tour. "A company like Nike, though, could be hard, since the poker player's shoes are under the table."
Poker is so big that true gamblers can now bet on the pro poker games. Who would have thought that we'd reach the point where people would gamble on other people gambling?
On June 16, online sports book Bodog.com posted odds on who would win the WPT Player of the Year award. They've taken $13,000 in action.
"It's an industry right now that is growing exponentially; and once there are more tournaments that go live on TV, the action on pro poker is going to grow even more," says BoDog spokesman Todd Corrigall.
Poker is so hot that Card Player Magazine, a bi-weekly publication which for the past 18 years has been a free publication that could be found in poker rooms, will soon charge for its issues. Circulation is expected to double in the next couple of months, and copies will be available on the racks in Barnes & Noble, New York's Penn Station and in virtually every major airport in the United States. The May issue marked the first time a non-gambling advertiser had purchased space. That advertiser -- Belvedere Vodka -- used nine of the world's top poker players in its ads that appeared on billboards and cabs in Las Vegas, and in ESPN The Magazine.
Part of the lure of poker is that amateurs can mix with the pros in the big events.
"It's not like you can play golf with Tiger Woods in one of the majors and actually have a shot at beating him," says Barry Shulman, owner and publisher of Card Player.
Thanks to the growth of Internet gaming and the popularity of how-to books, more and more people have a chance against the pros.
"It used to take five years to become a top poker player," says Mel Judah, a professional player who has won more than $1 million at the World Series of Poker alone over the past 15 years. "Now everyone has access to playing games, and we have Harvard graduates and Ph.D.s learning in one year and giving us some serious competition."
In 1989, the World Series of Poker had 150 participants. This year's list grew to 2,576 poker-heads, many of whom paid the $10,000 buy-in fee.
One way to slow down the amateur poker rush is to charge $25,000 a night for a lesson, as Hellmuth is doing. (Hurry up, people: He's only available about 20 nights a year. His telephone number is 650-464-0629.) If you aren't that rich, another option is to pay $2.99 to play "Phil Hellmuth's Texas Hold 'Em," which launched in May, on your cell phone.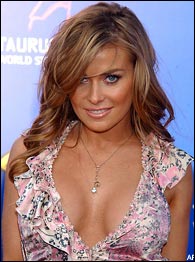 Carmen Electra's poker game could be a big pay-per-view hit.
The other way to control the frenzy is to increase the big tournament buy-in fees.
Due to this year's astounding rise of more than 1,500 participants than last year, pros say they expect the buy-in fee to jump to $20,000 very soon, which should thin the amateur crowd.
How big is this poker craze going to get?
So big that Carmen Electra is reportedly hosting a strip-poker game that will air on pay-per-view on July 18 -- though true poker fans won't pay much attention, since that's a different game known as "Texas Hold Them."
So big that Ben Affleck apparently no longer wants to act in movies (or maybe that was just the "Gigli" bust). He beat 90 other players to win a $356,000 prize in California last month, and the poker circuit is abuzz with rumors about where Affleck will show up next.
Judah, who has a $5 commemorative chip at Binion's with his face on it, says he believes that within the next year and a half there will be a league, and professional players will be drafted "just like the NBA."
If this ever comes to fruition, ESPN executives would be smart to buy the rights to the round-by-round coverage, and tell Mel Kiper Jr. to start scouting tables across America.
Darren Rovell, who usually covers sports business for ESPN.com, can be reached at darren.rovell@espn3.com. He has never played poker in his life, but he charges $1,000 a night for "Go Fish" lessons.