By Darren Rovell
ESPN.com
NEW HAVEN, Conn. -- Lars had the tiger in his teeth, surely on the cusp of ripping it to shreds, and more than 400 blood-thirsty spectators roared approval.
OK, maybe they weren't blood-thirsty. Stuffing-thirsty is probably more accurate.
For the few insiders in the crowd who knew about Page 2's attempt to place a mole on the inside of the secret world of college mascots, this was going over way too well.
OK, Lars isn't a mole. He's a bulldog. Still ...
Could we actually pull this off?
A few weeks ago, we found this on Yale University's Web site:
"The Yale Athletic Department is looking for the next bulldog to assume the role of mascot as Handsome Dan XVI. Yale, still mourning the passing of Dan XV this winter, has decided to comb New England in search of his successor ... Candidates should be athletic enough to climb stairs, walk the sidelines of a game for four quarters and dodge out-of-bounds football players. Speaking on command is preferred, but not required."
Now if this was, say, Colorado holding auditions for the next Ralphie, things might've worked out differently. Buffaloes aren't exactly native to Bristol, and Boulder isn't exactly next door to Connecticut. But Lars is local -- John Broder, his keeper, sits two cubicle rows away from Page 2 headquarters -- and Yale is only a 45-minute drive from the ESPN campus.
We had a ready candidate.
Broder reserves most of every day's breath to talk about three things: 1) The concert he went to last night; 2) The New York Yankees; and 3) His 5-year-old bulldog.
Initially, John wasn't as eager as you might think. If Lars were selected, John would have to attend every Yale home football game and might have to bring Lars to community-related activities throughout the year. That might interfere with concerts and the Yankees.
I made sure not to tell him some of the research I had uncovered on the history of Handsome Dan, who is believed to be the first college mascot. Two Handsome Dans, or 13 percent of them, were run over by cars. One almost drowned after he appeared on the cover of Sports Illustrated. The first Handsome Dan, who died more than 100 years ago, was gutted and stuffed and currently resides in Room 108 of Yale's Payne-Whitney Gymnasium.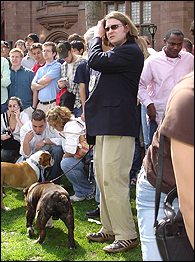 Can the ancient eight handle a Yankee-loving, Metallica-worshiping mascot?
But in the spirit of competition (and Page 2), John eventually wrote the required essay and sent it to the Yale athletics department, along with a picture of Lars. A couple of days later, we received the good news: Lars was among 10 finalists selected to participate in the contest.
Neither John nor Lars was prepared for the atmosphere on the Yale campus on the day of the finals. The dogs might not have had a sense of the intensity of competition, but the owners (Broder excepted) certainly did.
One had put a Yale bandana on his dog. Another wheeled her dog, Chico, in on a wagon with a sign that read "Chico 4 Dan." And a girl named Christina brought her friends with her, each with a poster board sign rooting for her dog, Bane.
Lars had nothing other than his everyday-wear Yankees collar and leash and a Dogswalk bandana. His back ... er, tail was against the wall from the start.
No event at Yale would be complete without a protest. A guy who gave his name as Harkness brought his Portuguese water dog, which he said was smarter and more becoming of the school's identity.
He might have a point. Bulldogs are known to have hip, knee and breathing problems, have poor eyesight, are especially susceptible to heat stroke in warm weather (Broder was miffed Yale didn't think of providing the bulldogs with any water in the 70-degree heat) and are very cold sensitive.
According to a list of the life expectancies of 64 breeds, the bulldog has the shortest life span of any of them (6.7 years). Had the forefathers at Yale settled on, say, the shih tzu, we might be on only Handsome Dan X today.
Although the finals were staged in front of a sizable Spring Fling crowd (a traditional celebration of the last day of classes), the search for the next "American Fido" was left to only five judges: Chris Getman, Yale's mascot caretaker for the previous 21 years; Steve Conn, the school's assistant athletics director; cheerleader Christie Yang; football captain Jeff Mroz; and band member Costa Lapaseotes. All the male judges were dressed in formal fashion -- bowties or ties.
The first event was the strut. Hundreds watched as each dog was announced and walked about 100 feet as the band played on. One band member waved a crimson flag at the dogs, hoping to coax a negative reaction -- a growl, a bite, maybe a leg-lift -- to the color of Yale's chief rival, Harvard.
Most of the bulldogs, not surprisingly, were scared by a blaring band on one side of the strut path and swarms of people on the other. Some entrants literally had to be dragged. One young puppy was carried 100 feet.
Lars didn't fare well in the strut.
It began with the introduction.
The announcer said, "Lars is from Bristol, Connecticut, and he is a Yankees fan."
The crowd, apparently pro-Red Sox, booed.
"One judge told me before the contest that I shouldn't walk him in a Yankees leash," Broder said. "I thought he was kidding."
So Lars had that working against him. Plus, Broder didn't think Lars would strut without him, and the rules stipulated the dogs walk alone.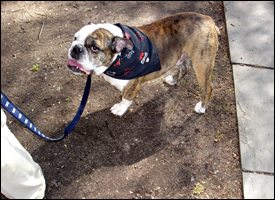 Lars takes a few minutes to put on his game face.
"I have to get to the end of the walkway," Broder said, moving people with his hands. "He'll walk only if he sees me."
This was bad.
The crowd was so big and so closely packed together that unless Broder had been wearing a red and white striped Waldo shirt, Lars wasn't going to see him. He balked. Two dogs skipped over him in the starting order. Eventually, Broder convinced the judges he needed to take the leash, and Lars was announced again.
Even then, he didn't stand out.
"Maybe if they played a little Metallica instead of marching band songs, he would have done a little better," Broder reasoned.
The next part of the competition was a dance-off. Trouble is, bulldogs don't have dance moves. At least, Lars doesn't ... not since they stopped playing the Macarena at Yankee Stadium, anyway.
Still, Lars made his surge when each of dogs was invited to play with the kids, toy around with that crimson flag and react to the plush stuffed tiger, the Princeton mascot.
Game on.
Lars ripped at the tiger as Broder moved it around on the ground. The crowd roared.
"He's not a fan of stuffed animals, so I knew he'd go after it," said Broder.
The only other dog who did something significant was Magnificent Mugsy Rangoon, who tugged at the crimson flag. Of course, Mugsy had help at this very crucial point. A marching band member was shoving the flag in his face.
When it was over, the judges huddled to make their decision.
First, they announced the final three. Lars made the cut. So did Mugsy.
Then came the announcement. Handsome Dan XVI is ...
Not Lars.
Mugsy Rangoon.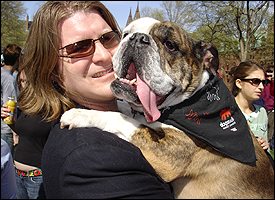 How can you not a pick a dog that can howl the entire "Master of Puppets" album?
"We've beaten Princeton three out of the past four years," said Mroz, the football team captain. "We haven't beaten Harvard since I've been here. [The way Lars went after the Tiger] was nice; but when I saw Mugsy go after that flag, I liked that more."
Adding insult to injury, Broder and Lars had to look on as Mugsy's owner, Robert Sansone, pressed his dog's paw print onto the Handsome Dan contract.
"It would have been nice to have a family member at Yale," Broder said. "But I think good things can come out of this. Maybe Mr. Steinbrenner will invite us to throw out the first pitch."
Or maybe the University of Georgia needs another Uga.
Darren Rovell, who usually covers sports business for ESPN.com, can be reached at Darren.rovell@espn3.com